Stella Artois® Celebrates Valentine's Day and Savoring Life Together with "The Life Artois"
Brand celebrates the season of love and invites consumers to experience a taste of the good life this Valentine's Day
New York, NY –
WEBWIRE
–
Tuesday, February 11, 2020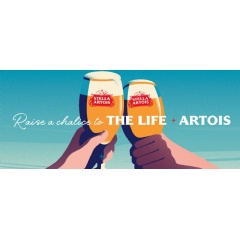 Hustle culture has become synonymous with success, but in the process of chasing one accomplishment after another in life, many people struggle to find the time to truly enjoy it. Stella Artois, a premium beer brand that believes time, not money, is the ultimate luxury, is launching 'The Life Artois,' a new illustrative look and style encouraging people to slow down, look up and savor time spent with those that matter most. After all, how we use our time and build our relationships is how we define a life well-lived.
And there's no better occasion to introduce 'The Life Artois' than Valentine's Day. "For us at Stella Artois, savoring the good life is never too far away and Valentine's Day is the perfect occasion for Stella to celebrate coming together, being fully present and raising a toast to the ones you love," said Lara Krug, VP of Marketing, Stella Artois.
Whether you're excited to spend quality time with a loved one or spark a new connection, 'The Life Artois' is a mindset to inspire joyful, meaningful moments and Stella Artois is unveiling a new illustrated look along with a series of digital and IRL activations to help consumers do just that.
New Ad Creative Celebrates a 600-Year Love Affair
Stella Artois launched new ad spots called 'The Kiss' and 'Valentine's Day' featuring thematically inspired animation commemorating the brand's lengthy love affair with brewing premium quality beer and bringing people together.
Running on national and digital channels since February 3rd, the ad spots feature a new and unique illustrated art style drawing from iconic vintage travel posters and the European spirit of enjoying the best of life.
Steal Your Feelings with Help from Stella
In a world more digitally connected than ever before, for many, the way of communicating your feelings isn't by sending a physical card or long penned love note but rather by snapping a picture on your phone of real life things happening in the world and texting it to your better half, bestie or mom along with a quick "thinking of you."
Inspired by this behavior, Stella is creating a series of incomplete, localized love messages on giant walls and billboards in New York, Chicago, San Francisco and Los Angeles to inspire and invite people to "steal" the romantic statements by snapping and sharing the sentiment with those who matter most before the brand steps in to complete the ad after February 14th.
'The Stella Heartois Experience' in Partnership with Bumble
Stella Artois is bringing love to the city of Angels by sponsoring 'The Stella Heartois Experience,' an immersive dinner social hosted by popular dating and social networking app, Bumble, where new BFFs or future significant others can sip, socialize and savor time with each other. No stranger to bringing people together, Stella Artois and Bumble are teaming up to spark new connections.
On Thursday, February 13th, 300 Bumble users will gather for a unique dining experience hosted by actress, model and influencer Olivia Culpo. The event will feature a tapas style menu, a DIY flower market, and an opportunity for users to personalize their very own Stella chalices.
A Table for Two at Home
For partners and friends in California that are seeking to make the day extra special in the comfort of their own home, Stella Artois and Postmates are offering a limited edition 'Stella Valentine's Day' bundle.
Starting February 10 through February 14, Postmates customers in select markets can order a Valentine's Day bundle that includes a Stella 6-pack, 2 Stella Chalices, 1 candle, a matchbox, customizable cards, satin cloth napkins and string lights. To top off the experience, consumers can enjoy the newly released line-up of simple, yet sophisticated Stella Artois cocktails designed to elevate your special moment.
Savoring The Pleasures of Life at Port de Stella
Beyond Valentine's Day, consumers can experience 'The Life Artois' through Port de Stella, a festival series that embodies the world's most vibrant neighborhoods and popular port cities brought to life through music, style and cuisine. Port de Stella made its debut in Miami during Super Bowl LIV and the event series will continue popping up around the U.S. in 2020 as a way to taste, touch and experience the best of 'The Life Artois.'
Consumers can learn more about 'The Life Artois' and the brand's Valentine's Day activations by following Stella Artois on social media and visiting www.StellaArtois.com.
 About Stella Artois
Stella Artois® is part of a Belgian brewing tradition dating back to 1366. It is the No. 1 Belgian beer in the world and is present in 95 countries. Stella Artois is a bottom filtered, blonde pilsner. It is thirst quenching with a malty middle and crisp finish delivering a full flavor and a hint of bitterness. Stella Artois is best enjoyed served between 37.4 and 41 degree Fahrenheit and should be served in the unique Stella Artois Chalice according to the 9-Step Pouring Ritual to guarantee a perfect experience of this gold standard lager. Visit www.stellaartois.com for more information.
( Press Release Image: https://photos.webwire.com/prmedia/6/254833/254833-1.jpg )
Related Links
WebWireID254833

This news content was configured by WebWire editorial staff. Linking is permitted.
News Release Distribution and Press Release Distribution Services Provided by WebWire.