Lime-A-Rita Wants You To Meet The Ritas
They've Got a Margarita In A Can. And They've Got Something to Say.
New York, NY –
WEBWIRE
–
Thursday, February 22, 2018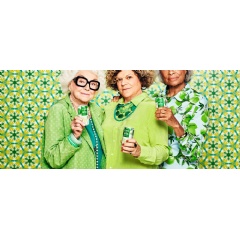 Kicking back in a lawn chair with a juicy Lime-A-Rita in hand are three legendary ladies who have lived, so they know how to live, and are here to tell you their story. Life is tough and sometimes we need a reminder that the coolest thing you can do is not care and drink a margarita in a can. Meet The Ritas. Nothing says "I don't give a flying flamingo floatie" like sipping on a Lime-A-Rita by the pool, which The Ritas invite everyone to do.  
Ladies, it's time to grab life by the cans and take cues from The Ritas. The days of polite advice columns and crafting a cocktail are over, especially because it takes like six months to get a response published in a newspaper and you can just open a can. Starting today, The Ritas are dishing out savage straight-talk with #RitaSays in a place where opinions are given whether you ask for it or not: social media. With a lifetime of experience, they're here to help you give zero...fruits about striving for Insta-perfection and start being the hot gossip you wish to see in the world.
Here's how the modern-day advice column #RitaSays works:
Anyone 21+ can ask The Ritas a question about anything on Lime-A-Rita's Instagram, Twitter and Facebook
The Ritas will respond with a to-the-point answer that you wished your best friend would have told you before you went on a date with that guy whose car is his profile picture.  You'll know it's them by their signature, #RitaSays.
Becca Tilley, a fan favorite from The Bachelor, is the first to get advice from the Ritas. Along with a few of her friends, she turned to the legendary ladies to get some wise words on how to forget someone who gave out one too many roses. Check out their convos on Twitter and Instagram.
Something to know about The Ritas: they never wait around to give their opinion. Taking a few days poolside, the ladies found a few hundred social media posts that they thought could use their advice. So, they cracked open a Lime-A-Rita and got to work, answering them all with #RitaSays. There's no telling who might get The Ritas' two cents next.
"My life goal is to become the Ritas one day," said Chelsea Phillips, Vice President, Beyond Beer Brands at Anheuser-Busch. "Not only have they mastered the best margarita recipe- by opening a can of Lime-A-Rita - The Ritas are role models for embracing a mindset that we should treat every day like a Friday and every hour like a happy hour."
The Legend of The Ritas: Lime-A-Rita's Have-A-Rita Campaign
The Ritas were first introduced this month in Lime-A-Rita's Have-A-Rita campaign, which takes on a life's-a-party attitude in any situation. Catch The Ritas on Instagram, Twitter, Facebook and digital media all year as well as their own @TheRitas Twitter handle.
 The Have-A-Rita campaign was created by Fallon New York, Lime-A-Rita's creative agency.  "In a world increasingly filled with things to worry about, the Ritas remind us of the enduring virtues of a margarita in a can" said John King, President, Fallon New York.
Next-Level Lime-A-Rita: New Flavors and Innovations
We learned that BYO-Watermelon to a party was easier said than done, so Lime-A-Rita is bringing back Water-Melon-Rita just in time for summer.  In addition, Lime-A-Rita will introduce "Party with The Ritas," a flavorful party pack in glass bottles, which are said to have been inspired by The Rita's colorful personalities and full transparency, and Pine-Apple-Rita for a limited time.
Slip 'N Slide | HAVE-A-RITA: https://www.youtube.com/watch?v=2YwWofQJxLQ
ABOUT LIME-A-RITA
As part of the continued innovation from world-class brewmasters from the legacy of America's most-popular beers, Anheuser-Busch launched Lime-A-Rita in 2012. The brand became the second-best selling new product launch that year, with Straw-Ber-Rita becoming the largest share gainer in the beer industry in 2013. New flavors and new product offerings are the cornerstone of Lime-A-Rita and the brand is consistently adding new offerings to the portfolio. Ace Metrix® awarded Lime-A-Rita the title of 2014 Brand of the Year for the Beer and the Spirits, Malt Beverages and Wine categories. In 2017, Lime-A-Rita became the first in the Anheuser-Busch InBev portfolio to explicitly target women with the "Make it a Margarita Moment" campaign. For more information, visit www.limearita.com.
( Press Release Image: https://photos.webwire.com/prmedia/7/220654/220654-1.jpg )
Related Links
WebWireID220654

This news content was configured by WebWire editorial staff. Linking is permitted.
News Release Distribution and Press Release Distribution Services Provided by WebWire.