Cypress Enables the Industry's First Certified Bluetooth Mesh Product
Wireless MCU and Combo Solutions Deliver Connectivity Coverage for Smart Lighting and Appliances Throughout a Home
SAN JOSE, Calif. –
WEBWIRE
–
Tuesday, January 30, 2018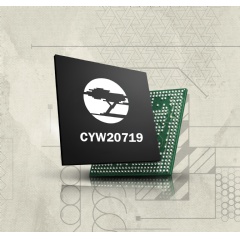 Cypress Semiconductor Corp. (NASDAQ: CY), the leader in advanced embedded system solutions, announced its single-chip solutions for the Internet of Things (IoT) are the world's first to deliver Bluetooth® mesh connectivity certified by the Bluetooth Special Interest Group (SIG) to a consumer product. LEDVANCE recently announced the market's first Bluetooth mesh qualified LED lighting products, which leverage Cypress' Bluetooth mesh technology. Three Cypress wireless combo chips and the latest version of its Wireless Internet Connectivity for Embedded Devices (WICED®) software development kit (SDK) support state-of-the-art Bluetooth connectivity with mesh networking capability. Cypress' solutions enable a low-cost, low-power mesh network of devices that can communicate with each other—and with smartphones, tablets and voice-controlled home assistants—via simple, secure and ubiquitous Bluetooth connectivity.   
Previously, users needed to be in the immediate vicinity of a Bluetooth device to control it without an added hub. With Bluetooth mesh networking technology, the devices within the network can communicate with each other to easily provide coverage throughout even the largest homes, allowing users to conveniently control all of the devices via apps on their smartphones and tablets.
"People have become dependent on their mobile devices as integral components of their lifestyles, and they expect to extend this rich user experience in the home through the ability to directly control their connected devices using smartphones," said Brian Bedrosian, vice president of marketing for the IoT Business Unit at Cypress. "Cypress' Bluetooth mesh solutions enable this user experience while meeting the rigorous reliability, security and robustness required for a seamless connected media and automation environment. Our wireless solutions also deliver industry-leading coexistence and radio performance, which is essential for uninterrupted connectivity in increasingly crowded home networks. We are excited to see the adoption of Bluetooth mesh in the smart home starting with the debut of the market's first certified consumer lighting products enabled by our technology."
Market research firm ABI Research forecasts there will be more than 57 million Bluetooth smart lightbulbs by 2021.
Cypress' CYW20719, CYW20706, and CYW20735 Bluetooth and Bluetooth Low Energy (BLE) combo solutions and CYW43569 and CYW43570 Wi-Fi® and Bluetooth combo solutions offer fully compliant Bluetooth mesh. Cypress also offers Bluetooth mesh certified modules and an evaluation kit. The solutions share a common, widely-deployed Bluetooth stack and are supported in version 6.1 of Cypress' all-inclusive WICED SDK, which streamlines the integration of wireless technologies for developers of smart home lighting and appliances, as well as healthcare applications. More information on Cypress' wireless solutions can be found at www.cypress.com/wireless.
About Cypress WICED Studio IoT Development Platform
The Cypress WICED Studio IoT development platform features an integrated and interoperable wireless software development kit (SDK). The SDK includes the industry's most broadly deployed and rigorously tested Wi-Fi and Bluetooth protocol stacks, as well as simplified application programming interfaces that free developers from needing to learn complex wireless technologies. In line with the IoT trend toward dual-mode connectivity, the SDK supports Cypress' Wi-Fi and Bluetooth combination solutions and its Bluetooth and Bluetooth Low Energy devices. The SDK enables cloud connectivity in minutes with its robust libraries that uniquely integrate popular cloud services such as Amazon Web Services, IBM Bluemix, Alibaba Cloud, and Microsoft Azure, along with services from private cloud partners. WICED also supports iCloud remote access for Wi-Fi-based accessories that support Apple® HomeKit™, which enables hub-independent platforms that connect directly to Siri voice control and the Apple Home app remotely.
Cypress' WICED Studio connectivity suite is microcontroller (MCU)-agnostic and provides ready support for a variety of third-party MCUs to address the needs of complex IoT applications. The platform also enables cost efficient solutions for simple IoT applications by integrating MCU functionality into the connectivity device. Wi-Fi and Bluetooth protocol stacks can run transparently on a host MCU or in embedded mode, allowing for flexible platform architectures with common firmware. More information on Cypress' WICED platform, ecosystem and community is available at http://www.cypress.com/wicedcommunity.
Follow Cypress Online
Join the Cypress Developer Community, read our Core & Code blog, follow us on Twitter,  Facebook and LinkedIn, and watch Cypress videos on our Video Library or YouTube.
About Cypress
Cypress is the leader in advanced embedded system solutions for the world's most innovative automotive, industrial, smart home appliances, consumer electronics and medical products. Cypress' microcontrollers, analog ICs, wireless and USB-based connectivity solutions and reliable, high-performance memories help engineers design differentiated products and get them to market first. Cypress is committed to providing customers with the best support and development resources on the planet enabling them to disrupt markets by creating new product categories in record time. To learn more, go to www.cypress.com.
Cypress, the Cypress logo and WICED are registered trademarks of Cypress Semiconductor Corp. All other trademarks are property of their owners.
( Press Release Image: https://photos.webwire.com/prmedia/7/219564/219564-1.jpg )
Related Links
WebWireID219564

This news content was configured by WebWire editorial staff. Linking is permitted.
News Release Distribution and Press Release Distribution Services Provided by WebWire.