Anheuser-Busch Celebrates Brew Across America with Tasting Reception in Washington, D.C.
WASHINGTON, D.C. –
WEBWIRE
–
Friday, November 10, 2017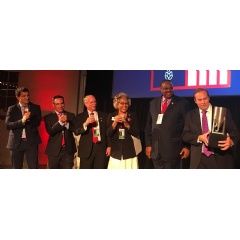 Anheuser-Busch announced the top brew in the first-ever 'Brew Across America,' a Congressional Brewing Competition featuring beers created, made and brewed with input from nine Members of Congress.
This past summer, during the August recess, nine Members of Congress from eight different states visited Anheuser-Busch and Craft Beer Partner breweries in their districts to meet with employees, learn about the brewing process firsthand and work with brewmasters to develop a unique home state brew sourced with local ingredients.
This marks the first time that Anheuser-Busch has hosted a Congressional Brewing Competition in what the company hopes to be an annual event.
The nine participating Members of Brew Across America 2017 were:
•        Congressman Peter Aguilar (D-CA), Golden Road Brewing, Los Angeles, CA
•        Congresswoman Joyce Beatty (D-OH), Columbus Brewery, Columbus, OH
•        Senator Michael Bennet (D-CO), Breckenridge Brewery, Littleton, CO
•        Congressman Al Lawson (D-FL), Jacksonville Brewery, Jacksonville, FL
•        Congressman Barry Loudermilk (R-GA), Cartersville Brewery, Cartersville, GA
•        Congressman John Rutherford (R-FL), Jacksonville Brewery, Jacksonville, FL
•        Congressman Jason Smith (R-MO), St. Louis Brewery, St. Louis, MO
•        Congressman Scott Taylor (R-VA), Williamsburg Brewery, Williamsburg, VA
•        Congressman Greg Walden (R-OR), 10 Barrel Brewing Co., Bend, OR
The judging panel was made up of media personnel and representatives from the U.S. beer industry:
•        Paul Kane, The Washington Post
•        Carl Hulse, The New York Times
•        Susan Davis, NPR
•        Sam Stein, The Daily Beast
•        Bob Cusack, The Hill
•        Josh Dawsey, POLITICO
•        Warren Rojas, Eater DC
•        Jim McGreevy, Beer Institute
•        Jane Killebrew, Anheuser-Busch
•        Craig Purser, The National Beer Wholesalers Association (NBWA)
The event also highlighted Folds of Honor, a long-time AB partner, and its programs to help the children of fallen and disabled service members. A-B and Folds of Honor have worked together since 2011, and, in that time, A-B has contributed more than $12 million toward educational scholarships. The scholarships support private education for elementary, middle and high school students as well as higher education opportunities for spouses and children.
The judges awarded Congressman Jason Smith (R-MO)'s Gateway IPA the top prize for original beer. Congressman Smith proudly accepted the "Brew Democracy Cup" and will have bragging rights among his colleagues on Capitol Hill for the year to come.
"I am always so proud to represent my home-state, and it was exciting to give D.C. a taste of Missouri. Many of the ingredients we used were grown right in my backyard, back home in southeast Missouri," said Congressman Smith. "Anheuser-Busch employs thousands of folks in our state and constantly gives back to the community. Participating in Brew Across America was an awesome opportunity to support a Missouri-based business and the Folds of Honor program all while having a little fun too."
"On behalf of more than 18,000 Anheuser-Busch employees and 21 breweries around the country, we would like to congratulate Congressman Smith on winning this year's Brew Democracy Cup!" said Doug Bailey, Vice President, U.S. Industry Affairs at Anheuser-Busch. "As we like to say at Anheuser-Busch, beer is bipartisan, and if we can help bring Democrats and Republicans together over a few beers, we are more than happy to do our part."
Although Brew Across America is first and foremost a competition, the event was intended to bring leaders in Washington together. According to a poll conducted last year, two out of three American voters think the political system would work better if leaders came together more often over a beer to discuss the issues facing our country. And that is the atmosphere and environment Anheuser-Busch is trying to encourage with events like Brew Across America.
"Having Congressman Smith win this year's Brew Democracy Cup is a real win for all of us in Anheuser-Busch's hometown," said Travis Moore, Senior Brewmaster at the St. Louis, Missouri Brewery. "More than 3,000 employees across five facilities in Missouri help to brew and distribute America's iconic beers every day. Congressman Smith showed a great interest in the process behind how we make our beers during the August Brew Day, and we are thrilled that he won."
"We're thrilled to work with the Anheuser-Busch and Breckenridge Brew Masters in the Colorado high country," said Senator Michael Bennet (D-CO). "The Coloradans who helped us brew the 53 Summit Stout in today's competition represent the best of our state: hard-working, outdoor enthusiasts with an affinity for our great craft beer culture. We're proud to add one more barrel to the 1.5 million barrels of craft beer brewed annually in Colorado."
"It was such an amazing experience to participate in the 'Brew Across America' competition," said Congresswoman Joyce Beatty (D-OH). "I met some of the most hardworking Central Ohioans, and I got an up close and personal opportunity to learn how to brew the perfect beer. Cheers to all those who made this tremendous event possible!"
"Our office was excited to partner with Anheuser-Busch and Folds of Honor in the Brew Across America competition," said Congressman Scott Taylor (R-VA). "Not only is this an initiative I plan to continue to support, it also elevates the most worthy cause of all: helping the families of those who have been wounded or have paid the ultimate sacrifice for this nation."
"Jacksonville has a very long a rich brewing history, as the home to an Anheuser-Busch brewery since 1969," said Congressman Al Lawson (D-FL). "I and my staff are pleased to help continue that brewing tradition with our special brew of 'Florida Sunshine aka Lawson Lager.'"
"Participating in Brew Across America with Anheuser-Busch employees at 10 Barrel Brewery in Bend was an honor," said Rep. Greg Walden (R-OR). "Some of the finest brewmasters in the country are found in Oregon, and I appreciated their expertise as I crafted 'Three Fingered Jack.' Brew Across America is a tremendous showcase of the entrepreneurial spirit so unique to Oregonians and Americans."
"I was proud to work with local Northeast Floridians, especially Brewing Manager, Gene Thompson, to learn more about Anheuser-Busch and their community impact on Northeast Florida," said Congressman John Rutherford (R-FL). "Their team has impressive brewing skills and has great attention to detail, and I was excited to join their team to create the Five Stars – Riding for the Brand IPA. Thank you to Anheuser-Busch for your commitment to reaching across party lines to bring people together."
"Folds of Honor is glad to be involved in Anheuser-Busch's first annual Brew Across America event," said Allen Wronowski, Folds of Honor Director of Golf Relations and PGA of America Past President and Hall of Fame Member. "We have a long and proud history together: since 2011, Anheuser-Busch has contributed more than $12 million to Folds of Honor educational scholarships to help the children of fallen and disabled service members."
For more information on Brew Across America, be sure to follow @AnheuserBusch on Twitter, Instagram and Facebook, and join the conversation at #BrewDemocracy.
ABOUT ANHEUSER-BUSCH
For more than 160 years, Anheuser-Busch and its world-class brewmasters have carried on a legacy of brewing America's most popular beers. Starting with the finest ingredients sourced from Anheuser-Busch's family of growers, every batch is crafted using the same exacting standards and time-honored traditions passed down through generations of proud Anheuser-Busch brewmasters and employees. Anheuser-Busch owns and operates 21 breweries, 21 distributorships and 22 agricultural and packaging facilities, employing more than 18,000 people across the United States.
( Press Release Image: https://photos.webwire.com/prmedia/7/216448/216448-1.jpg )
Related Links
WebWireID216448

This news content was configured by WebWire editorial staff. Linking is permitted.
News Release Distribution and Press Release Distribution Services Provided by WebWire.