Henry's Hard Sparkling Water Hopes Slim Cans Spark Growth
WEBWIRE
–
Tuesday, November 7, 2017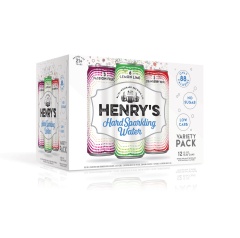 Henry's Hard Sparkling Water is undergoing a makeover for 2018 in an effort to capture a bigger piece of the growing market for hard seltzers.
After debuting this year in clear bottles, the brand is moving into slim cans, adding a third flavor that will be introduced in variety packs and shifting its messaging focus to its lower calorie count.
"This year, we've learned a lot about what works and what doesn't in the hard sparkling category," says Josh Wexelbaum, marketing director for the brand. Among the brand team's major findings: The category is bigger than most suppliers, retailers and wholesalers expected. And cans work better than glass.
The MillerCoors-owned brand, which also makes hard sodas, plans to make the switchover in March, a year after the brand debuted and at a time when alcohol beverage sales begin their summer ascent.
Henry's Hard Sparkling Water's new slim cans are "a better package for consumers looking for a more active lifestyle," the brand's target demographic, Wexelbaum says. White with color bursts around the edges, the new cans and associated packaging also more clearly target consumers who seek a more-healthy lifestyle with messaging that includes "only 88 calories," "no sugar" and "low carb."
In a business where even one calorie makes a significant difference in consumer perception, Henry's reduced its number of calories to 88 for the 2018 re-launch. Along with zero sugar and fewer than two carbohydrates per 12-ounce serving, the brand has "a significant and meaningful advantage in the market," Wexelbaum says.
The brand also will introduce a variety 12-pack that will include a new flavor, Strawberry Kiwi, which Wexelbaum says has tested well with consumers. Unlike Lemon Lime and Passion Fruit, each of which will be sold in standalone six-packs, Strawberry Kiwi initially will only be available in the variety pack.
"The greatest heat in this category are variety packs," Wexelbaum says, citing Nielsen data. "Velocity is faster than typical six-packs. Consumers coming into the space are still sampling and trying to figure out what they like."
Henry's Hard Sparkling Water aims to vastly increase its chain distribution in 2018. It also plans to increase its media spend next year with a campaign that will include digital, social, print and television spots, he says.
Unlike hard sodas, which shot out of the gates, the hard sparkling water category has built more slowly, which some analysts and industry watchers say could presage a higher ceiling.
They continue to gather momentum: Hard seltzers and hard sparkling waters have been the primary drivers in the flavored malt beverage category this year. Mike's Hard-owned White Claw Hard Seltzer, for instance, landed a spot in this week's Nielsen Top-10 growth brands.
On top of that, hard seltzers tend to source drinkers from the wine and spirits categories, which have been swiping share from beer over the last few years.
"This could be the light beer in the FMB segment," Wexelbaum says. "And that's a big opportunity."
* Average Analysis per 12-ounce serving: Lemon Lime: 88 calories, 1.7 grams carbohydrates, 0 grams fat, 0 grams protein. Strawberry Kiwi and Passion Fruit: 88 calories, 1.6 grams carbohydrates, 0 grams fat, 0 grams protein.
( Press Release Image: https://photos.webwire.com/prmedia/7/216262/216262-1.jpg )
Related Links
WebWireID216262

This news content was configured by WebWire editorial staff. Linking is permitted.
News Release Distribution and Press Release Distribution Services Provided by WebWire.