Microchip Introduces World's First H.264 Video I/O Companions Optimized for MOST® High-Speed Automotive Infotainment and ADAS Networks
H.264 Video Encoders and Decoders Simplify Applications Requiring High Quality, Low Latency and Content-Protected Video Transmission
WEBWIRE
–
Tuesday, February 3, 2015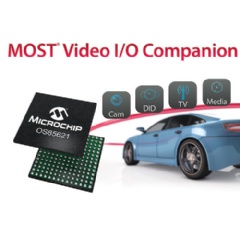 [NASDAQ: MCHP] — Microchip Technology Inc., a leading provider of microcontroller, mixed-signal, analog and Flash-IP solutions, today announced the world's first H.264 video I/O companion integrated circuits (ICs) optimized for the proven and robust Media Oriented Systems Transport (MOST®) high-speed automotive infotainment and Advanced Driver Assistance Systems (ADAS) network technology. The OS85621 and OS85623 devices expand Microchip's existing family of MOST I/O companions with a cost-effective video codec solution.

To learn more about the OS85621 and OS85623, visit: http://www.microchip.com/OS85621-Page-020315a

According to global information company IHS Technology, the automotive display market will grow exponentially over the next six years. Driver Information Displays (DIDs) are one of the fastest growing segments, with an expected increase from 30.8 million units in 2014 to 102.8 million in 2020. Driven by safety requirements, the camera market in motor vehicles is also projected to explode. These predictions reflect the increasing demand for video content in all car classes.

Featuring a low-latency, high-quality H.264 codec and an on-chip Digital Transmission Content Protection (DTCP) coprocessor, the OS85621 enables automotive designers to implement a comprehensive content-protected video transmission solution within days. Video streams with restricted access from devices—such as DIDs, digital media drives and TV tuners—can now be easily transmitted as encrypted H.264 over a MOST network, satisfying today's market demand for high-quality audio and video within the automotive environment.

"The convergence of consumer electronics, infotainment, driver information displays and camera-based ADAS creates demand for high-quality video over the MOST network technology," said Dan Termer, vice president of Microchip's Automotive Information Systems Division. "Our new OS85621 and OS85623 Video I/O Companion ICs feature an internal H.264 encoder/decoder and video format converter with supporting software, making it possible to develop these systems more cost effectively and quicker than ever."

The OS85621's on-chip DTCP coprocessor supports hardware acceleration of the computation-intensive operations required for DTCP authentication and content protection. Up to eight independent data streams can be simultaneously routed through the DTCP coprocessor's cipher engine for M6 or AES-128 encryption/decryption.

The ultra-low-latency mode of the H.264 codec enables single-digit millisecond latency from video input to video output, including encoding, transmission over a MOST network and decoding. This real-time, high-speed video processing makes the OS85623 (which has no DTCP coprocessor) ideal for camera-based ADAS applications that are designed to enhance vehicle safety.

Both devices feature a number of hardware interfaces commonly used for infotainment data exchange. Their video-interface port supports a variety of industry-standard formats and resolutions, including HD for seamless interfacing to video sources. A streaming port supports legacy audio formats and 7.1 multi-channel audio up to 24 bits. Two independent, inter-chip-communication Media Local Bus (MediaLB®) ports provide a seamless interface to Microchip's Intelligent Network Interface Controllers (INICs) for MOST networks, as well as application processors. These video I/O companion chips also feature an additional Transport Stream Interface for compressed video streams.

 

Development Support

To ensure compatibility with other DTCP devices and further reduce development efforts, Microchip also offers its free and ready-to-use DTCP-Stack for I/O Companions. Additionally, Microchip's optional OS85621 MOST ToGo reference design makes the creation of automotive ADAS and infotainment systems easy, enabling designers to focus on application software development.

 

Pricing & Availability

The OS85621 and OS85623 H.264 video I/O companion ICs are available today and are offered in a BGA 196 package. Volume pricing starts at $8.00. For additional information, contact any Microchip sales representative or visit Microchip's Web site at http://www.microchip.com/OS85621-Page-020315a. To purchase the products mentioned in this press release, contact Microchip's sales team.

 

Follow Microchip

RSS Feed for Microchip Product News: http://www.microchip.com/RSS-020315a

Twitter: http://www.microchip.com/Twitter-020315a

Facebook: http://www.microchip.com/Facebook-020315a

YouTube: http://www.microchip.com/YouTube-020315a

 

About Microchip Technology
Microchip Technology Inc. (NASDAQ: MCHP) is a leading provider of microcontroller, mixed-signal, analog and Flash-IP solutions, providing low-risk product development, lower total system cost and faster time to market for thousands of diverse customer applications worldwide. Headquartered in Chandler, Arizona, Microchip offers outstanding technical support along with dependable delivery and quality. For more information, visit the Microchip website at http://www.microchip.com/Homepage-020315a.

###

Note: The Microchip name and logo, MOST, and MediaLB are registered trademarks of Microchip Technology Incorporated in the U.S.A. and other countries. All other trademarks mentioned herein are the property of their respective companies.
( Press Release Image: https://photos.webwire.com/prmedia/7/195382/195382-1.jpg )
Related Links
WebWireID195382

This news content was configured by WebWire editorial staff. Linking is permitted.
News Release Distribution and Press Release Distribution Services Provided by WebWire.