World Day for Cultural Diversity: How BCW Starts the Dialogue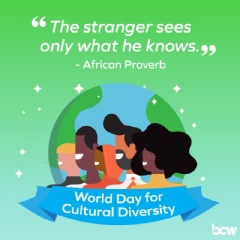 Today is World Day for Cultural Diversity for Dialogue and Development, a UN International Day that promotes bridging the gap between cultures as an urgent and necessary practice for peace, stability and development. The day also emphasizes the importance of dialogue when it comes to improving respect, inclusion and mutual understanding between cultures.
As a global company with offices in 112 countries, we work with colleagues and clients daily that have different cultural backgrounds, speak different languages and practice different faiths. We believe that the confluence of our differences is our ultimate superpower, it fuels our creativity, drive and, ultimately, the work we do for our clients every single day. And we know that ongoing communication is essential to creating collaborative and sustainable success, both internally and externally. Everything we do at BCW is about moving people – our people, our clients and our agency. We can think of nothing more critical than moving people toward inclusion, equity and diversity for all.
In the spirit of creating dialogue that supports cultural inclusion, we're sharing a few ways that BCW's global community works together to create space for conversation around cultural diversity that allows us to learn, grow and thrive.
Destination Inclusion
Destination Inclusion is a month-long, topic-driven employee program that ensures BCW lives a culture that embraces inclusivity through learning, discussion, activities and action. The program, now in its second year, was created by BCW's dedicated Inclusion, Diversity, Equity and Accountability (I.D.E.A.) team, led by Chief Inclusion Officer Carol Watson in partnership with our Chief Culture Officer Kristen Lisanti. Employees around the world – from global leadership to junior staff – come together to learn, grow and empower each other to challenge their own biases, change conversations and take action to make BCW a more inclusive place to work.
In September 2020, the inaugural Destination Inclusion: 21-Day Journey examined the many facets of inclusion, including personal communication styles, subtle acts of exclusion, power and privilege and allyship and upstanding. Employees participated in several activities that helped them better understand the intersection of culture, privilege and inclusion. This included creating a personal Culture Map that identified the similarities and differences between our regions, and how we can benefit from this awareness.
Video: BCW's Destination Inclusion: 21-Day Journey
This year's program, Destination Inclusion 2: Breaking Bias, was designed to help our people recognize and dismantle biases within ourselves, our teams, our organization and even our client work. Understanding bias is deeply personal, so collaborating with BCW employees around the world to share their experience has been invaluable to our ability to learn and grow together. During this program, we wanted to empower the young voices of BCW by asking them to share their experiences with moving companies and cultures to new expectations of societal norms. Recently Monique Soriano, Account Executive, Corporate, New York, shared an account of her experience learning about her own cultural identity and how that created barriers and bias in her life.
Providing a Space for All Employees to Thrive Through Employee Resource Groups
BCW is the global communications agency built to move people, including our own. Our Employee Resource Groups (ERGs) in North America are one of the most powerful ways we support our diverse team . Our ERGs connect a community of colleagues within a specific diversity dimension across functions and roles, helping them network, build key leadership skills, gain greater visibility and access to senior leadership, and have an impact at BCW and the outside community to accelerate their careers. The ERGs are open to all employees, which encourages a deeper level of allyship, understanding and appreciation across our entire community.
The ERGs are also instrumental in developing programs and initiatives that build awareness of key issues and events that affect these communities, creating value and impact for our people, our culture, our clients and our community. They're often the first to engage around critical current events, distill important information and share it with employees, clients and partners. This includes educational webinars on topics like the social justice resource guide developed by AAER (African American / Black ERG), along with our Asian-C ERG and BCW's Corporate practice; or the global #StopAsianHate support and resource guide developed by our Asian-C ERG. They also spearhead campaigns for celebrating heritage months globally. For example, during Hispanic Heritage Month, JUNTOS (the ERG which engages and promotes Hispanic/Latino heritage) developed worldwide perspectives celebrating their culture and history.
Celebrating Diversity
One of the greatest perks of working for a global company is the exposure to many different cultures around the world. Every day we collaborate with colleagues across the globe, and in turn discover different cultures. To make the most of this, we look for ways to amplify the voices of our people to promote better understanding and empathy. In addition to the celebration of heritage months, this also includes:
Promoting religious diversity and creating the content to help the global community learn more. For example, during Ramadan we created and shared a video answering important questions about the celebration and its importance to Muslims to help us better understand how to support and engage with our Muslim colleagues.
Sharing regional research and campaigns to promote understanding of the cultures in which we operate. This includes internal promotion of the annual Arab Youth Survey, a study that explores insight into the attitudes and aspirations of the region's largest demographic. The study is conducted by ASDA'A BCW, which serves the Middle East and North Africa.
Identifying our similarities and sharing them. Every day we strive to do this in big and small ways. From our BCW Masterclass courses, which are employee-led classes that cover everything from Indian cooking to Irish dancing, to sharing our global love of pets in our monthly "Pets of BCW" series on Instagram.
The World Day for Cultural Diversity is a great reminder of how important it is to learn about, understand and start a dialogue around our diverse cultures. Inclusion is not only a business imperative – it is the right thing to do, and BCW is committed to creating an inclusive culture where everyone feels safe and challenged to grow. Not just today, but every day.
( Press Release Image: https://photos.webwire.com/prmedia/5/274279/274279-1.jpg )
Related Links
WebWireID274279

This news content was configured by WebWire editorial staff. Linking is permitted.
News Release Distribution and Press Release Distribution Services Provided by WebWire.