Meet our 20 Rising Stars 3.0 finalists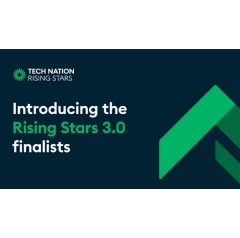 We are excited to reveal the 20 companies selected as UK Finalists to go through to the Rising Stars Winners Judging Roundtable. Following first-class pitch training from Billy Webber, Jill McKinney and their team from Pitch for Success, our Regional Winners pitched to our judging panel at the Semi-Final.
The panel – which was led by GP Bullhound Vice President Ed Prior – included VCs, angel investors, experienced entrepreneurs and tech community leaders from across the UK. It marked each pitch on value proposition, competitive advantage, market traction, team experience and potential to scale. We thank our Semi-Final judging panel for their time, expertise and insightful questions.
Now, a panel of judges including Stephen Kelly, Chairperson of Tech Nation, and Anika Henry, COO of Google for Startups UK, will decide the 10 Rising Stars 3.0 Winners at the upcoming roundtable.
To discover our 10 Rising Stars 3.0 Winners as they are announced…Sign up for our Winners Showcase on 25 February
Meet the Finalists
Budibase
Belfast | Data Analytics & Business Intelligence | @budibase
Founders: Michael Shanks, Joe Johnston and Martin McKeaveney
Budibase is building custom software for businesses in minutes, without coding.
CGHero
Manchester | Digital Entertainment / Creative Tech | @cgherofreelance
Founders: Jonathan Lloyd and Chris Lawrence
CGHero is a collaborative marketplace for 3D & CGI content creation.
Define
London | Lawtech | @trydefine
Founders: Nnamdi Emelifeonwu and Feargus MacDaeid
Define optimises the contract drafting and reviewing process.
Discova
Newcastle | Healthtech & Biotech & Life Sciences | @discovahealth
Founders: Lizzy Hodcroft, Emma Reilly
Discova delivers personalised support for better employee and team mental health.
e-Surgery
Norwich | Healthtech, Biotech & Life Sciences | @eSurgeryCares
Founders: Thuria Wenbar and Oskar Wendowski
e-Surgery is the UK's leading prescribing service and sustainable online pharmacy.
Elemental
Derry | Healthtech & Biotech & Life Sciences | @Its_Elemental
Founders: Jennifer Neff and Leeann Monk Osgul
Elemental enables individuals, families and their carers to better connect into community-based programmes.
eLocker
Derby | Hardware & Devices
Founders: Jacob Hinson and Mark Hinson
eLocker is locker management made easy.
Felloh!
Grantham | Fintech | @felloh_org
Founders: William Bicknell, Claire Lowry-Hubball and Ujwal Bhagwat
Felloh! is a payments platform which cuts costs and does good with every payment.
Glimpse Protocol
Winchester | Adtech & Marketing | @GlimpseProtocol
Founders: Mark Stoter, Alasdair Macdonald and Tim Holmes-Mitra
Glimpse Protocol is a revolutionary advertising platform with privacy at its core.
Hyper
Leeds | Data Analytics & Business Intelligence | @hyperstrategy
Founders: Peter Denby, Thomas Hill, Damon Bryan and Adam Barrowcliff
Hyper enables retailers to use AI and data science to improve performance.
Jobseekrs
Manchester | HRtech | @JobseekrsApp
Founders: Jamaal Brathwaite
Jobseekrs is a careers platform that mitigates unconscious bias when recruiting.
LiberEat
Aberdeen | Healthtech & Biotech & Life Sciences | @LiberEatApp
Founders: Barry Leaper, Louise Cahill
Libereat makes life easier for people with dietary restrictions.
Okkulo
Newcastle | Leisure, Travel & Tourism | @OKKULO1
Founders: Mel O'Connor, Owen McFarlane, Peter Atkinson
Okkulo is a sports training system to improve athletes' performance.
PORT.im
Hassocks | Insurtech | @PORTsays
Founders: Julian Saunders, Dan Eltis and Piyush Shah
PORT.im transforms the way businesses manage privacy.
RoleMapper
Exeter | HRtech | @rolemapper
Founder: Sara Hill
RoleMapper helps organisations to design and manage jobs, and create great job descriptions.
Selazar
Belfast | Ecommerce & Marketplace
Founders: Jack Williams, Kevan Bishonden and Gareth Burn
Selazar automates retailers' entire ecommerce operation through a single fulfilment platform.
SupplyWell
Liverpool | Edtech | @supply_well
Founders: Michael Heverin, Raina Heverin and Dan Price
SupplyWell is a recruitment solution putting control in the hands of teachers and schools.
Vimma
London | Digital Entertainment / Creative Tech | @vimma_ai
Founders: Outi Pietilanaho and Mykhailo Loginov
Vimma is a productivity suite for online content creators.
Worldr
Slough | Cybersecurity | @WorldrHQ
Founders: Max Buchan and Dzmitry Maskaliou
Worldr is a privacy and security-focused alternative to Slack.
Yoello
Cardiff | Fintech | @yoellopay
Founder: Sina Yamani
Yoello is an app-less hospitality payment platform that allows customers to simply scan, order & pay.
Our Semi-Final judges
We would like to thank our judges:
Paul Excell | COO, Scaleup Group
Ammar Mirza | Chairman & Founder, Asian Business Connexions
Jess Jackson | Head of Investment, GC Angels
Peter Carway | Investment Director, Praetura
Richard Barlow | CEO, Wejo
Ed Stevenson | Investor, SFC Capital
Isabelle O'Keefe | Principal, Sure Valley
Mark Lyons | Investment Director, Praetura
Louise Harris | Cofounder/Director, Tramshed
Tracey Johnson | Creative & Digital Industries Sector Specialist, Enterprising Barnsley
Jeevan Sunner | VC Investor, Playfair Capital
Heather Delaney | Managing Director/Founder, Gallium Ventures
Sam Hields | Investment Analyst, Open Ocean
Ed Prior | Vice President, GP Bullhound
( Press Release Image: https://photos.webwire.com/prmedia/7/270040/270040-1.jpg )
Related Links
WebWireID270040

This news content was configured by WebWire editorial staff. Linking is permitted.
News Release Distribution and Press Release Distribution Services Provided by WebWire.