Perdigão Celebrates 40 Years of Chester and Invites Consumers to "The Most Generous Christmas Ever"
WEBWIRE
–
Monday, November 30, 2020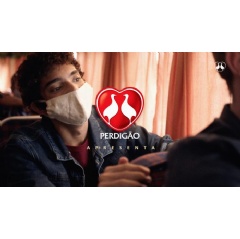 In 2020, Perdigão celebrates the 40th anniversary of the arrival of the bird that gave rise to Chester in Brazil and presents the campaign "The most generous Christmas of all time". The communication developed by DPZ & T has the participation of presenter Luciano Huck and will also have developments in digital, open TV, in addition to several other actions.click here to check out the full movie. To complete the celebration, the brand also presents the new Chester Sabor Toque Caseiro to the commemorative line.
The campaign brings a film with a strong emotional appeal, highlighting the care and desire for unity at a time when social distance has increased the longing and the need to express affection. In the film, the family prepares a surprise supper in the open, without neglecting all security measures.
The story highlights the exciting reunion of a family and shows the young man who, when he arrives at his grandparents' house, draws a heart in front of the door and, subsequently, reproduces the same drawinga little further back, making an analogy to social distance. Then he rings the bell and the man, still not understanding, looks at his wife, puts on his mask and goes towards the door. When he opens it, he realizes that he is inside one of the hearts drawn on the floor and his grandson in another. Surprised, you receive your family and celebrate Christmas night with Chester Perdigão , however, in small suppers scattered around the house's backyard. The film ends with the participation of Luciano Huck, the brand's poster boy, inviting the public to enjoy the most generous Christmas ever with Perdigão .   

The entire production of the film respected the appropriate safety protocols stipulated by the health agencies, and all precautions were reinforced during the recording of the play.
Flavors of Brazil      
As part of Chester's 40th anniversary celebration in the country, the brand expands the "Flavors of Brazil" line. This year, Perdigão will have eight different options to please the most diverse palates, in addition to celebrating the diversity of spices in Brazilian cuisine. They are: Chester Traditional, Chester Olive Oil and Herbs, Chester Assa Fácil Traditional, Chester Assa Fácil Pesto, Chester Mineiro (sold only in Minas Gerais and Rio de Janeiro), Chester Gaúcho (sold only in the South of the country) and Chester Boneless. The novelty will be for Chester with Flavor Touch Homemade, which takes different spices such as garlic, turmeric, among others.
           
"2020 was a difficult year for all of us. The forced distance of those we love and the uncertainties caused by the pandemic have affected people's lives and, with this, we need to reframe many habits and behaviors considered normal, like a simple hug in our family. As a brand, we believe that this Christmas carries a new meaning. We are happy to have the opportunity to count on Chester Perdigão in thousands of suppers across the country ", says Luciana Bulau, executive manager of Perdigão .         
 DATASHEET
Client:  Perdigão
Agency:  DPZ & T
Campaign:  Chester 2020
General Creative Director:  Rafael Urenha             
Executive Creative Director:  Carlos Schleder
Creative Direction:  Felipe Gall
Creation:  Bruno Brazão, Guzera and Felipe Gall
Attendance:  Ana Coutinho, Fabio Losso, Fernanda Widonsck, Mariana Whitehead
Planning:  Fernando Diniz, Lígia Paes Barros, Krizia Gatica
Media:  Paulo Ilha, Patricia Alves, Bruno Felix, Jessica Lambauer, Gabriela Pereira, Gustavo Loro, Tawane Lilia
Graphic Production:  Marcos Moura, Pablo Félix, Vladmir Araujo
Production Art Buyer:  Marcos Moura, Andrea Soeiro, Felipe Moro
Client Approval:  Marcelo Suarez, Luciana Bulau, Julia Carneiro, Sharon Harrison, Vinicius Moraes
RTV:  Ducha Lopes, Paula Alimonda, Vanessa Nascimento, Sthefany Nascimento, Ana Ananias and Fernanda Assato
Engagement and Influence:  Patricia Capuchinho, Didi Blanco and Gabriela Olsen
Developer:  PBA Cinema
Executive Director:  Mayra Gama
Executive Producer:  Mariana B Cassa
Direction:  Santi Dulce
1 Assistant Director:  Pablo Bardehle
2 Assistant Director:  Renato Gommes
Director of Photography:  Nixon Freire
Production Director:  Antonio Irivan
Production:  Manu Duque / Miri Balen / Renata Amaral
Art Direction:  Lauren Ferreira
Object Producer:  Camila Moussalem
Cooking:  Paula Rainho
Costume Design:  Domingos de Alcântara
Makeup:  Auri Mota
Cast Producer:  Rosa Fernandes and Giovana Rouvier
Location Producer:  Daniel Fontoura
Service:  Gabriela Fernandes / Natalia Pinheiro
Post Care and Coordination:  Diulle Fonseca
Coordination of Post and Finisher:  Augusto de Medeiros
Editing:  Rafael Mesquiara
Grading:  Psycho'n
Post – Producer:  Warriors
Sound Production:  Satellite
Musical Direction:  Roberto Coelho, Kito Siqueira, Hurso Ambrifi, Thiago Colli
Attendance:  Nicole Bonnet, Larissa Sarkis, Carol Araújo
Music Production:  Roberto Coelho, Kito Siqueira, Hurso Ambrifi, Thiago Colli Mike Vlcek, Charly Coombes, Koitty, Helton Oliveira
Finished:  Carla Cornea, Pedro Macedo, Ian Sierra Renan Marques
Production coordination:  Ana Cordeiro, Larissa Costa, Débora Mello
Voiceover:  Luciano Huck
About Perdigão            
Perdigão has been present in the consumer's home for more than eight decades and believes in human relations to celebrate meals, whether on special occasions or everyday situations. With the 'Comer Junto' positioning, the brand has in its portfolio democratic options that cater to different audiences and consumption occasions, ranging from breakfast, through lunch, snacks to dinner.         
( Press Release Image: https://photos.webwire.com/prmedia/6/267198/267198-1.jpg )
Related Links
WebWireID267198

This news content was configured by WebWire editorial staff. Linking is permitted.
News Release Distribution and Press Release Distribution Services Provided by WebWire.