A Strategy Sleigh Ride
LBB asked some top UK planners, including MullenLowe London's Hannah Hayes-Westall, to reflect on the strategic choices the UK Christmas ads have made this year.
WEBWIRE
–
Wednesday, November 18, 2020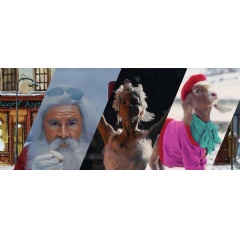 Christmas advertising is big in every country that celebrates it, but in the UK, things get taken to a different level. Britain is where Charles Dickens 'invented Christmas' (according to that film at least) and over a century later it's where adam&eveDDB invented the concept of the John Lewis Christmas Ad – a cultural phenomenon that set off an annual arms race of agencies twanging at your heartstrings at a financially crucial time of year for their clients.
In 2020 the pressure for those brands to make sales is arguably greater than ever. So it follows that many of them need all the help marketing can give them to get British consumers clicking away from their home offices (or maybe even donning a mask and venturing into a shop after the current lockdown lifts).
But Covid-19 has also made creating a Christmas ad campaign a tricky thing to plan for. The complex landscape is more difficult to navigate than any normal year. So, with a good proportion of the UK Christmas ads now out, we asked some of British advertising's clever thinkers what they thought about the paths brands have taken.
Hannah Hayes-Westall
Strategy Director, MullenLowe London
We spend all day making ads, so perhaps we can be excused a bit of tunnel vision about the way that the rest of the world views us waxing lyrical about them. Or can we? Christmas ads are often dissected by the industry for their creative approach to surprising and delighting us viewers, but the thing about Christmas this year is that it matters little whether you are for or against the emotion of Amazon's ballet dancer, or the entertainment of TK Maxx's goat. This year, with the economy tanking harder than in living memory, the only thing that matters is whether these ads are shifting merch at a small profit, because this year, if you're a strategist who isn't encouraging money to keep moving through the system by helping your clients stay in business right now, then you aren't helping anyone. This year, lyrical reviews of Christmas work that's pretty but ineffective start to seem in bad taste.
I'm no Christmas refusenik; the ballet dancer makes me almost cry and I'm there for the stylish goat. But with ginormous SOV and awareness, and business models that are well adapted for pandemic trading environments, Amazon and TK Maxx can afford to deploy brand strategies that work over the long-term, while businesses without this shouldn't be seduced by industry ideas of taking part in some kind of cultural moment around the reveal of Christmas ads, because it simply doesn't exist. Unless you are John Lewis, almost no one is waiting for your take on Christmas, which means the only reason to invest is either because you are in a long-term brand building frame of mind, or because you need to sell some stuff, and hopefully, protect your margins, right now.
An online only lockdown shopping landscape is an increasingly commoditised marketplace for mid-market retailers in which bigger, more established brands will win share. If your business isn't already in fighting form with great cashflow, great awareness and a killer performance marketing set up, you're better off taking the M&S approach and focusing your spend online where it can do the most for you. Because as a strategist, the biggest gift you can give a client this Christmas is making sure they're still around next Christmas.
Disclaimer: My day job is at the Effectiveness Network of the Year, so you know, I would say this.
This article was originally published on LBBO
( Press Release Image: https://photos.webwire.com/prmedia/7/266710/266710-1.jpg )
Related Links
WebWireID266710

This news content was configured by WebWire editorial staff. Linking is permitted.
News Release Distribution and Press Release Distribution Services Provided by WebWire.