#HearstHighlight: Meet Hearst Health's Katie Bailey
Get to Know the Person Behind FDB's Next Generation of Patient-Facing Content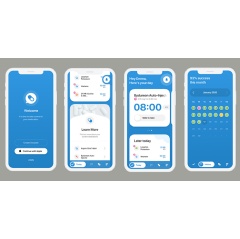 Mockups of the new Meducation app.
Katie Bailey had a unique introduction to Hearst: Selected as a Hearst Health Innovation Lab intern after her impressive work in an undergraduate innovation competition over five years ago, she was hired to work on product innovation and marketing. Two years ago, Katie moved to the west coast to become a product manager for Hearst Health's FDB (First Databank). While FDB has traditionally focused on clinician-facing medication decision support, Katie now manages one of its newer patient-facing solutions. FDB Meducation® is designed to enable patient understanding and adherence to medications by turning what is normally a stack of unwieldly and confusing paper documents into a simplified, patient-specific digital guide.
Katie had been with FDB for a few months when she attended HearstX — an internal innovation "ideathon" hosted by HearstLab. Katie's team presented the winning concept: A mobile medication adherence app. It was selected by a panel of Hearst executives led by President and CEO Steve Swartz, who supported development of the idea through the President's Fund. Katie believed that in order for the project to "stick," it should align with an existing business unit and product roadmap. Meducation at FDB was the perfect fit.
With the support of HearstLab, the company's greenhouse for nurturing early-stage, women-led startups, founded by Chief Legal Officer and EVP Eve Burton, Katie began to bring the app to life. After much testing and iterating, the FDB team has partnered with a leading medication adherence app developer and released a first-of-its-kind joint solution that makes it easy for patients to access and manage their personalized medication information.
Introducing FDB's New Meducation App
Leading the charge from conception to creation and managing every step in between, Katie, like Hearst, is dedicated to innovation. Beyond her everyday role at FDB, she also promotes and supports the innovation of others as a Scout, HearstLab's group of talented women executives who contribute their subject matter expertise, connections and mentorship to HearstLab's portfolio companies.
We sat down with Katie to discuss the app, the process of her collaboration with HearstLab and more.
How do you see mobile influencing the future of healthcare, specifically FDB's content?
KB: Consumers have come to expect a certain level of user experience that is personalized and seamless. Ultimately, we want to be the what, why and how concerning patients' medications — whenever and wherever they need us. 
Believe it or not, paper is still a relevant medium in healthcare, but we are seeing more and more focus shifting to the digital experience. By creating flexible API-based content, we are well positioned to support a wide range of new use cases while maintaining focus on what we do best: data.
I see this as just the beginning of our patient-facing digital footprint.
How did HearstLab contribute to this project?
KB: This is a unique example of a cross-collaborative project. One of the things that HearstLab offers its Scouts is a brain trust. I've never launched a mobile app, so I was able to go to them and say, "Pick it apart. Poke holes. What are we missing?"
I received advice from across media divisions and even HearstLab founders and staff themselves. What an amazing resource to have access to such variety of subject matter experts right here within our organization.
From the Hearst competition that launched your career to this groundbreaking new app, you have a track record of forward thinking. What is your process for innovation?
KB: Along the way, I've taken to heart a few key lessons. First and foremost: build in small increments, especially so that pivoting is less painful. Remember the quickest path is not always the easiest. Understand all the stakeholders and their respective priorities and incentives. Lean on and engage your subject matter experts. Think about project goals in the short, medium and long term — these are likely different, and this approach can help you prioritize and execute.
Do you have any advice for young professionals, especially women, who are interested in entering the tech field?
KB: My number one piece of advice is don't let imposter syndrome scare you into not trying. No one knows everything. When I first started with the Hearst Health Innovation Lab, I knew almost nothing about the intricacies of healthcare and software development. Now, I'm leading and managing the product roadmap for B2B healthcare SaaS applications. Hard work and constant curiosity can take you further than you think, especially with the support of your personal and professional sponsors. I am eternally grateful to the leaders at Hearst who have challenged me to keep growing along the way.
( Press Release Image: https://photos.webwire.com/prmedia/7/265663/265663-1.png )
Related Links
WebWireID265663

This news content was configured by WebWire editorial staff. Linking is permitted.
News Release Distribution and Press Release Distribution Services Provided by WebWire.