How to win global enterprises as customers – from a digital tech 'futurecorn'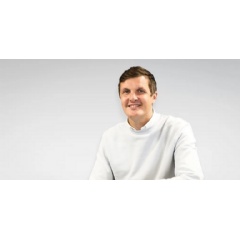 Adam Hildreth is the founder and CEO of Crisp, a social media safety and crisis monitoring firm that helps companies protect and manage their online reputation. An alumnus of our Future Fifty programme, which is currently accepting applications, Crisp is R&D headquartered in Leeds with more than 200 people working remotely. It exports around 95% of its services to global brands overseas.
It is one of the UK's 95 'futurecorn' companies, defined in Tech Nation Report 2020 as those valued between $250m and $800m on its way to achieving 'unicorn' (valued at more than $1bn) status. Reflecting on the company's journey to date at Leeds Digital Festival's 'Finding The Next Northern Tech Unicorn' event, Adam shared advice for digital tech companies looking to land big clients and investment on their scaling journeys.
Solve a genuine problem
Adam stressed that digital tech companies looking to approach global enterprises should first ensure that they have a need for their product or service. Crisp, which launched in 2005, initially offered its AI-powered software that detects instances of online grooming to consumers via partnerships with ISPs. As it turned out, few wanted to pay for it.
Undeterred, Adam flew to the US to "speak to the people with deep pockets" about its product. And it worked: a number of US-based enterprises, which were developing online games and virtual worlds for children at the time, liked Crisp's tech and wanted to adapt it for their own platforms. "We've been good at opening doors, and I think that's because we solve a problem that exists," Adam said. "It just took us time to understand where that problem was."
Adam and his team learnt lots through Crisp's first dealings with enterprises – especially when it came to charging for its services. "Wondering how on earth we would price our product was interesting because those companies had big pockets and were prepared to pay."
Back yourself to deliver value
Landing a big customer for the first time can be daunting. Adam recalled one particular Christmas Eve when he negotiated a deal, where the setup fee for Crisp's service alone ran into hundreds of thousands of pounds.
"It felt like a completely different world, one that I think is second nature to venture-backed US-based businesses that have no issue charging such amounts in fees," Adam said. "As a UK business, it certainly wasn't normal for us and we really had to push ourselves into it.
"We've continued doing that and it's amazing when you get the confidence to start charging what I call the 'real B2B enterprise figures'. People do pay them if you're delivering value and they understand what that is."
Crisp's story continued to evolve, and 10 years ago it began offering services to help large global brands protect their online users from harmful content. Adam said that landing those companies – 'big whales' as he referred to them – involved getting on "a lot of flights". He would sometimes fly to the US for a meeting, returning the same day.
In recent years, Crisp added intelligence services to its portfolio that notify its customers when their online platforms are going to be attacked. "We have always pursued people who we believe are big revenue and will drive our products and go-to market strategy."
Explore investment options
In detailing Crisp's own investment journey, Adam recalled how the company raised just under £8m of EIS (Enterprise Investment Scheme) funding from high-net-worth individuals.
"EIS is brilliant – we were entirely high-net-worth-investor led until we did what technically would have been our Series A," he said. "For us, the vast majority of our investor base was in London and they continued backing us for a few years. Usually you have to go through multiple Dragons' Den-style scenarios."
Crisp was able to secure EIS funding because it could show from its plans that what it was building was achievable and would deliver a return on investment. That said, the company's investment journey was not all smooth sailing.
"We hit lots of hurdles, with the classic one being that high-net-worth investors do not like you pivoting," Adam said. "As you go through different levels of funding and investment rounds, you can do things differently in different ways. Crisp and I have been on a journey of understanding how different investors like to operate, move and what their ultimate goals and ambitions are."
Grow your network
For Adam, having one or more high-net-worth individual onboard isn't just about the money. It's also having 'anchors' – people that can accompany a founder on their journey and introduce them to a wider audience of investors from within their network.
"While there are very capable high-net-worth individuals out there, they probably aren't going to massively help you with your business," Adam said. "In my experience, what they can help you with is access to capital, and inviting them onto your board can show them that you're not spending money on things they would not be happy with; they're there to oversee good corporate governance."
Ultimately, such investors will continue to prove their worth by providing advice when it comes to raising VC or private equity investment, he added. "They know what a potential buyer (or IPO) needs to have – and it's not what we all think it needs. There's certain things that need to be in place – whether it's metrics, understanding the buyer audience and why they're going to buy, or making use of third-party professionals to do due dilligence which can cost an absolute fortune."
Adam and Crisp's journey has certainly been an interesting one, and one that shows that any digital tech scaleup can realise its global ambitions with the right mindset, work ethic and determination.
( Press Release Image: https://photos.webwire.com/prmedia/7/264832/264832-1.jpg )
Related Links
WebWireID264832

This news content was configured by WebWire editorial staff. Linking is permitted.
News Release Distribution and Press Release Distribution Services Provided by WebWire.