Burberry Spring/Summer 2021 show 'In Bloom'
WEBWIRE
–
Thursday, September 17, 2020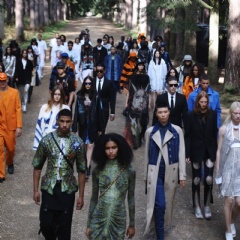 'It began with a thought of British summertime; embracing the elements with a trench coat on the beach mixing with the sand and the water. I envisioned the people of this space, like the lighthouse keeper, and a love affair between a mermaid and a shark, set against the ocean, then brought to land.
The circle is hugely symbolic – regrowth, renewal, the circle of life. The collection is called In Bloom because I was thinking about regeneration, about dynamic youth, about nature constantly recreating itself, always growing and evolving, always alive. Water is a symbol of that also – of newness, freshness and cleansing. And through water, life grows – water is what allows nature to bloom. Everything is circular.
The collection is focused and refined – one vision, one story. This is the essence of both Burberry's identity and my own creativity. Reaffirming the codes of Burberry – my codes of Burberry, our DNA.'
Riccardo Tisci, Burberry Chief Creative Officer
For Burberry's Spring/Summer 2021 collection named In Bloom, Chief Creative Officer Riccardo Tisci celebrates the emblems and hallmarks of the fashion house – its character, its nature, its unique DNA, and remasters them with a dynamic modern energy. Inviting the internationally acclaimed artist Anne Imhof to collaborate, Riccardo has curated a unique show experience – a play of aesthetics, ideologies and tensions, between unbridled natural instincts and focused precision, between rules and rebellion. Burberry has always offered the freedom to explore the new and the unknown – these times suggest a redress, a reset, a new way of thinking. A new environment to explore.
For the Burberry Spring/Summer 2021 show, Riccardo explores the power of fashion to communicate, to move and to evoke emotion. He presents a modern mythology, a contemporary fairy tale in the deep ocean, a love story blooms between a mermaid and a shark, darkly romantic and unexpected. The sea, always beautiful, sometimes savage, invariably romantic, inspires the clothing. It reflects a multifaceted view of Britain – simultaneously rural and urban, spanning earth and ocean, always expressing freedom.
Riccardo's collaborative creative partnership with Anne Imhof, an artist synonymous with her groundbreaking endurance performances and installation works, offers a collision of fashion and art. Together, the duo have conceived a fashion show as a performance: staged for a digital audience, the show experience is designed as an installation exploring the freedom of expression – transforming fiction into fact as the real becomes unreal. Like waves crashing, uncontrolled against the shore, the performance features an ebb and flow of bodies, models and performers as one – a swelling and falling tide of figures moving through the space – a raw urban environment, created within the ever-blooming landscape of the British outdoors. It celebrates a symbiosis of wild, untamed nature and human structure – here, united.
Perspectives are ever-changing, viewpoints reexamined. Burberry debuts its Spring/Summer 2021 show on Twitch with hosts Erykah Badu, Rosalía, Steve Lacy and Bella Hadid in the first collaboration between a luxury fashion brand and the live video streaming service alongside live streams on Instagram and Burberry.com. As part of Anne Imhof's art environment, her long-term collaborator, fellow artist and musician Eliza Douglas performs – her music provides a unique real-time soundtrack, further exploring the blurred boundaries between art, fashion and live events.
The Spring/Summer 2021 collection is a dialogue between different worlds colliding into one, blending the natural and the fashioned, fusing utility with romance. Womenswear reflects the juxtaposition of the mystical and the natural; strong and delicate, hard and soft, with the elegant details of tulle and chiffon, fishnets studded with crystals, allegorical prints and artworks. Menswear draws from the rugged elegance and practicality of the wardrobes of seafarers with rubberised finishes, hardy denim and Thomas Burberry's gabardine. The palette is sharply focused, immersed in a spectrum of blue tones, an oceanic panorama accented with sandy Burberry beige and bolts of mariner orange. Portholes, based on the handle of Burberry's new signature the Pocket Bag, feature across accessories and garments, opening windows onto different layers.
Burberry's DNA is historically tied to water – the fashion house's founder Thomas Burberry invented the first technical fabric – gabardine – designed to repel water and to protect the body. Today, the Burberry trench coat remains at the core of the brand. With this collection, Riccardo continues to reinterpret this icon with fresh iterations, including sculptural loop-back and cut-out styles as well as expanding to a full-length coat cross-bred with contrast tails of denim.
Water itself is symbolic of renewal, regeneration, changing tides and hope springing eternal. Today, it also represents freedom – a release, an escape, the excitement of new and unknown environments to explore. Great expanses, distant horizons, from which new life blooms. For Spring/Summer 2021, Burberry writes a new chapter of a mythology made in modern times.
NOTES TO EDITORS 
ABOUT BURBERRY RESPONSIBILITY
COVID-19
The British Fashion Council (BFC) and the Department for Digital, Culture, Media and Sport (DCMS) have been working in partnership on the safe delivery of London Fashion Week, ensuring BFC staff and brands' designers and producers have access to and understand the required COVID-secure guidance so that physical events can go ahead.
Measures taken to ensure that the Burberry Spring/Summer 2021 show was COVID-secure include social distancing, enhanced cleaning and PPE provision. All staff are required to follow government advice at all times and Burberry engaged an external health and safety advisor to monitor and ensure compliance on set.
Show location
We worked closely with the site managers and park rangers at our show locations, working to guidelines and environmental standards set by local authorities.
Groundwork South
We are making a donation to Groundwork South to support conservation efforts and help individuals to connect with nature. These projects work to transform the landscapes and lives of local communities, including in our show locations.
Burberry science-based targets and renewable energy
Burberry has a goal to be carbon neutral in its own operational energy use by 2022 and to obtain 100 per cent of its electricity from renewable sources in the same time frame.
Underpinning this target are two climate goals approved by the Science Based Targets initiative, to reduce the absolute scope one and two greenhouse gas emissions by 95 per cent by 2022 and absolute scope three greenhouse gas emissions by 30 per cent by 2030 (all from a 2016 base year).
In February 2020, Burberry announced the launch of a Regeneration Fund to support a portfolio of verified carbon offsetting and carbon insetting projects to directly tackle the environmental impact of Burberry's operations.
Show carbon offsetting
In line with our previous two runway shows, this experience will be certified carbon neutral. Measures are taken to reduce the presentation's environmental impact before offsetting any remaining emissions through Burberry's Regeneration Fund.
The Burberry Regeneration Fund supports a portfolio of carbon insetting and verified carbon offsetting projects, mapped to the footprint of our business. For the Burberry Spring/Summer 2021 show, certified projects in the US and China were a natural fit due to the presence of our operations in these geographies and the strength of the programmes.
The projects focus on forest restoration by working with tree species including pine, spruce, juniper, poplar, birch and elm. Supporting the UN Sustainable Development Goals, these programmes are helping restore natural habitats and biodiversity, improving carbon sequestration and enhancing local communities with skills and training.
ABOUT BURBERRY
Burberry is a global luxury brand, headquartered in London, UK.
Founded in 1856, Burberry is listed on the London Stock Exchange (BRBY.L) and is a constituent of the FTSE 100 index.
BURBERRY, the Equestrian Knight Device, the Burberry check and the Thomas Burberry Monogram and print are trademarks belonging to Burberry.
For more news: www.burberryplc.com
ABOUT ANNE IMHOF
Anne Imhof on Instagram.
Anne Imhof is a contemporary German artist known for her endurance performances, paintings and revolutionary installation work.
Having studied at Städelschule in Frankfurt am Main, Anne has created several solo exhibitions, including 'DEAL' (2015) at MoMA PS1 in New York and 'Angst II' (2016) at the Hamburger Bahnhof in Berlin.
In 2017, Anne Imhof represented Germany at the 57th Venice Biennale transforming the pavilion with her performance piece, 'Faust', for which she was awarded the Golden Lion for Best National Participation – an award given to only one of the 85 exhibitions mounted in pavilions in the Giardini della Biennale and across Venice.
In 2019, Imhof unveiled 'Sex', a large-scale commission at the Tate Modern, the first project by a solo artist to occupy the full suite of spaces in the Tate Modern Tanks featuring music specially composed together with Billy Bultheel and Eliza Douglas.
ABOUT ELIZA DOUGLAS
Eliza Douglas on Instagram.
Eliza Douglas is an acclaimed artist who has held solo exhibitions at Air de Paris in Paris, Jewish Museum in New York and Schinkel Pavillon in Berlin among others.
Musically, she has collaborated with artists including Hercules and Love Affair, Antony and the Johnsons and Devendra Banhart.
ABOUT TWITCH
Burberry's Twitch account: https://www.twitch.tv/burberry
Launched in 2011, Twitch is a global community that comes together each to day to create unique, live, unpredictable experiences through the interactions of millions. Together, the community creates entertainment across a host of categories from casual gaming to world-class e-sports, sports, music and art streams.
We are always live at Twitch. Stay up to date on all things Twitch on Twitter and on our blog.
( Press Release Image: https://photos.webwire.com/prmedia/5/264144/264144-1.jpg )
Related Links
WebWireID264144

This news content was configured by WebWire editorial staff. Linking is permitted.
News Release Distribution and Press Release Distribution Services Provided by WebWire.