What flavors are bubbling up in hard seltzers this summer?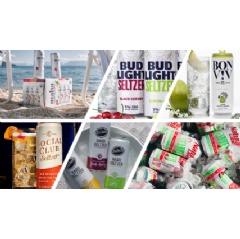 There's one clear star of this summer's socially distant, open-air gatherings ranging from backyard family cookouts to picnics in the park: hard seltzer. These beverages are rapidly becoming the summer drink of choice as consumers gravitate toward refreshing flavors and healthier habits. 
Since emerging on the scene a couple years back, hard seltzers have seen a meteoric rise. For example, 55% of US-based alcohol consumers already drink hard seltzer at least once a week and consumption is projected to triple by 2023*. It's no wonder that social media conversations around hard seltzers outpaced all other alcoholic beverages in 2019.** 
While people still expect the refreshment and clean finish that drew them to hard seltzers in the first place, they're also seeking out brands that speak to their lifestyle and needs, says Lana Kouznetsov, Vice President, Beyond Beer, Flavored Malt Beverage Portfolio at Anheuser-Busch. 
"Our brands are constantly evolving to meet consumer expectations – low calorie, natural ingredients, organic – while delivering a greater range of unique flavors," says Lana. 
Interested in a sneak peek of what's available this summer? Check out our unique and varied seltzer offerings, as well as a behind-the-scenes glimpse into fan-favorite flavors.
Social Club  
For the classic cocktail lover 
With most hard seltzer brands drawing flavor inspiration from fruit, Social Club wanted to bring the fun and convenience of hard seltzer to another beverage category: cocktails. This new premium hard seltzer is perfect for those seeking a sophisticated and complex, yet refreshing and drinkable beverage. After an exhaustive analysis of the last 100 years of popular cocktails, three classics emerged as being translatable into a refreshing, carbonated twist: Old Fashioned, Sidecar and Citrus Gimlet. There's something for everyone – from light oak flavor notes for a bourbon lover, to the rounded notes of orange and lemon flavor in the Sidecar and the bright citrus essence of the Citrus Gimlet. 
Social Club Seltzer hit shelves in the U.S. in May 2020, along with "Create the Club," a program designed to hire independent creators, innovators and go-getters from across the country to not only join the Social Club community, but to help build it from the ground up. The program received an overwhelmingly positive response with more than 1,000 submissions received.  
Mike's Hard Seltzer 
For fans of classic and refreshing flavors and natural ingredients 
For our British-based hard bubbly beverage lovers, Mike's Hard Seltzer offers a lower calorie and carb alternative. Both vegan and 100% gluten free, Mike's uses natural grain spirit distilled five-times paired with a simple and refreshing blend of sparkling water and natural flavor in three options: Lemon, Lime and Black Cherry. At just 100 calories per can and 5% alcohol, Mike's Hard Seltzer is a drink you can enjoy freely without having to compromise on taste, calories or refreshment.
Natural Light Seltzer  
For the bold, pop culture conscious, pun-lover and sports fan
Since its launch last summer, Natural Light Seltzer (Natty) features easily drinkable and enjoyable fruit combinations with a bold, bubbly and delicious taste. This flavor-forward, 6% ABV beverage is available in three irresistible blends:  
Catalina Lime Mixer – where cherry and lime become best friends
Aloha Beaches – when mango and peach go beach mode 
House Rules – because strawberry and kiwi call the shots   

 
How cool is this? This bold brand was center stage during the 2019 World Series when Natural Light rallied behind Washington, D.C. and the Nationals baseball team. Like Natty Light crashed the  seltzer  party, the Washington Nationals crashed – and won – the World Series, for the first time in franchise history. Natty renamed itself Nationals Light Seltzer, and diehard Washington Nats fans hand-taped 'Nationals' over "Natural" on thousands of Natty Seltzer cans.
Maha Organic Hard Seltzer 
For the active and health and wellness-minded seltzer lover 
Maha, meaning 'greatness' in Sanskrit, is a USDA organic-certified hard seltzer bursting with flavor.  Maha is made with organic ingredients like real fruit juice, sea salt and cascara (dried skins of coffee cherries) and offers distinctive and enticing flavors like Tangerine Yuzu, Raspberry and Black Cherry – all made from real fruit juice.  
Fun fact: Maha is a new venture from Meg Gill, the co-founder of Golden Road Brewing, an award-wining AB InBev craft brewery. You may also know her as the host of Beerland on Vice TV!
Bud Light Seltzer  
The easy-drinking hard seltzer for any occasion 
What do you get when Bud Light, the maestro of light beer, brings together sparkling water, real cane sugar and natural fruit flavor? A light and bubbly hard beverage that is definitely not a beer. Its unique five-step filtration process ensures a cleaner finish with zero aftertaste, which makes Bud Light Seltzer consistently delicious and perfect for any occasion, in flavors you know and love – Black Cherry, Lemon Lime, Mango and Strawberry. At 100 calories, 5% ABV and less than one gram of sugar, Bud Light is a perfect introduction to the seltzer scene. 
BON V!V  
For health conscious, confident women who know what they want and are looking for a more sophisticated seltzer option 
BON V!V continues to set itself apart with unique tastes and premium blends offered by no other beverage in the segment. Flavors range from Pear Elderflower, Clementine Hibiscus and Coconut Pineapple, to classics like Black Cherry, Cranberry, Mango, Grapefruit and Lemon Lime. Using simple, select ingredients – purified water, champagne yeast and natural fruit essences – BON V!V offers an exceptional taste experience with zero grams of sugar.  
Did you know? Earlier this year, through #TogetherWomenRise, BON V!V partnered with Priyanka Chopra Jonas to celebrate 20 women overcoming challenges stemming from the pandemic to donate $200,000 to the program as well as to CARE, a nonprofit organization fighting poverty and empowering women globally. 
At AB InBev, we are always evolving and innovating to make sure we are meeting our consumers where they are and with options they love. Whether you're looking for a new take on your favorite classic cocktail or looking to show your taste buds an adventure with innovative flavor combinations for your next physically distanced social gathering, don't forget to add hard seltzer to the shopping list!    
-------
* ISWR Drinks Market Analysis 
** Crimson Hexagon / Anheuser-Busch 
( Press Release Image: https://photos.webwire.com/prmedia/6/261756/261756-1.jpg )
Related Links
WebWireID261756

This news content was configured by WebWire editorial staff. Linking is permitted.
News Release Distribution and Press Release Distribution Services Provided by WebWire.