We grow barley that's out of this world – literally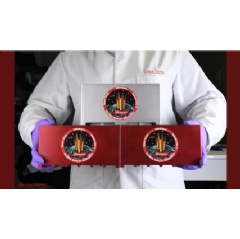 It's been over half a century since the first man landed on the moon. With new missions to space being planned and watched for the first time in years, it may feel that the race to space had all but ended, until recently. 
That's not the case. 
Picture this: it's 2120 and you've just moved to Mars. What's the first thing you reach for in celebration of your new digs? For all of us at AB InBev, it's a no-brainer. We'd grab an ice-cold beer, of course. 
For that dream to become a reality, it's critical that we not only build a company to last 100 years and beyond – but that we anticipate what that future looks like, from consumer demands to evolutions in agriculture practices. As far-fetched as it may seem now, that vision includes the possibility of someday, growing our ingredients and brewing our beers on another planet. 
Far out, right? We think so, too. That's why Budweiser together with our Colorado-based Global Barley Research Center (GBRC) scientists started to explore growing Earth-based, natural ingredients in space. They teamed up with NASA and microgravity research firm Space Tango, on four, first-of-their-kind experiments aboard the International Space Station. Our mission? To study the effects of microgravity on growing and malting barley. Barley is the second ingredient in beer after water, while the malting process gives beer its color, flavor, foam and sugar, which ultimately turns into alcohol.
"AB InBev's team of dedicated researchers shared our passion for science and agriculture and we worked collaboratively to adapt an industrial Earth-based process for a microgravity environment in space. Through the process, we gained a newfound appreciation for the specificity of the Budweiser recipe. It is truly a unique process that emphasizes detailed science!" – Space Tango 
First, here's some background on how we got the first-ever barley plants to space: 
1. We started with the seed. GBRC developed Budweiser's iconic and patented Voyager Barley, and supplies many of our farmers globally with high-quality barley seeds. While its name is just a cosmic coincidence, Voyager barley's resilient nature and hearty flavor made it perfect for our experiments and the obvious choice for the first-ever galactic barley. 
2. Testing our experiment 'labs.' Our partner Space Tango developed autonomous, self-contained research modules to facilitate our experiments with real-time monitoring and data-sharing capabilities to track progress from Earth. About the size of a shoe box, these automated modules called "CubeLabs" allowed us to accurately study barley plant biology, germination processes, gene expression and malting processes in real time and from the International Space Station National Laboratory that travels roughly 17,150 mph, 250 miles above the earth's surface.
3. Growing up, up and away. On four different occasions, CubeLabs full of barley seedlings, were shuttled up to space and transferred to orbit aboard the International Space Station for about 30 days. 
You might be surprised by how much we learned from these experiments. By exposing barley to microgravity, we learned how to maximize production volumes, grow higher quality crops and overall, what it might take to successfully grow and malt barley in microgravity – ultimately furthering our understanding of agriculture both on Earth and in space. 
Space in space
A single head of barley has approximately 30 kernels, and it takes about 700 kernels of barley to brew a 12-ounce beer. In order to make enough barley to brew our beers, we'll need many large, enclosed "vessels" – or big, production versions of our CubeLabs. 
Germination growth
Germination is the second step in malting barley, in which the plant develops enzymes and sprouts. Through genetic profiling in space-grown barley, we saw significant changes in cell structure due to a lack of gravity, which would require us to adapt our traditional malting process accordingly.
Harnessing H20
Budweiser is comprised of 90% water, and the limited access to this resource in space poses a challenge. The first of the three-step malting process uses water to 'wake up' the barley kernels through steeping. Through the experiments, we learned that we'd need to reuse and efficiently deliver water to large barley growing areas. We're working on new methods for re-oxygenation and draining systems that will prevent rot while growing in space, and if we are successful, we could also use it here on Earth to reduce water use, and take one step toward achieving 100% measurably improved water availability and quality for our high-stress area communities, our water stewardship goal
Keeping in the heat
Kilning is the third and final step in malting barley, which dries our malt and develops the iconic beer flavor you know and love! As we went through this adapted process in space, the temperature rose and heat was lost to the environment. We're now looking for ways to harness this fleeting heat, reinvest it elsewhere and to power the malting process – or even other facilities on the space station. And the best part? Like the learning we had in water efficiencies, we believe this process could be applied on Earth to further achieve our goal of 100% of our purchased electricity to be from renewable sources and support our climate action initiatives. 
Trial and error, the name of the game
Perhaps not surprisingly, microgravity is a new and different environment for growing and malting barley – one that is vastly different than how it works on Earth. But we're dedicated to getting it right, and continue to pivot and adjust our processes accordingly. In fact, we even tried and failed to replant microgravity-grown seeds in Colorado, to understand how – or if – it would impact growth. Even though the plants didn't survive, we are still able to take the learnings and help to further our scientific research progress.  
Whether it's more efficient use of water, capturing fleeting heat or learning to grow barley more efficiently here at home, the experiments were a leap forward for agricultural research and we were 'over the moon' to uncover that so many of our learnings could potentially help us progress toward our 2025 Sustainability Goals.
It's no secret that we've always looked to push the "worldly" boundaries and dare to do things differently. Until the day comes that we are brewing beer in outer space, we will continue to explore unique and never-before seen ways to grow our crops in the most sustainable way here on Earth. 
( Press Release Image: https://photos.webwire.com/prmedia/6/261749/261749-1.jpg )
Related Links
WebWireID261749

This news content was configured by WebWire editorial staff. Linking is permitted.
News Release Distribution and Press Release Distribution Services Provided by WebWire.