A Good and Great Leader is an Inspiring Influencer
A good leader empowers others to lead and encourage them to achieve their ultimate. Presenting Joachim Ifezuo Oforchukwu's Book "Perspectives on Leadership: a Synthesis of Types and Theories" that will help you discover the leader in you and will enhance the skills that will turn you to be a great and inspiring leader, that you too will be able to empower others.
Miami Florida, USA –
WEBWIRE
–
Friday, July 17, 2020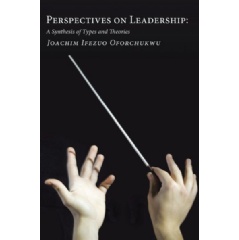 A servant leader needs to ensure that everyone in the team is looked after. This, in turn, establishes a happier, healthier, and more effective, and productive team, and as a result, performance improves consequently. Joachim Ifezuo Oforchkwu and his book "Perspectives on Leadership: a Synthesis of Types and Theories" will help you enhance your leadership skills both as a servant leader and a great influencer.
 
Leading an organization should be motivating and encouraging, good leadership seizes the essentials of being able and prepared to inspire his followers. Great leaders inspire loyalty, confidence, and commitment, help remind the people he works with to imagine and visualize the big picture of a target goal, and challenge them to outdo themselves and unleash their fullest potential.
 
Whether operating your own business or leading a group of individuals, the extreme and effective leaders require a strong, firm set of leadership traits to help positively interact with their team members, and clients. Both behavioral theories and leadership perspectives suggest that leadership skills aren't entrenched and can be taught and learn, – people can obtain leadership qualities and enhance it through observing, teaching, and learning these skillsets over time.
 
Good and improving leadership has the skill to drive people to attain great heights of accomplishment and performance, and to illustrate these qualities network of people will follow by choice—passion, purpose, listening and giving meaning to their role.
 
While we're all living different timelines on the journey of life, we look to leaders for advice and guidance, then knowledge and wisdom. And there's no competently way to become a great leader than to learn from the best. Learn and discover what qualities and skills possessed by good leaders that make them great by Grabbing Joachim Ifezuo Oforchkwu's Book "Perspectives on Leadership: a Synthesis of Types and Theories."
 
 
"Perspectives on Leadership: a Synthesis of Types and Theories"
Publisher: Author House (May 11, 2011)
Publication Date: May 11, 2011
Sold by: Amazon.com Services LLC and Barnes & Noble 
Language: English
ASIN: B07932BJS6
Kindle: $9.99
eBook at Barnes & Noble: $8.49 Save 15%
Paperback: $15.00
Hardcover: $25.00
 
 
About The Book
The purpose of this book is to discuss the different aspects of leadership traits in detail and their associated characteristics. The research mainly focuses on perspectives of leadership and its different aspects revolving around the same. The perspectives of Leadership received attention in the popular press, but little empirical research exists to support the theory or the anecdotal evidence used in the popular press material.
The author of this book presents a model of perspectives of leadership based on the variables of vision, influence, credibility, trust, and service identified in the academic and popular press literature. Other researchers are encouraged to engage in the empirical research activities required to advance this stream of literature to its next phase of maturation.
The book also explains the leadership as practical ethics. Ethics and leadership are therefore best understood as a realist endeavor. Realists focus on power and interests as the key elements of human behavior. Good leaders are made, not born. If you have the desire and will power, you can become an effective leader. Good leaders develop through a never-ending process of self-study, education, training, and experience. This guide will help you through that process.
To inspire your workers into higher levels of teamwork, there are certain things you must be, know, and do. These actions do not come naturally, but are acquired through continual work and study. Good leaders are continually working and studying to improve their leadership skills; they are NOT resting on their laurels. When a person is deciding if he/she respects you as a leader, he/she does not think about your attributes, rather, he/she observes what you do so that he/she can know who you are. He/she uses this observation to tell if you are an honorable and trusted leader or a self-serving person who misuses authority to look good and get promoted.
Self-serving leaders are not effective because their employees only obey them, not follow them. They succeed in many areas because they present a good image to their seniors at the expense of their workers. The basis of good leadership is an honorable character and selfless service to your organization. In your employees' eyes, your leadership is everything you do that affects the organization's objectives and their well-being.
Respected leaders concentrate on what they are [be] (such as beliefs and character), what they know (such as job, tasks, and human nature), and what they do (such as implementing, motivating, and providing direction). This work is a core textbook in leadership, ethics, administration, politics, and management.
This book is different from any other previously published book on leadership. It explores the different theories of leadership. To help students learn effectively, the book includes study questions and summaries at the end of each chapter. Joachim Ifezuo Oforchukwu, C.S.Sp., Ph.D.
( Press Release Image: https://photos.webwire.com/prmedia/60925/261684/261684-1.jpg )
WebWireID261684
Contact Information

Jeff Mathews
Production Manager
Your Online Publicist

This news content may be integrated into any legitimate news gathering and publishing effort. Linking is permitted.
News Release Distribution and Press Release Distribution Services Provided by WebWire.