In A New Campaign, Perdigão Stimulates People to Eat Together, but in A Different Way
With the creation of the DPZ & T agency, the brand highlights the importance of affective relationships, even if the distance
São Paulo –
WEBWIRE
–
Thursday, April 2, 2020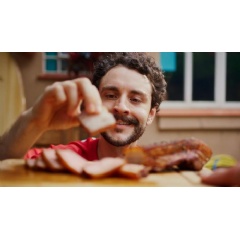 Perdigão, a brand that has been present on the consumer's table for more than eight decades, presents a campaign in which it encourages Brazilians to eat together, but at this moment at a distance. As a result of the advancement of the new Coronavirus (COVID-19) in the country, in which Brazilians need to stay at home during quarantine, Perdigão reinforces the motto "Eating together tastes like Perdigão", in which it emphasizes the importance of affective relationships, but at that moment, they must be in a different way.
With the creation of the agency DPZ & T, the 30 '' film aired on Tuesday (31), at the interval of Jornal Nacional (TV Globo), throughout the country. The campaign still demonstrates how cooking has gained more strength as part of people's routine . And to encourage the public, a special hub on its website ( www.perdigao.com.br/receitas ), 'Comer Junto' , will also be launched this Friday, 3rd . In it is available Perdigão exclusive content with several tips, recipes and videos. There are options, from starters, sandwiches, main course and side dishes, with the complete portfolio of the brand.
"Perdigão has always sought to encourage consumers to bring together the people they love to eat together and to share moments rich in flavor. But, in this very sensitive and delicate moment, we ask that people remain united, but at a distance, connected with the countless tools that technology offers us ", says Luciana Bulau, Marketing Manager at Perdigão.
"We all maintain the expectation that we will have better days and we will return to share good times together. In the meantime, we will continue to bring the best products to the table of our consumers", adds Sidney Manzaro, vice president of Mercado Brasil at BRF.
"It's a challenge to make a commercial right now, but leaving a message is rewarding: it's time for us to close the door. But only at the door, not in the heart. ", Comments Felipe Gall, creative director of the DPZ & T agency.
In addition to the film on TV, the campaign unfolds in digital, with pieces produced by Ampfy and published on the brand's social networks, as well as media on wide-ranging portals. Digital influencers and Perdigão ambassadors, such as José Almiro, from the Churrasqueadas channel, will present videos with step-by-step recipes for everyday life.
Watch the full movie at: https://www.youtube.com/watch?v=yPK3GApatXk
DATASHEET
Client: Perdigão
Agency: DPZ & T
Campaign : Core 2020
General Creative Director: Rafael Urenha
Executive Creative Director: Carlos Schleder
Creative Direction: Felipe Gall
Creation: Felipe Gall, Giuliano Cesar
Service : Fabio Losso, Fernanda Widonsck, Mariana Whitehead
Planning : Fernando Diniz
Media : Paulo Ilha, Patricia Alves, Bruno Felix, Jessica Lambauer, Gabriela Pereira, Gustavo Loro, Tawane Lilia
Client Approval : Luciana Bulau, Leonardo Marcolin, Rafael Gonçalez, Sharon Harrison, Vinicius Moraes.
RTV: Ducha Lopes, Paula Alimonda, Sthefany Nascimento
------
EAT TOGETHER
Image Production : O2 Filmes 
Scene Direction: Alex Gabassi 
Products Direction: Renato Amoroso
Executive Production: Flavia Zanini, Rafael Fortes
Producer service : Alexandre Borzani, Rejane Bicca
Photography Stock Footage: André Faccioli
Photography Products: Renato Amoroso
Finished: O2 Filmes
Post-Production: O2 Filmes
Costume Designer: Evelyn Palmeira
-------
GRILLED
Image Production : Hungry Man
Scene Direction: JC Feyer
Executive Production: Rodrigo Castello
Managing Partner: Alex Mehedff
Executive Director: Renata Corrêa
Executive Creative Director: Fabio Pinheiro
Line Producer: Lili Pulz and Bea Couto
Stock Footage: Will Etchebehere
Director of Photography / Product: Felipe Hermini
Customer Image Production: Íris Gil
Costume Designer: Marcelo Sommer
Editor: Paulão de Barros
Finished: Marcos Camurati
Post-Production: Miagui
Art Director: Andres Zarza
Head of Production: Luciana Martins
Production Coordinator: Bruna Martinelle
Post-Production Supervisor: Rodrigo Oliveira
Color Grading: Marla Color Grading
 -----
Audio Production: Satellite Audio
Musical Direction: Roberto Coelho, Kito Siqueira, Hurso Ambrifi and Daniel Iasbeck
Music Production: Daniel Iasbeck, Mike Vlcek, Thiago Colli
Production support : Renata Costa and Nicole Bonnet
Finished: Ricardo Bertran and Isadora Penna
Coordination: Ana Cordeiro
General Assistant:   Helton Oliveira
About Perdigão
Perdigão has been present at the consumer's home for more than eight decades and believes in human relations to celebrate meals, whether on special occasions or everyday situations. With the 'Comer Junto' positioning, the brand has in its portfolio democratic options that cater to different audiences and consumption occasions, ranging from breakfast, to lunch, snacks and dinner. With the Na Brasa line, for example, which offers consumers a wide variety of barbecue products, Perdigão encourages daily celebration among friends and family, for moments full of flavor. 
( Press Release Image: https://photos.webwire.com/prmedia/6/257429/257429-1.jpg )
Related Links
WebWireID257429

This news content was configured by WebWire editorial staff. Linking is permitted.
News Release Distribution and Press Release Distribution Services Provided by WebWire.