New Cannes Lions School Leaders announced
We're delighted to welcome Jaime Robinson as our Cannes Lions School Chairperson, Alla Arutcheva as our Young Lions Ambassador and Douwe Bergsma and Kerry Elsdon as our Brand Marketers Academy Dean and Tutor.
WEBWIRE
–
Tuesday, February 25, 2020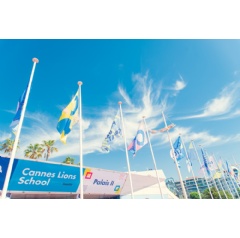 The Cannes Lions School campus sits at the heart of the Festival and is home to our career acceleration programmes. We offer opportunities for our community to grow potential and learn from world-class industry leaders in as part of an immersive experience and intimate classroom setting.
Our talent championing programme leaders are fundamental to the life changing experience that we offer our students.
In 2020, we welcome Jaime Robinson Co-Founder and CCO at JOAN, as our Chairperson. She joins us as the face of the Cannes Lions School. You'll find Jaime on campus inspiring and mentoring our Young Lions, and running sessions with our senior leaders.
We welcome back 2019 Creative Academy Alla Arutcheva, Senior Copywriter, Team One,  as our Young Lions Ambassador, who will represent and support the incoming class of Young Lions ahead of and over the Festival week. Douwe Bergsma, CMO, Piedmont Healthcare, and Kerry Elsdon, Vice President, Global Digital Marketing, Mastercard, take on key roles at the head of the Brand Marketers Academy.
There's still time to secure your place on one of our week-long career acceleration programmes at the Cannes Lions School. Apply before our deadline on 1 March. 
Jaime Robinson - Cannes Lions School Chairperson
Co-Founder and CCO at JOAN
"Cannes Lions is the place where we celebrate lateral, business-driving thinking...I love the idea of being a part of a school dedicated to that line of thought. I'm so honoured to be serving in this role, at the Festival where I learn new things, every single year."
Honoured as one of Ad Age's "40 Under 40," Jaime is the Co-Founder and Chief Creative Officer of JOAN, a New York City-based creative company. JOAN Creative develops brand strategies and creative work for clients including, General Mills, Keds, Facebook, Uber, Georgia Pacific, and SafeAuto. JOAN also has an IP arm, which creates content and products to spur change. This includes the Womanikin, a device invented to combat the gender gap in CPR. Her work has won three Grand Prix at Cannes Lions and an Emmy for "Outstanding New Approach" to Entertainment.
Alla Arutcheva - Young Lions Ambassador
Senior Copywriter, Team One
"I'm beyond excited to be the next Young Lions Ambassador. I describe the role as a cross between a resident advisor and a social correspondent for the Young Lions. I can't wait to build community, mentor the youth, and help them get the most out of this life-changing opportunity."
In the lead up to the Festival, Alla will guide Young Lions through everything they need to know, what to expect, helpful resources and hints as they prepare, answering their burning questions and ramping up excitement. Onsite she'll be mentoring them as the face of the Young Lions of the Festival, documenting their stories on our Instagram account, speaking at Young Lions engagements and about Young Lions to attendees and the press. 2019 Creative Academy alum and Senior Copywriter Alla's passion for writing and coming up with big, bold ideas is what led her into the advertising industry. Now, she's also the Co-founder and President of a nonprofit called Girls Lead Summit. It's grown into a global peer-to-peer mentorship programme for young girls that's very close to her heart.
Brand Marketers Academy Leaders
The Brand Marketers Academy is a six-day certificate programme for daring brand disruptors under 30 who want to unlock the power of creativity for themselves and their brands. Succeeding Jim Stengel & Suzanne Tosolini, this year's team is the first change in leadership since the Academy started in 2011.
Douwe Bergsma - Brand Marketers Academy Dean
CMO, Piedmont Healthcare
"I am honored and excited to succeed marketing legends Suzanne Tosolini and Jim Stengel work with Kerry Elsdon and Nicolle Farragher as the Dean of the Brand Marketers Academy at Cannes Lions. As the new dean of the Academy, I pledge to educate the next gen of marketing leaders on the importance of creativity in all we do."
Douwe heads up the B2B and B2C marketing and communications for Piedmont Healthcare, a multi-billion-dollar not-for-profit purpose-driven organization that leads transformation of healthcare in the US. His current role followed a nine-year break-through run as CMO at Georgia-Pacific and a successful 19-year career at Procter & Gamble in Europe and North America. Douwe helps to drive industry growth as a member of the major CMO organizations, the ANA Board Directors and as a strong early supporter of #SeeHer, the initiative that aims to portray women accurately in the media.
With over 25 years of brand marketing experience, we are excited to provide him with this platform to educate the next generation of brand leaders. He'll be working with us to design the curriculum for and lead the Brand Marketers Academy in 2020, providing his expertise and mentoring the incoming class.
Kerry Elsdon - Brand Marketers Academy Tutor
Vice President, Global Digital Marketing, Mastercard
"It's a true privilege to be the new Tutor of the Brand Marketers Academy. I've experienced first-hand how well-crafted these academies are, how inspiring they are and what a great impact they make on the students. I'm very excited for what's to come"
Kerry is a passionate marketer with over ten years in the industry, striving to demystify "digital" marketing to drive innovative and creative thinking to deliver outstanding results. She's also a longstanding friend of the Academy, having graduated from the Media Academy in 2013 and returning six years later as part of the Brand Marketers Academy class of 2019. She joined Mastercard five years ago where she has taken on three varied roles within marketing. Prior to this, she worked-agency side for global brands including Mastercard, Microsoft and Burberry, to help elevate their digital marketing efforts.
( Press Release Image: https://photos.webwire.com/prmedia/6/255593/255593-1.jpg )
Related Links
WebWireID255593

This news content was configured by WebWire editorial staff. Linking is permitted.
News Release Distribution and Press Release Distribution Services Provided by WebWire.