Watch: Coca-Cola Energy Taps Martin Scorsese and Jonah Hill for Big Game Debut
WEBWIRE
–
Tuesday, February 4, 2020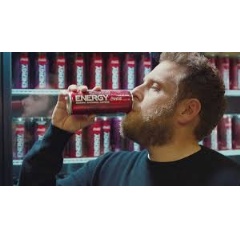 The biggest Coca-Cola innovation of 2020 will spend 60 seconds on the world's biggest advertising stage alongside a pair of Hollywood's biggest stars.
Oscar-winning filmmaker Martin Scorsese and producer, director and actor Jonah Hill star in a Coca-Cola Energy spot titled Show Up™, which presents the familiar dilemma of making plans only to struggle to muster up the energy to leave the couch as "ETA?" texts light up your phone. The commercial adds a tongue-in-cheek twist to a common scenario of waiting with bated breath as those three dreaded dots – (. . .) – linger onscreen and beg the question: "Will they or will they not #ShowUp?"
"Our goal is to bring the energy – literally and figuratively – to the Big Game," said Jaideep Kibe, VP, Coca-Cola Trademark, Coca-Cola North America. "We saw an opportunity to drive awareness of the first-ever Coke with energy drink credentials through the lens of an entertaining story of friendship most of us can relate to. Entering a new category is a bold move for Coke, so it's only fitting that we make an equally bold creative statement at the Big Game."
The ad – the first Big Game brand spot for both celebrities – opens with Scorsese arriving at a costume party and scanning the room for his partner-in-crime. He frantically messages Hill, who's kicked back watching TV and fighting the yawns, to question his whereabouts. Viewers are left wondering whether Hill will leave his friend hanging or find the energy to #ShowUp.
"Once we started thinking about casting, the first name that came to mind was Jonah," recalls Geoff Cottrill, SVP, strategic marketing, Coca-Cola North America. "A modern-day Renaissance man, his personality and what he stands for make him the perfect fit for Coke Energy. And when we asked him who he'd want to 'Show Up' in the spot with him, he immediately suggested his pal, Marty. We wouldn't have gotten Marty without Jonah, and his presence makes our story that much better. We couldn't be bigger fans of this perfect pairing, or happier with the result."
"Show Up", which airs during the second quarter of Sunday's Big Game telecast, was created by Wieden+Kennedy (Portland) and produced by Smith & Jones Films (Los Angeles). Grammy-nominated hip-hop artist YBN Cordae makes a cameo appearance, and his music is featured in the opening party scene.
#ShowUp Monday
Coca-Cola is extending the push to "show up" beyond the Big Game, partnering with Amazon to give weary Americans a timely pick-me-up on one of the most sluggish mornings of 2020.
Research reveals that the Monday after the Big Game is the biggest absentee day of the year, with 11% of Americans calling in sick to work after a long, late night. So, on Feb. 3, Coca-Cola and Amazon will hand out free samples of Coca-Cola Energy across the country. New York commuters can make a pit stop at the Amazon Alexa Coca-Cola Energy Wall at Grand Central Terminal from 7 a.m. to noon ET to grab some energy to get through their day. And Amazon Treasure Trucks will dispense Coca-Cola Energy in 29 U.S. cities.
Alexa users also can get up to two free sample cans shipped to their home with the simple voice prompt: "Alexa, order Coca-Cola Energy."
"This will be our biggest single-day sampling activation ever," Cottrill said. "We're confident that once people try Coca-Cola Energy, they'll love it."
While energy drinks are one of the fastest-growing nonalcoholic ready-to-drink (NARTD) beverage categories in the U.S., household penetration has slowed. Many Americans are open to trying energy drinks, but are hesitant because of unfamiliar ingredients. Taste is another major barrier.
"We're both disrupting and democratizing the category with a simple promise to deliver the energy people want and the Coca-Cola taste they love," Kibe said.
The Energy You Want and the Taste You Love
Coca-Cola Energy, Coca-Cola Energy Cherry and their zero-calorie counterparts hit stores nationwide on Jan. 20. All four varieties are offered in 12-oz. sleek cans and include 114 mg of caffeine per 12-oz. serving, plus guarana extracts and B-vitamins.
Coca-Cola Energy debuted in 2019 in Spain and Hungary, and is now available in 45 countries. It continues Coke's recent track record of innovation in the U.S. In 2019, Coca-Cola Orange Vanilla and Coca-Cola Orange Vanilla Zero emerged as the trademark's first new flavor extensions in over a decade, and Coca-Cola Cinnamon made a limited-edition appearance during the holiday season. Coca-Cola Cherry Vanilla and Cherry Vanilla Zero will keep the streak going next month.
From the initial planning phases, the Coca-Cola Energy team has challenged themselves to think differently about how to bring the breakthrough innovation to market. This agile, test-and-learn approach aligns with both Coke's total beverage company strategy and renewed focus on entrepreneurial thinking and speed to market.
"Last year was one of the trademark's strongest in recent memory, not only in revenue but in the moments of surprise and delight we delivered to fans – from our groundbreaking partnership with NETFLIX's Stranger Things to bring back New Coke for a limited time, to an unannounced December tie-in with the Ellen DeGeneres Show," Kibe said. "These innovations inspired us to go even bigger in 2020 and take the brand to places and spaces it has never gone before – and expand the meaning of Coca-Cola – by giving consumers more of what they want." 
( Press Release Image: https://photos.webwire.com/prmedia/6/254416/254416-1.jpg )
WebWireID254416

This news content was configured by WebWire editorial staff. Linking is permitted.
News Release Distribution and Press Release Distribution Services Provided by WebWire.