Perdigão Celebrates Real Stories of Generosity at Christmas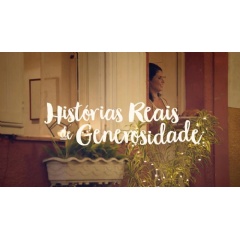 In campaign created by DPZ & T, brand reinforces that this is the time of year to gather friends and family and eat with Christmas dinner; Perdigão maintains Chester® donation action which this year reaches 1 million donated products.
Perdigão brings in its Christmas campaign this year real stories of generosity, which demonstrate the solidarity spirit of the Brazilian. With the signature 'Eating together tastes like Chester® Perdigão', the brand brought together royal families and friends at a very special Christmas dinner: Perdigão's contractor Luciano Huck is hosting the celebration and is able to extract exciting stories from people who They share the feeling of doing good and thanking the generosity of life.  
The film, which opens December 1 on free-to-air television, portrays stories such as friends of nurses who often spend Christmas dinner at work caring for others; the young woman who gathers friends who live far from family in her home for a tasty Christmas meal; The woman who realizes the dream of being a mother by adopting two brothers, and soon after is surprised to get pregnant with three other children, and who has Christmas as one of the most special dates. In every story, generosity plays the pivotal role that integrates everyone gathered at the Christmas dinner with Chester® Perdigão in the center of the table.
"We want to show how these exciting stories of generosity connect with Chester® Perdigão, which is synonymous with Christmas, which is tasty and generous, serving up to eight people," explains Luciana Bulau, Perdigão's executive marketing manager.
Donation
In this spirit of generosity, the brand promotes for the 4th consecutive year the donation of Chester® Perdigão, which this year reaches the mark of 1 million products donated throughout Brazil since 2016. Everyone can collaborate: by buying a Chester® Perdigão the consumer helps the brand donate 250,000 units of Chester® Perdigão to families registered in the 'Mesa Brasil' program of the Social Service of Commerce (SESC), in partnership with the BRF Institute.
"There is no sense of generosity more legitimate than giving another family the chance to have the most anticipated Christmas dish of the year, Chester® Perdigão," says Luciana Bulau.
Campaign
Brand communication will be integrated between on and offline. Because of this, agencies DPZ & T (offline) and Ampfy (online) have worked in partnership to build a unique campaign, with messages of generosity at Christmas and how this is the best time to 'eat together'.
In offline, DPZ & T signs, in addition to the films that air on open TV and produced by O2 Filmes, the merchandising actions on TV Globo, one of which will happen during a chapter of the new 21h soap opera, "Mother's Love". . Also highlighting actions in the "Cauldron of the Huck" - in one of its editions, the program features one of the stories of generosity of the film Perdigão as the woman who realizes the dream of being a mother.
Ampfy devised a QR Code in the campaign materials that leads to a digital platform with diverse content such as the real stories of generosity presented in the brand film, as well as recipes and Christmas curiosities. 
( Press Release Image: https://photos.webwire.com/prmedia/6/251330/251330-1.jpg )
Related Links
WebWireID251330

This news content was configured by WebWire editorial staff. Linking is permitted.
News Release Distribution and Press Release Distribution Services Provided by WebWire.