Japan Press Releases IBTM World 2019
WEBWIRE
–
Thursday, November 28, 2019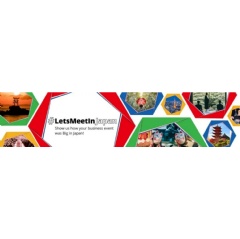 I. Japan, ever evolving beyond 2020 Olympic and Paralympic Games
II. The Japan Convention Bureau Launches a Hashtag Campaign for Business Events Participants: #LetsMeetInJapan
III. A Very Special Guest – Hello from Hello Kitty!
IV. JNTO Best Incentive Travel Awards 2019 – Prize Winners Announced!
V. Expanded and enhanced infrastructure in preparation for the 2020 Tokyo Olympics and Paralympics
VI. Four cities in Japan make Cvent's Top 25 Meeting Destinations in Asia
VII. New Finnair to Sapporo Route
VIII. New Hotels and Venues
IX. Major Events and Conventions Confirmed for Japan
I. Japan continues to evolve for the 2020 Olympic and Paralympic Games and beyond
Japan is in the spotlight as the recent Rugby World Cup (2019) captured the imagination of the world, and all eyes are on Tokyo for the upcoming Olympic and Paralympic Games (2020). Aside from sports, the World Expo was also recently confirmed for Osaka (2025).
In the meetings and events sector, Japan continues to go from strength to strength. The 2019 calendar was full of large conventions, including the World Congress of International Society for Prosthetics and Orthotics in Kobe, the Tsukuba Conference in Tsukuba, and the 25th General Conference of the International Council of Museums in Kyoto. At ICOM, over 4000 museum professionals and enthusiasts gathered in Kyoto for a whole week of exclusive access to the cultural capital of Japan. Through the exciting programme, delegates were given exclusive access to UNESCO World Heritage sites, Japanese National Treasures, and unique venues steeped in tradition. Evening events unfolded at multiple venues across the city, from castles to gardens to museums. The venue itself, Kyoto International Conference Center, was an ideal backdrop, combining functionality and nature in a venue that captures the interplay of tradition and modernity running through Kyoto and Japan. Suay Askoy, President of ICOM, praised the local host's hospitality, describing the "intimacy and warmth, even in dense cities…[with] huge populations" that delegates can expect to experience when attending an event in Japan.
Increased exposure through these many business events has led to increased appreciation of and growing interest in Japan as an events destination. "We should take this great opportunity to promote Japan as a business events destination, so that even more events and meetings will visit Japan after 2020," says Etsuko Kawasaki, Executive Director of Japan Convention Bureau (JCB).
II. The Japan Convention Bureau Launches a Hashtag Campaign for Business Events Participants: #LetsMeetInJapan
The Japan Convention Bureau launched its hashtag campaign, #LetsMeetInJapan, for participants of business events in Japan. Through a multiplatform campaign running on Facebook, Twitter, Instagram and LinkedIn, posts using the hashtag to show photos or describe experiences as a business traveller in Japan are in with a chance of winning a trip to Japan.
The campaign period is from the 10th September to the 10th December, and JNTO encourages participation from a wide range of people. We're waiting to hear about how your event was big in Japan!
For further information please visit: https://www.japanmeetings.org/letsmeetinjapan
III. A Very Special Guest - Hello from Hello Kitty!
The Japan Convention Bureau offers an opportunity to invite a star from Japan onto the stage with you for your meetings, events or incentives – the adorable Hello Kitty!
Recently, Hello Kitty took to the stage for the ABTA travel convention in Tokyo. The convention was held on the 7th-9th October 2019, and around 600 delegates from the UK attended. Delegates were delighted by Hello Kitty as she treated them to a dance performance in a traditional Japanese kimono.
Although Hello Kitty is a little shy - she'll only appear at private functions and won't speak in front of a crowd (or at all!) - after a suitable introduction, she'll be available to perform on stage, or move among the event to take photos with participants.
"Kawaii" culture is a part of Japan that attendees are often keen to explore, and now you can incorporate a taster of unique local culture into your event even more easily.
For more details of the Hello Kitty invitation programme, speak to a local representative of JNTO.
IV. JNTO Best Incentive Travel Awards 2019 - Prize Winners Announced!
Established in 2016, the Japan Best Incentive Travel Awards are hosted by JNTO as an opportunity for JNTO, as the national convention bureau, to recognize event planners for their successful and innovative incentive tours to Japan, and the contributions that these have made to the local regions. The prize winners are selected by a panel of judges according to criteria including the overall effectiveness of the event, the originality of the program, and the contribution to the host city. The award acknowledges planners for their innovation and showcases unique venues available throughout Japan. In 2019, around 70 entries were received from all over the globe.
JNTO is pleased to announce that the winners as follows:
          Best Incentive Travel: JTB Europe Ltd., Corporate Events and Travel
          Best Creative Planning: China International Travel Service Guangdong Co. Ltd.
          Best Community Contribution: Japan View (Thailand) Co. Ltd.
In addition, this year Special Recognition has been given to incentive travel which visited Hokkaido and Fukushima (areas affected by earthquakes in recent years), in gratitude to their contributions to the recovery of these areas.
The award ceremony was held at Osaka City Public Hall on October 23rd. Further details are on the website below.
https://www.japanmeetings.org/japan-incentive/incentive-awards/
V. Expanded and enhanced infrastructure in preparation for the 2020 Tokyo Olympics and Paralympics
As the country prepares to host the Summer Olympics and Paralympics next year, new transportation options, shopping areas, attractions and venues are opening up in anticipation of an increase of visitors to Japan. For example, in Spring 2020, Tokyo Disneyland will be expanding with several new attractions, and a giant new shopping complex in will open in Tokyo called Ariake Garden City with 170 shops, 750 hotel rooms, and event space.
Increased transport efficiency and access from Narita airport and Haneda airport will be in place for the 2020 Olympics as well, with access to central Tokyo taking only 36 minutes from Narita using the Keisei Sky Liner and 11 minutes from Haneda when taking the Keikyu-line. There will also be full barrier-free access at major train stations, bus terminals and airports ahead of the 2020 Tokyo Olympics and Paralympics. JR East will also begin offering special transportation passes, the "Welcome Suica" cards. Unlike other similar cards, these will not require a deposit. These and many other improvements and expansions mean that business travel in Japan will run smoothly for the peak period of the Olympic and Paralympic games, and retain increased capacity and efficiency going forward.
VI. Four cities in Japan make Cvent's Top 25 Meeting Destinations in Asia
Tokyo, Yokohama, Chiba and Osaka made their way onto Cvent's Top 25 Meeting Destinations in Asia for 2019. With Tokyo moving up a spot in the top ten to sixth place, Chiba, Osaka and Yokohama make their way on as newcomers as eighteenth, twenty-second, and twenty-fifth respectively. The list was compiled by analysing meeting and event booking activity through Cvent.
VII. New Finnair to Sapporo Route
A new direct route between Europe and Japan has opened, thanks to Finnair's Helsinki to Sapporo flight. With this pathway open, travellers have the option to head directly to Hokkaido from Europe. Hokkaido is famed for its winter sports, including skiing, fresh seafood, and wild nature. Long recognised within Asia as a desirable incentive location, Hokkaido and Sapporo are now even closer to Europe, opening up new opportunities.
VIII. New Hotels and Venues Japan continues to capture the attention of the industry with new luxury hotel brands opening around the country and culturally significant venues becoming available for exclusive events.
Hotels
Tokyo
1.  Four Seasons Tokyo - The Four Seasons expands on its Japanese developments (Four Seasons Kyoto opened in 2016) with a second Tokyo Property in 2020.
2.  The Okura Tokyo - Previously known as Hotel Okura Tokyo, The Okura Tokyo re-opened in September 2019. It features 508 guest rooms and a combined total of 32,442 sq. ft of meeting space.
Yokohama
1.   InterContinental Yokohama Pier 8 - InterContinental has opened its new hotel in the new cruise terminal complex "Yokohama Hammerhead" in October 2019.
2.  Hyatt Regency Yokohama - Hyatt will add to the hotel growth in Yokohama with its new 315 room property in Spring 2020.
3.  The Kahala Hotel & Resort Yokohama - The high-end brand "THE KAHALA HOTEL & RESORT YOKOHAMA," named after a prestigious hotel on the island of Oahu, Hawaii, is scheduled to open around Summer 2020. It will be the first global development bearing the "KAHALA" brand name.
Osaka
  W Osaka - W Hotels Worldwide will launch W Osaka in 2021 with 337 guest rooms over 27 floors. By 2022, Osaka is to have 11 newly built hotels, a total of 3,700 new rooms.
Kyoto
1.  Park Hyatt Kyoto - Park Hyatt Kyoto opened in October 2019, featuring 70 guest rooms including 9 suites, and is located in a historical area in Kyoto.
2.  AMAN Kyoto - Aman Kyoto, close to Kinkaku-ji Temple (Golden Pavilion) with 24 rooms and two two-bedroom villas, opened in November 2019.
3.  Mercure Kyoto Station - Accor Hotels will open Mercure Kyoto Station in Spring 2020 with 225 rooms over 11 floors, within walking distance from Kyoto station.
Nara
  JW Marriott Hotel - The first internationally branded hotel to launch in the ancient capital, JW Marriott will place Nara firmly on the international stage in spring 2020. The 150-room hotel will be in the same area as a convention center that is also being built nearby.
Kanazawa
  Hyatt Centric & Hyatt House Hotels - Hyatt will open Dual-Branded Hyatt Centric & Hyatt House Hotels in Kanazawa in the middle of 2020, which will be adjacent to Kanazawa station.
Hokkaido
  Park Hyatt Niseko Hanazono - Park Hyatt Niseko Hanazono, the venue of the G20 Tourism Ministers' Meeting, will officially open in January 2020.
Okinawa
  Halekulani Okinawa - By 2021, Okinawa is to have 43 newly built or refurbished hotels, a total of 7,000 new rooms. Of note, the Halekulani Okinawa opened July 2019 with 360 luxurious guest accommodations, including 47 suites and five private villas, all of which will have views of the ocean.
Venues
Yokohama
  PACIFICO YOKOHAMA North - As a new addition to PACIFICO Yokohama, the Yokohama Minato Mirai International Convention Center, a multi-functional convention center, will open in 2020 spring with 7,600 m² hall and various types of meeting spaces.
Gunma
  G Messe Gunma - A new convention center, G Messe Gunma, will open in spring 2020 equipped with 10,000 m² exhibition area and various types of meeting rooms.
Aichi
  Aichi Sky Expo - The Aichi International Exhibition Center, Aichi Sky Expo, opened in September 2019 with 60,000 m² exhibition hall and various types of meeting spaces with a direct access to Chubu Centrair International Airport.
Nara
  Nara Convention Hall - A new conference center, Nara Convention Hall, will open in 2020 spring with meeting spaces including a 2,100 m² hall.
Himeji
  Himeji Casty21 Event Zone - A new convention center, Himeji Casty21 Event Zone, will open in 2021 with 4,000 m² of exhibition space and a 2,000 seat hall.
Nagasaki
  Dejima Messe Nagasaki - A new convention center, Dejima Messe Nagasaki, will open in November 2021 with a 4,000 m² exhibition hall and various types of meeting spaces. And Hilton hotel is planning to open next to the facility.
Kumamoto
  Kumamoto-Jo Hall - Kumamoto-Jo Hall will open in 2019 with a 1,630 m² exhibition hall.
IX. Major Events and Conventions Recently Confirmed for Japan
・Harvard World Model United Nations 2020 -WorldMUN2020-(1,700PAX / 2020 / Tokyo)
・12th International4 Convention of Asia Scholars -ICAS12- (2,000PAX / 2021 / Kyoto)
・28th International Conference on Statistical Physics -StatPhys28- (1,200PAX / 2022 / Yokohama)
・World Congress of the International Society for Diseases of the Esophagus -ISDE2022- (1,100PAX / 2022 / Tokyo)
・15th International Gastric Cancer Congress -IGCC2023- (3,500PAX / 2023 / Yokohama)
・World Confederation for Physical Therapy Congress 2023 (13,000PAX / 2023 / Tokyo)
・International Society for Heart Research World Congress 2025 (2,000PAX / 2025 / Nara)
( Press Release Image: https://photos.webwire.com/prmedia/7/250829/250829-1.png )
Related Links
WebWireID250829

This news content was configured by WebWire editorial staff. Linking is permitted.
News Release Distribution and Press Release Distribution Services Provided by WebWire.