Rohde & Schwarz together with Fraunhofer Institutes HHI and IAF join forces in researching 6G at THz frequencies
Munich/Berlin/Freiburg –
WEBWIRE
–
Wednesday, November 6, 2019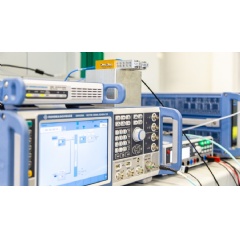 Research setup for channel propagation measurements and transmission experiments with candidate waveforms up to 300 GHz.
While the new 5G technology is at the first stages of rollout, Rohde & Schwarz, the Fraunhofer Institute for Telecommunications, Heinrich Hertz Institute, HHI and the Fraunhofer Institute for Applied Solid State Physics IAF are taking a step further with demonstrations in the terahertz (THz) frequency band, related to the 6th generation wireless mobile communication (6G). The collaboration has resulted in a wireless transmit and receive system operating between 270 and 320 GHz, with further frequency extensions for potential 6G bands already in preparation.
6G research is already underway in industry and academia. While 5G introduces mmWave frequencies with wider bandwidths for higher data rates and enables new applications such as in wireless factory automation (Industrial IoT) and for autonomous vehicles, the aim of 6G is to push the boundaries of transmission bandwidths even higher.
Although it is not clear yet which technologies 6G will entail, it is already apparent that frequency bandwidths need to be further increased to enable terabit class data rates. Wide contiguous frequency blocks can only be found at sub-THz and THz bands, i.e. in the frequency range above 100 GHz. The utilization of THz frequencies for 6G is estimated to become commercial in the next 8 to 10 years. But Rohde & Schwarz has already presented a demonstrator setup for 300 GHz to customers. The system was also displayed at the EuMW2019 in Paris as part of a workshop on mmWave and THz Wireless Communication, where it consisted of 300 GHz transceiver frontends, the R&S SMW200A vector signal generator and R&S FSW43 signal and spectrum analyzer as well as of units for synchronization of transmitter and receiver.
Involved in the current collaboration are the Fraunhofer HHI and the Fraunhofer IAF. The HHI works on signal processing, synchronization between transmitter and receiver, and system integration. The IAF contributes with high-performance millimeter-wave transmitter and receiver modules. The joint research targets frequencies above 100 GHz, where the primary focus is on the D-band (150 GHz) and the H-band (300 GHz). Carrier frequencies above 300 GHz are still subject of fundamental research. A first demonstrator resulting from the research collaboration is a system allowing signal generation and signal analysis at 300 GHz with 2 GHz bandwidth. The signal can be arbitrary modulated for conducting transmission experiments with Beyond 5G candidate waveforms, which are appropriate for THz communication or for performing channel propagation measurements.
Dr. Taro Eichler, Wireless Market Segment Manager at Rohde & Schwarz, said, "Rohde & Schwarz offers innovative, top-of-the-line tools for research during the early stages of 6G development. This allows us to engage in in-depth discussions with customers and to monitor the technical and market trends long before the commercialization of 6G. We are excited to partner with Fraunhofer HHI and IAF, benefiting from their leading expertise in development of mobile communication networks and systems, infrastructure and standards. We look forward to a fruitful partnership also in the future."
Dr. Wilhelm Keusgen, Head of mm-Wave Group at Fraunhofer HHI, said, "As an institution committed to leveraging innovations for the digital society, Fraunhofer HHI is happy to partner with an innovative industry-leading T&M expert such as Rohde & Schwarz on the latest and upcoming communications technologies. Our cooperation has been rewarding and will pave the way for the development of 6G."
Dr. Michael Schlechtweg, Head of Business Unit High Frequency Electronics at Fraunhofer IAF, said, "As one of the first global providers of chipsets and electronic components capable of reaching already now the high frequencies required by 6G, we are collaborating with valued partner Rohde & Schwarz at the very cutting edge of technology. IAF appreciates the mutually highly beneficial cooperation and is happy to continue exploring new innovations with Rohde & Schwarz."
Rohde & Schwarz builds its 6G research on a solid background of mobile communications test and measurement expertise, stretching from the early stages of 2G all the way up to and including 5G and beyond. Pioneering activities beyond 5G have already started about a year ago, when Rohde & Schwarz set up the world's first ultra-wideband channel sounder for mobile communications exceeding 100 GHz: https://www.rohde-schwarz.com/_229356-596500.html
Rohde & Schwarz
Rohde & Schwarz is a leading supplier of solutions in the fields of test and measurement, broadcast and media, aerospace | defense | security and networks and cybersecurity. The technology group's innovative communications, information and security products help industry and government customers ensure a safer and connected world. On June 30, 2019, Rohde & Schwarz had about 12,100 employees. The independent group achieved a net revenue of EUR 2.14 billion in the 2018/2019 fiscal year (July to June). The company is headquartered in Munich, Germany, and has subsidiaries in more than 70 countries, with regional hubs in Asia and America.
R&S® is a registered trademark of Rohde & Schwarz GmbH & Co.KG.
About Fraunhofer HHI and Fraunhofer IAF
The Fraunhofer Institute for Telecommunications, Heinrich Hertz Institute, HHI and the Fraunhofer Institute for Applied Solid State Physics IAF are part of the Fraunhofer Society, which is Europe's largest non-profit organization for applied research.
The Fraunhofer HHI is dedicated to advanced communication technology. It looks back on an over 90-year history in the areas of communication and signal processing and has contributed to many remarkable innovations with respect to photonic components, optical and wireless transmission as well as to image and video processing, which make the Fraunhofer HHI being a leading institution in this fields.
The Fraunhofer IAF is one of few world-leading research institutes with expertise covering the entire value chain in the field of III-V compound semiconductors and synthetic diamond. Based on these semiconductors, Fraunhofer IAF develops electronic and optoelectronic devices as well as integrated circuits and systems. The portfolio encompasses high frequency circuits for communication technology, voltage converter modules for electro mobility, laser systems for spectroscopic sensors, and quantum sensors with diamond for industrial and medical applications.
( Press Release Image: https://photos.webwire.com/prmedia/5/249625/249625-1.jpg )
Related Links
WebWireID249625

This news content was configured by WebWire editorial staff. Linking is permitted.
News Release Distribution and Press Release Distribution Services Provided by WebWire.