Gartner's 2019 Hype Cycle for IT in GCC Indicates Public Cloud Computing Will Transform Businesses
Analysts to Discuss Technologies and Trends Shaping the Future of IT and Business at Gartner IT Symposium/Xpo 2020, March 2-4 in Dubai, UAE
DUBAI, UAE –
WEBWIRE
–
Tuesday, October 15, 2019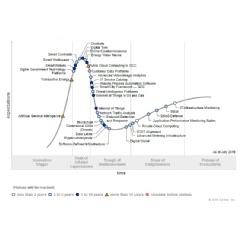 Figure 1. Gartner Hype Cycle for IT in GCC, 2019 Source: Gartner (October 2019)
The 2019 Gartner, Inc. Hype Cycle for IT in the Gulf Cooperation Council (GCC) states predicts that hype around public cloud computing will grow in the next two to five years. However, it will take more than 10 years for this technology to translate into mainstream adoption.

"Countries in the GCC are aggressively transforming from an oil economy to a technology-centric data economy," said Santhosh Rao, research director at Gartner. "Forty-nine percent of the businesses that participated in the Gartner CIO Agenda Survey in 2019 said that their business models have already changed or are currently changing to sustain and grow their businesses in the current global economy. CIOs are hence increasing investment in transformational technologies like artificial intelligence (AI), cloud services, automation and cybersecurity, and significantly decreasing spending on data center infrastructure."

Gartner's Hype Cycle highlights technologies, processes and standards that have transformational impact across organizations in the GCC (see Figure 1).

Key Technologies Generating Hype in the GCC

Public cloud computing in the GCC is forecast to grow in the next two to five years. However, Gartner predicts that the technology is a more than a decade away from the Plateau of Productivity, at which point the benefits of the technology will be completely understood by organizations.

"Recent regional initiatives such as the Government of Bahrain's Cloud First Policy, the ascent of innovative startups, and the willingness of fast-growing SMEs to adopt emerging technology are starting to change the cloud computing landscape in the Middle East," said Mr. Rao. Hyperscalers including Amazon Web Services, Microsoft (Azure), SAP and Oracle have recently opened data centers in the GCC, thus contributing to the hype.

One of the reasons for the gap between the hype about public cloud computing and the current level of adoption is the lack of clear policies and governance for the technology. "Our advice to CIOs is to work closely with risk and compliance teams when moving applications to the cloud," said Mr. Rao.

Gartner analysts expect robotic process automation (RPA) to achieve early mainstream adoption in the next two years, by penetrating 20% to 50% of the businesses in the GCC. According to Gartner, RPA is the fastest-growing segment of the enterprise software market. The business impact of RPA deployments is likely to be high, and the top five global RPA vendors — UiPath, Automation Anywhere, Blue Prism, NICE and Pegasystems — will control almost 50% of the global market.

"Globally, RPA is experiencing adoption in industries such as banking and insurance and in consulting, business process outsourcing and shared service centers. Its core benefit of replacing humans in tasks that are rule-based and involve repetitive keying or data collation is accelerating its adoption and success in these sectors," said Mr. Rao.

IT infrastructure monitoring (ITIM) tools capture the health and availability of IT infrastructure components that reside in a data center or are hosted in the cloud as infrastructure as a service (IaaS). "While ITIM tools have been around for decades, organizations today are investing in the technology to monitor availability of servers, networks, storage and databases, as well as enable the ability to troubleshoot network and server issues in a reactive manner," said Mr. Rao. Gartner predicts that ITIM will achieve early mainstream adoption by 20% to 50% of GCC businesses in the next two years.

ITIM tools are essential for enhancing troubleshooting and root cause capabilities. "They have been used to help improve availability, and lower the risk and total cost of ownership of managing large and complex infrastructure environments," said Mr. Rao.

Gartner clients can read more in the report "Hype Cycle for IT in GCC, 2019." More information on the technologies driving digital innovation can be found in the Gartner Special Report "Hype Cycles: Five Priorities Shape the Further Evolution of Digital Innovation," a research collection that helps organizations identify opportunities which enable the creation of new business and operating models.

Additional analysis on driving business performance will be presented during Gartner IT Symposium/Xpo 2019, the world's most important gatherings of CIOs and other IT executives. IT executives rely on these events to gain insight into how their organizations can use IT to overcome business challenges and improve operational efficiency. Follow news and updates from the events on Twitter using #GartnerSYM.

Upcoming dates and locations for Gartner IT Symposium/Xpo include:

October 20-24: Orlando, Florida, U.S.

October 28-31: Gold Coast, Australia

October 28-31: São Paulo, Brazil

November 3-7: Barcelona, Spain

November 11-14: Goa, India

November 12-14: Tokyo, Japan

March 2-4, 2020: Dubai, United Arab Emirates

May 11-14, 2020: Toronto, Canada

About Gartner

Gartner, Inc. (NYSE: IT), is the world's leading research and advisory company and a member of the S&P 500. We equip business leaders with indispensable insights, advice and tools to achieve their mission-critical priorities today and build the successful organizations of tomorrow.

Our unmatched combination of expert-led, practitioner-sourced and data-driven research steers clients toward the right decisions on the issues that matter most. We are a trusted advisor and objective resource for more than 15,000 organizations in more than 100 countries — across all major functions, in every industry and enterprise size.

To learn more about how we help decision makers fuel the future of business, visit gartner.com.
( Press Release Image: https://photos.webwire.com/prmedia/7/248539/248539-1.jpg )
Related Links
WebWireID248539

This news content was configured by WebWire editorial staff. Linking is permitted.
News Release Distribution and Press Release Distribution Services Provided by WebWire.