Gartner Survey Reveals the Three Top Brand Challenges for Marketing Leaders
Marketing Leaders Report They Struggle with Management, Relevancy and Measurement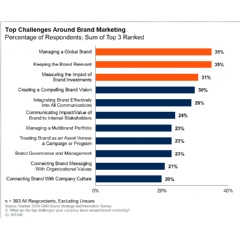 Fifty-eight percent of marketing leaders believe brand is a critical driver of buyer behavior for prospects, and 65% believe it is a critical driver of buyer behavior for existing customers, according to Gartner, Inc. However, the Gartner Brand Survey 2019 revealed that 35% of marketers struggle with managing a global brand.
"Managing a global brand is a complex, multidimensional task," said Chris Ross, vice president analyst at Gartner. "Even brands that may not see themselves as global are operating in a more tightly connected global ecosystem. As a result, the challenges of being a global brand extend to a large number of marketing leaders today."
Many marketing leaders also express frustration about keeping the brand relevant and aligned to the changing needs and interests of their target audiences, while demonstrating their brand is tuned in with what is happening in the world.
"Brand relevance and resonance can be extremely fluid based on a polarized marketplace, new disruptive business models and ever-changing consumer requirements," Mr. Ross said. "Marketers who want to stay relevant must be highly attuned to their customers, competitors and larger cultural and economic trends."
Marketers are also challenged with accurately tracking their brand investments. Despite technology advancements and the creation of more sophisticated attribution models, not every brand expenditure can be precisely valued.
To overcome these challenges and improve brand performance, Gartner recommends that marketing leaders:
Watch for new competitors launching in other parts of the world, and be aware of regional or cultural trends that may impact their category or products — no matter their size or reach. Marketers must find the right balance between maintaining brand consistency while also being responsive and adaptive to individual market needs.
Commit to the ongoing pursuit of relevance by actively monitoring the marketplace to remain tuned into the trends, preferences and cultural factors that shape the collective mindset. It is important marketers have a pulse on how their brands resonate across the environment via their own research, customer insights and diligent measurement and observation of the impact of brand activities.
Measure every brand investment possible, but be open about what can't be measured. It is critical that marketers be equally ambitious about quantifying brand initiatives and realistic about brand spending that cannot be easily assessed.
Additional details on the survey findings and further recommendations are available to Gartner for Marketers clients in the report "Brand Survey 2019: Marketers Believe in the Power of Brand but Struggle to Respond to Disruption."
-------
*Gartner 2019 CMO Brand Strategy and Innovation Survey was conducted from May 2019 through July 2019 among 393 respondents in the U.S., Canada and the U.K. Respondents were required to have involvement in decisions pertaining to setting or influencing marketing strategy and planning. All respondents were from companies with $500 million or more in annual revenue. The respondents came from a variety of industries: financial services, high tech, manufacturing, consumer products, media, retail, healthcare providers, and travel and hospitality.
About the Gartner Marketing Symposium/Xpo
Gartner Marketing Symposium/Xpo gives marketing leaders actionable advice about the trends, tools and emerging technologies they need to deliver business results. Gartner for Marketers analysts address the biggest opportunities, challenges and priorities that marketers face today, including data and analytics, customer experience, content marketing, customer insight, marketing technology (martech) and multichannel marketing. Additional information is available at www.gartner.com/en/conferences/na/marketing-symposium-us. Follow news and updates for the event on Twitter at #GartnerMKTG.
About Gartner for Marketers
Gartner for Marketers provides the objective, expert advice and proven tools that CMOs and other marketing leaders need to seize the right opportunities with clarity and confidence, and to stay ahead of the trends that matter. With in-depth research and analysis, Gartner for Marketers helps you focus on the opportunities with the greatest potential to deliver results. More information on Gartner for Marketers is available online at www.gartner.com/marketing.
About Gartner
Gartner, Inc. (NYSE: IT), is the world's leading research and advisory company and a member of the S&P 500. We equip business leaders with indispensable insights, advice and tools to achieve their mission-critical priorities today and build the successful organizations of tomorrow.
Our unmatched combination of expert-led, practitioner-sourced and data-driven research steers clients toward the right decisions on the issues that matter most. We are a trusted advisor and objective resource for more than 15,000 organizations in more than 100 countries — across all major functions, in every industry and enterprise size.
To learn more about how we help decision makers fuel the future of business, visit gartner.com.
( Press Release Image: https://photos.webwire.com/prmedia/6/248154/248154-1.png )
Related Links
WebWireID248154

This news content was configured by WebWire editorial staff. Linking is permitted.
News Release Distribution and Press Release Distribution Services Provided by WebWire.