Are You New Majority Ready? Groupm Forms Coalition to Increase Engagement with Multicultural Audiences — the New Majority
Coalition's aim is to help brands better work with the changing U.S. demographics
NEW YORK, N.Y. –
WEBWIRE
–
Friday, September 20, 2019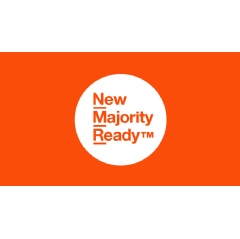 GroupM, the world's leading media investment group, and eight of the industry's leading media, technology and publishing organizations announced the formation of the New Majority Ready™ Coalition. Led by GroupM, and comprised of Disney, Google, iHeartMedia, Meredith Corporation, NBCUniversal, Twitter, Univision and Viacom, the coalition's aim is to help brands better adapt to the changing U.S. demographics and assist in developing their audience planning and media strategies accordingly.
New Majority Ready, LLC, a minority-owned marketing and content consultancy founded by Oswald Méndez and Jacqueline Hernández, has been retained as the coalition consultant to assist with the creation and development of the coalition's tools and solutions. 
The multicultural population in America are increasingly fueling the economy – they currently represent 40 percent of the U.S. population – yet the ad dollars committed to them are disproportionately low at just 5 percent.1  By census and election year 2020, 52 percent of individuals under 18 years old will be ethnically and racially diverse.2  Further, it's predicted that by 2045, America will become a new majority nation.3 
Many brand owners have taken on diversity, equity and inclusion initiatives as part of their corporate social responsibility efforts, but the evidence shows that media investment strategies are not up to par. Blue-chip advertisers represented by GroupM, its peers and their media partners play vital roles in the U.S. (and global) economies. Their sustained brand growth will be predicated on success reaching new majority audiences. 
The coalition will collaboratively develop tools and solutions to help brands get "ready" to engage the new majority, including:
•  A benchmark tool - Multicultural Maturity Framework - that will help assess a brand's "readiness" for this demographic shift across audience, investment, culture, content and more;
•  Cross-platform content solutions based on the framework assessment and inspired by brand need; and
•  A communications program to drive better understanding of America's population transformation and to assist in driving adoption of new majority-first media strategies that reach, engage and authentically connect to these consumers. 
The ultimate ambition of the coalition is to increase brand relevance, business growth and create a seismic cultural shift.
The New Majority Ready Coalition will be formally launched during Advertising Week 2019 on Monday, September 23 at 5:15 PM EST on the Impact Stage (AMC Lincoln Square Campus – Level 2, Stage 7) where coalition members will more deeply discuss goals and future activities.  
THE NEW MAJORTY READY COALITION: A SAMPLE OF MEMBER QUOTES FOR ATTRIBUTION 
Tim Castree, CEO, GroupM NA: "The facts clearly point to an exciting opportunity for brands to engage and grow with a rising population who command and influence significant purchasing power in the United States and will only increase. With respect to this cultural reality and in recognition of the business opportunity, we hope that by bringing the industry together we can better understand the new majority and build authentic, sustainable and engaging brand relationships with them"
Gonzalo del Fa, President of Multicultural, GroupM: "The population transformation in America represents an eye-opening growth opportunity for marketers with strategies attuned to the new U.S. reality. While we acknowledge the steep climb ahead to better reflect the new majority in our own industry and workforces, it's exciting and validating to be a part of and witness the many leading organizations—from the ANA/AIMM to our NMR Coalition—who recognize and are acting on the rising new majority."
Scott Wendell, SVP, Ad Sales, Disney: "At Disney, we believe that diversity of thought, backgrounds, ethnicity, gender and experiences, are game changers for media companies of today and of tomorrow. We have a longstanding history of pioneering content development and nurturing creators and talent, representative of the vast audiences that we serve around the globe. We are proud to join GroupM and the Coalition to help marketers best optimize their offerings in an increasingly intersectional consumer landscape."
Tara Levy, VP of Agency and Brand Solutions, Google: "As our world becomes more diverse and connected and information access more prolific, siloes are breaking down. We must ensure our media platforms reflect this change. The New Majority Ready Coalition is an important step toward creating a more inclusive industry."
Tim Castelli, President, National Sales, Marketing & Partnerships, iHeartMedia: "The New Majority is ready to be heard and with the unmatched scale and reach of iHeartMedia's more than a quarter of a billion monthly listeners across the country, we are excited to work together with the coalition partners to create new engaging content and programming that is as authentic, relevant and diverse as our audiences nationwide."
Monique Manso, Publisher, People en Español, Meredith Corporation: "The New Majority Ready Coalition embodies our shared ambition to create an inclusive media environment that positively impacts business and society at large. There is no better time than the present to better represent multicultural audiences – this Coalition empowers us to do just that." 
Laura Molen, President, Advertising & Partnerships, NBCU: "Our content, technology and distribution have evolved drastically over the last several years to meet the changing needs of our viewers and marketers. The New Majority Ready Coalition takes this just one step further and we're excited to all come together to continue to keep a pulse on the new majority's needs."
Jacqueline Hernández & Oswald Méndez, Co-Founders & CEO's of New Majority Ready LLC: "We are very excited with GroupM in leading this game-changing movement elevating the narrative around multicultural to drive action and results for their clients and the industry as a whole."
Marco Botero, Head of Miami and U.S. Hispanic, Twitter: "Never has the multicultural audience been more important, relevant and critical to connect with. It is pivotal for us to continue to educate ourselves and marketers how to tap into this audience and be a part of the conversation. The New Majority Ready Coalition will push us all to ensure we're evolving to best meet the needs of both our partners and the community on Twitter."
Steve Mandala, President of Advertising Sales & Marketing, Univision: "As a pioneer in engaging the Hispanic and Latino communities in America, we recognize how important it is to adapt to the changing makeup of our country. The New Majority Ready Coalition is embracing this head on and is the necessary next step to ensure media companies are hearing and representing our country's diverse voices."
Sean Moran, Head of Ad Solutions, Viacom: "Serving young and diverse audiences has always been core to our business. We recognize there is great value in coming together as an industry to impact change and we're excited to be joining a coalition whose mission aligns so closely with our priorities."
1. August 2019 ANA Study on Multicultural Media Spending
2. 2015 U.S. Census | New Census Bureau Report Analyzes U.S. Population Projections
3. Brookings Edu | The US will become 'minority white' in 2045, Census projects
( Press Release Image: https://photos.webwire.com/prmedia/7/247232/247232-1.jpg )
Related Links
WebWireID247232

This news content was configured by WebWire editorial staff. Linking is permitted.
News Release Distribution and Press Release Distribution Services Provided by WebWire.