Nissan Armada Mountain Patrol's newest challenge: the 2019 Rebelle Rally
From California to Morocco and places between, the Nissan Armada Mountain Patrol has traversed some serious terrain. The 2019 Rebelle Rally will be a challenge unlike any other.
WEBWIRE
–
Wednesday, September 18, 2019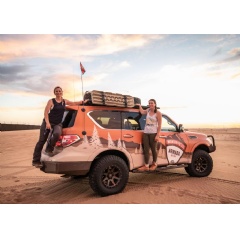 2019 Rebelle Rally: Team Wild Grace – captained by veteran off-roaders Lyn Woodward (left) and Sedona Blinson (right) – spent a weekend in the Glamis Dunes of California to receive the vehicle and begin to acclimate to life off the grid.
The Rebelle Rally, a 10-day women's off-road adventure with eight days of competition, is the longest off-road rally in the United States
Rich in off-road heritage, the Nissan Armada full-size SUV is competing for the second consecutive year – last year as a stock vehicle and this year as the specially modified Armada Mountain Patrol
Veteran off-roaders Sedona Blinson and Lyn Woodward will represent Team Wild Grace and drive the Armada Mountain Patrol in the 10-day rally
The Rebelle Rally begins Oct. 10 in Lake Tahoe and will conclude Oct. 19 with a celebratory gala in San Diego
LAKE TAHOE – The Nissan Armada Mountain Patrol1 has lived life to the fullest in its first 15 months. First unveiled at the 2018 Overland Expo West in Arizona, the project rig has mastered the dunes of The Sahara Desert in Morocco, scaled the rocks of Moab, Utah, and encountered a myriad of terrain in between. But never has it been involved in a competition like the Rebelle Rally.
A 10-day women's-only off-road adventure with eight days of competition, the Rebelle Rally is the longest off-road rally in the United States. Sedona Blinson and Lyn Woodward, co-captains of Team Wild Grace, will navigate the Armada Mountain Patrol through, between, across, above, over and around more than 1,500 miles of stunning off-road terrain in California and Nevada.
The 2019 Rebelle Rally begins Oct. 10 in Lake Tahoe and concludes Oct. 19 in San Diego.
"Armada Mountain Patrol is the ultimate expression of the Armada's immense capabilities both on and off-road, and everywhere in between," said Tiago Castro, director of trucks and SUVs, Nissan North America. "Already having successfully traversed The Sahara Desert, this vehicle is at home on some of the most challenging terrain in the world. We can't wait to watch Sedona and Lyn tackle this year's Rebelle Rally behind the wheel of Armada Mountain Patrol."
Last year, Team Wild Grace – captained by Blinson and Leah Heffelfinger, who is missing this year's competition due to the birth of a child – competed in a bone stock Nissan Armada and finished an impressive 11th out of 41 total entries in the 4x4 class.
"Our team was kind of a fun surprise for everyone last year – they really didn't realize what the Armada was capable of," said Blinson, who will be competing in her fourth Rebelle Rally. "The comfort and the capability was really a huge advantage people didn't think about."
This year, Team Wild Grace will again compete in the 4x4 class, where all vehicles must be street legal, plated, and able to travel on interstates at the posted speed limits. Behind the wheel of the modified Armada Mountain Patrol, Blinson and Woodward will have some added benefits. Among its modifications, Armada Mountain Patrol features a long list of custom vehicle protection, lighting, comfort, storage and auxiliary recovery systems.
To help reduce weight and increase agility over sand dunes and difficult terrain, Armada Mountain Patrol's tent and awning have been removed, tire size has been reduced slightly, and the suspension lift has been lowered to from 6-inches to three.
"It's going to be a completely different ballgame," said Blinson. "To have a skid plate, a custom suspension – little things that you don't really think about until you're out there – will allow us to drive a little differently in the sand and go a little faster in the valleys. It will give us more time to navigate, which is really what it all comes down to."
Added Woodward: "Organization is key. The drawer system will give us more time to plot points instead of messing around with, 'Hey, where'd you put this?' And we're going to have a refrigerator – even the smallest thing can make a huge difference."
Blinson and Woodward – who is an automotive journalist at Kelley Blue Book competing in her second Rebelle Rally – will spend up to 13 hours each day together in Armada Mountain Patrol. Per the rally's rules, there are no electronic devices permitted save for rudimentary digital cameras – meaning teams will have to use maps and a compass as they weave their way through some of the most scenic and challenging terrain America has to offer.
The two teammates, who will switch off driving and navigating throughout the Rally, met up in the Glamis Dunes of California this past weekend to receive the vehicle and begin to acclimate to life off the grid.
Woodward, who first drove Armada Mountain Patrol during a media event in Arizona this past May, said the Armada Mountain Patrol is "the best of both worlds," referring to both its comfort and capability. She also realizes the significance of adding the Rebelle Rally to Armada Mountain Patrol's growing list of conquered terrain.
"It's one of those things that just adds to its legacy," Woodward said. "The Rebelle is so rigorous. It is such an intense proving ground for any vehicle, but this to me is the crown jewel in the journey of that truck."
Follow along with Team Wild Grace on its Instagram or Facebook channels, and track the team live on rebellerally.com/live starting Thursday, Oct. 10. For more information on the 2019 Nissan Armada and Nissan's complete vehicle lineup, please visit NissanNews.com.
About The Rebelle Rally 
The Rebelle Rally is the first women's off-road navigation rally raid of its type in the United States. It is the ultimate road trip for the adventurous and competitive woman. The name of the game is pace and precision. You do not need to be a professional driver or have a race vehicle. The Rebelle is designed for 4×4 and Crossover vehicles and takes place on the stunning dirt roads, double tracks, trails, and sand dunes of the vast American West. Whether you are new to off-road, or a seasoned pro, our goal is to challenge you to embrace and enhance your driving and navigation skills for your future journeys – wherever they may lead you. Learn more at rebellerally.com.
About Nissan North America 
In North America, Nissan's operations include automotive styling, engineering, consumer and corporate financing, sales and marketing, distribution and manufacturing. Nissan is dedicated to improving the environment under the Nissan Green Program and has been recognized annually by the U.S. Environmental Protection Agency as an ENERGY STAR® Partner of the Year since 2010. More information on Nissan in North America and the complete line of Nissan and INFINITI vehicles can be found online at www.nissanusa.com and www.infinitiusa.com, or visit the U.S. media sites nissannews.com and infinitinews.com.
For more information about our products, services and commitment to sustainable mobility, visit nissan-global.com. You can also follow us on Facebook, Instagram, Twitter and LinkedIn and see all our latest videos on YouTube.
1. Armada Mountain Patrol is a project vehicle not available for purchase. Includes non-Nissan accessories that are not warranted by Nissan. Cargo and load capacity limited by weight and distribution. Always secure cargo. Heavy loading of the vehicle with cargo, especially on the roof, will affect the handling and stability of the vehicle.
( Press Release Image: https://photos.webwire.com/prmedia/5/247076/247076-1.jpg )
Related Links
WebWireID247076

This news content was configured by WebWire editorial staff. Linking is permitted.
News Release Distribution and Press Release Distribution Services Provided by WebWire.