The Anheuser-Busch Foundation Announces $100,000 Gift to Support Agricultural Research at Universities in Top Barley-Producing States
University of Idaho and Montana State University to receive gifts for research focused on irrigation efficiency and sustainability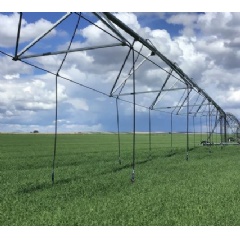 The Anheuser-Busch Foundation today announced it is giving $100,000 to two university programs to support barley growers' sustainability efforts and to further the universities' research on water conservation. Montana State University and the University of Idaho will each receive $50,000 gifts to support ongoing research and promotion of Low Elevation Spray Application (LESA) pivots in the barley rotation. This technology, which moves sprinkler irrigation closer to the ground, can save growers up to 20 percent on water and energy.
"The Anheuser-Busch Foundation's support helps us to use Idaho's valuable water wisely and conduct industry-leading research with significant impacts for U.S. agriculture," said Michael P. Parrella, dean of the College of Agricultural and Life Sciences at the University of Idaho. "We're grateful for this generous gift and the positive change it will create."
Idaho and Montana are the top two barley producing states in the U.S., providing a key ingredient needed to brew high quality beer. The Anheuser-Busch Foundation's gift to these universities will help create long-lasting educational resources and research for barley growers to decrease water usage and implement sustainable practices.
"The Anheuser-Busch Foundation gift will support state-of-the-art research to achieve higher yields and increased water efficiency for barley growers," said Dr. Darrin Boss at Montana State University. "As one of the top agricultural research institutions, we are proud to partner with the Foundation as it carries on in the tradition of America's leading brewer on our shared commitment to American farmers."
"We're very proud that the Anheuser-Busch Foundation is supporting the research of Dr. Gadi Reddy and John Miller at Montana State University and Dr. Howard Neibling at the University of Idaho," said Jess Newman, Director of U.S. Agronomy at Anheuser-Busch. "Supporting the environment and growers' livelihoods through the adoption of LESA pivots helps strengthen local family farms and the broader agricultural community as a whole."
"The Anheuser-Busch Foundation is passionate about helping our local communities thrive," said Bill Bradley, VP of Community Affairs at Anheuser-Busch. "We're thankful for the work these two universities are doing to improve the environment and support local growers."
 
# # #
ABOUT THE ANHEUSER-BUSCH FOUNDATION
Established in 1975, the Anheuser-Busch Foundation focuses on supporting organizations that help individuals and communities thrive. Alongside Anheuser-Busch Companies, the Anheuser-Busch Foundation has contributed to countless community organizations across the country in support of those in need. Over the last 30 years, Anheuser-Busch and its Foundation have donated more than $600 million to charitable organizations, including those that support education, environmental sustainability, economic development, military support and disaster preparedness/relief. For more information, visit anheuser-busch.com. 
ABOUT ANHEUSER-BUSCH
As the nation's leading brewer, Anheuser-Busch is a major purchaser of U.S. agricultural products. More than 98 percent of the beer the company sells in America is proudly brewed in America, and more than 98 percent of the barley used is grown domestically by farm families in Idaho, Montana, North Dakota, and Minnesota. Anheuser-Busch is vertically integrated into barley breeding, seed production, direct grower contracting, and malting.
Anheuser-Busch has proudly supported farmers and the agricultural community for generations, including prior funding for LESA research, and currently sources barley directly from 800+ farm families in Idaho, Montana, North Dakota, and Minnesota. The brewer has long-standing, intergenerational partnerships with growers who share the brewer's drive and passion for superior quality. The gifts to the universities by the Anheuser-Busch Foundation reinforce the brewer's commitment to put cutting-edge technologies into the hands of growers to produce the best beer ingredients more efficiently and sustainably. Furthermore, the Foundation's gifts will carry on the tradition established by A-B and advance Anheuser-Busch's 2025 U.S. Sustainability Goals, which focus on four key areas: smart agriculture, renewable electricity and carbon reduction, water stewardship, and circular packaging.
For more than 165 years, Anheuser-Busch has been woven into the cultural fabric of the United States, carrying on a legacy of brewing great-tasting, high-quality beers that have satisfied beer drinkers for generations. Today, Anheuser-Busch owns and operates 23 breweries, 14 distributorships and 23 agricultural and packaging facilities, and has more than 18,000 employees across the United States. Anheuser-Busch is home to several of America's most recognizable beer brands, including Budweiser, Bud Light, Michelob ULTRA and Stella Artois, as well as a number of regional brands that provide beer drinkers with a choice of the best-tasting craft beers in the industry.
( Press Release Image: https://photos.webwire.com/prmedia/6/242998/242998-1.jpg )
Related Links
WebWireID242998

This news content was configured by WebWire editorial staff. Linking is permitted.
News Release Distribution and Press Release Distribution Services Provided by WebWire.