Bloomberg Celebrates Pride Month in June, Marks 50 Years Since the Stonewall Uprising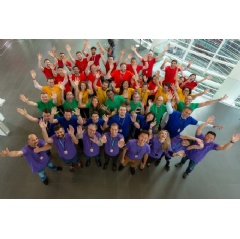 Bloomberg LP is celebrating Pride Month in its offices around the world, building on decades of the company's support for its LGBT employees and the community at large. Throughout the month, Bloomberg's LGBT & Ally Community (BProud) is hosting and participating in multiple events around the globe.
This weekend, in celebration of World Pride in New York City, Bloomberg's employees will be volunteering at #AscendWithPride, where the monumental staircase in FDR Four Freedoms State Park on the southern tip of Roosevelt Island is being transformed into NYC's largest LGBTQ+ Pride Flag, sponsored by Bloomberg, to celebrate the universal human rights articulated in President Roosevelt's Four Freedoms Speech.
As part of the WorldPride celebration in New York later this month, members of BProud and other Bloomberg employees plan to walk alongside our friends from the Tyler Clementi Foundation and clients from the Open Finance network in the NYC Pride March in New York City on Sunday, June 30th. 
Earlier this week in New York, the BProud community hosted an evening of live storytelling fostering cross-generational dialogue to preserve LGBT+ history. In partnership with The Generations Project, attendees heard first-hand from some of the diverse voices that lived, loved and led the LBGTQ Liberation movement. Their previously untold stories remind us where LGBT+ Pride comes from and how far the community still has to go.
Bloomberg also hosted a special Pride Blood Drive this week in honor of World Blood Donor Day. With the New York Blood Center experiencing a blood shortage emergency, Bloomberg's BProud community stepped in to help replenish the blood reserves and bring awareness to current FDA rules that prevent many in the LGBTQ+ community from giving blood. Eligible friends, colleagues and, in some cases, family members joined to donate as an ally on behalf of those who are currently unable to give.
In London, Bloomberg will host the second annual Trans*Code Hackday on Friday, June 14th, as part of the PyLondinium 2019 conference. Trans*Code is the UK's only hack event series focused solely on drawing attention to transgender issues and opportunities. It is open to trans and non-binary folks and allies.
Bloomberg employees will also be participating in the Interbank LGBT+ Pre-Pride Networking Evening in London on Thursday, June 20th and marching in the Pride in London parade on Saturday, July 6th.
In Tokyo, Bloomberg is co-hosting an art exhibition featuring 3 LGBT artists at JPMorgan's offices.
Bloomberg's Ongoing Support For LGBT Employees And The Community At Large
This year, Bloomberg continued to be recognized for its leadership: In April, Bloomberg was named one of the Best Places to Work for LGBTQ Equality, receiving a perfect score of 100 on the Human Rights Campaign Foundation's 2019 Corporate Equality Index (CEI), a benchmarking tool on corporate policies and practices related to LGBTQ workplace equality across the United States.
Support for LGBTQ causes and the company's LGBTQ employees has always come from Bloomberg's leaders and through its policies.
For two decades, Bloomberg has provided benefits in the U.S. to domestic partners, regardless of gender. It has also provided the full suite of health benefits recommended by the World Professional Association for Transgender Health's (WPATH) Standards of Care for U.S. employees who plan to transition.
As Mayor of New York City, Michael Bloomberg championed LGBTQ rights throughout his administration, officiating the first same-sex marriage the day it became legal in New York State in 2011. In 2012, he was a signatory on an amicus brief regarding the landmark case United States v. Windsor, which eventually made marriage equal and available to all after a U.S. Supreme Court decision in 2016.
Bloomberg Chairman Peter T. Grauer has also been a strong supporter and active member of the Global Advisory Board of Out Leadership, an organization driving LGBTQ equality efforts in the financial sector and corporate suites worldwide.
He was ranked #9 on the 2018 Financial Times/OUTstanding Top 50 Ally Executives list for his work driving LGBTQ inclusion.
In addition, Amin Kassam, Chief of Staff and senior counsel in the Bloomberg Legal Department, was recognized on the 2018 Financial Times/OUTstanding Top 100 LGBT+ Executives list for his efforts to create a supportive workplace for other LGBT+ people.
Bloomberg's Legal Department is also actively fighting for LGBTQ immigrant rights. For example, Bloomberg has partnered with Proskauer to sponsor Lauren DesRosiers, an Equal Justice WorksFellow at the Anti-Violence Project (AVP), who provides legal services to LGBTQ immigrant survivors of hate violence.
Members of the Legal Department also represent LGBTQ refugees pro bono in their application for asylum. Plus, Bloomberg's Global Chief Compliance Officer, Fadi Hanna, sits on the Board of Directors of Immigration Equality, one of the nation's leading LGBTQ immigrant rights organizations.
In addition, the Department offers pro bono support through Legal Services NYC in order to provide free legal name change services to low-income transgender New Yorkers who have recently transitioned to change their names on government documents. Last year alone, 26 members of the Department donated more than 200 hours in support of this initiative.
In 2017, Bloomberg's Sydney office celebrated the company's addition to the Australian Workplace Equality Index (AWEI) of companies who excel at LGBTI inclusivity. This honor was due in part to leadership, allies, and data that help create LGBT-inclusive workplaces. Bloomberg held a reception during which the Sydney office was illuminated in rainbow lighting.
Over the last year, Bloomberg has epitomized leadership on key LGBTQ issues, including being an early adopter of a set of United Nations standards for business conduct tackling discrimination against and unfair treatment of lesbian, gay, bi, trans and intersex (LGBTI) people in the workplace, as well as signing the Business Statement for Transgender Equality, which was issued late last year by 18 LGBTQ community organizations, led by Out Leadership and the Human Rights Campaign.
In collaboration with the Tyler Clementi Foundation, the company also hosted anti-bullying campaign discussions on GLAAD Spirit Day, which covered issues such as LGBT inequality.
This year, Bloomberg LP also expanded its parental leave policy to 26 weeks. This policy is gender neutral. "We recognize that every family is different, so our policies should reflect the needs of each and every colleague — across the world and regardless of gender."
( Press Release Image: https://photos.webwire.com/prmedia/6/242264/242264-1.jpg )
Related Links
WebWireID242264

This news content was configured by WebWire editorial staff. Linking is permitted.
News Release Distribution and Press Release Distribution Services Provided by WebWire.