LOLA MullenLowe And Cornetto Play Matchmakers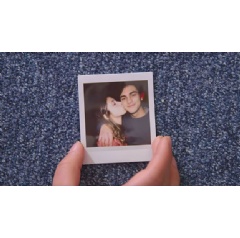 These Unsuspecting Actors Ended Up Falling in Love on the Set of an Ice Cream Ad Shoot
Falling in love on set is nothing new. Look no further than Blake Lively and Ryan Reynolds, Gwyneth Paltrow and Brad Pitt (though it didn't fully take) or Bennifer. While those are more high-profile examples, there is undoubtedly room for love when people come together in front of the cameras.
Unilever brand Cornetto has a long history of telling stories of romance, but it's always been driven by actors pretending to be in love. Celebrating the 60th anniversary of the frozen treat, the brand—and its agency, LOLA MullenLowe—wanted to see if, in fact, they could create a genuine spark between two people on the set of a new ad.
Over 100 Italian teens were cast for the shoot, and the plan was to find out, during pre-production, which two actors may actually vibe with each other. Each person was asked dozens of questions (favorite color, type of pet, etc.) until the crew found two people that, theoretically, lined up perfectly.
Cornetto - The Making Of Love: https://www.youtube.com/watch?v=9FTYgy-vOJo
But, to find out if this could be the match made in frozen dairy treat heaven, the producer asked if each were open to finding love. After an emphatic "yes" from both actors, the plan took shape.
From the first time the duo meets, it's clear that the human version of Tinder—getting to know a great deal about someone through a series of questions—works. Through the last minute of the film commemorating the stunt, the moments between the couple are wonderfully cute and playful.
"How interesting is it to spend a year in making a campaign, only to reveal at the end that the hero asset is the making of and not the ad," said Tomás Ostiglia, ecd, LOLA MullenLowe. "That's a brand about love that's truly living up to the promise."
Unscripted pure love blossomed on set, and the two teens became a couple after the shoot, although their time together was brief.
"You know how fleeting young love can be," mused Ostiglia.
CREDITS:
Agency: LOLA MullenLowe
Client: Cornetto
Sector: Food & Drink
Campaign: The Making of Love
Global Brand Manager: Sarah Wild
Marketing Manager, Italy: Eleonora Acierno
Junior Brand Manager, Italy: Chiara Breda
Chief Creative Officer: Chacho Puebla
Executive Creative Director: Pancho Cassis
Creative Director: Tomás Ostiglia, Fred Bosch, Fabio Brigido
Copywriter: André Toledo
Art Director: Saulo Rocha
Business Director: Tom Elliston
Account Manager: Oscar Fernández
Producer: Felipe Calvino, Diego Baltazar
Production: Canada
Director: Marc Oller
Executive Producer: Oscar Romagosa
Producer: Diana Milesi
D.O.P: Christos Voudouris
Editor: Estel New Roman
Post Production: DeSeif, Gomez VFX & Alvaro Posadas
Music: Big Sync, London
This article was originally published on Adweek
( Press Release Image: https://photos.webwire.com/prmedia/7/241463/241463-1.jpg )
Related Links
WebWireID241463

This news content was configured by WebWire editorial staff. Linking is permitted.
News Release Distribution and Press Release Distribution Services Provided by WebWire.