Capturing Clown-Induced Terror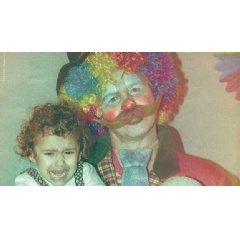 If you want to reassure yourself that good old-fashioned posters and print are alive and well, look no further than the international fast food brands. Whether it's KFC's cheeky nod to Britain's illustrious chicken shop scene in its 'A to Z' campaign, or McDonald's Monet-esque photographic executions to promote its delivery service in France, healthy competition between the world's biggest restaurant brands seems to be bringing the best craft out of their agencies' art directors and copywriters.
Burger King's recent 'Birthdays Should Be Happy' campaign is the latest instalment in this heartening trend. The outdoor campaign by Spanish agency LOLA MullenLowe pares its strategy back to good photography, a logo and two lines of copy. The idea is instantly clear: clowns are scary. Why would you want one of them at your kid's birthday party?
Having provoked a few laughs in our office ("It's so true!"), LBB's Alex Reeves caught up with ECD Tomás Ostiglia to find out more about the posters.
LBB- You'd obviously already established that clowns are scary way back when you pioneered Scary Clown Night in 2017. Why did you decide to pick up on that idea back then?
Tomás- In part, because making impactful ideas for Halloween has become a tradition and an on-going challenge for the brand. They are always looking for ideas that impact popular culture more than just doing promotions (lucky for us!). With the established voice of the brand, which is so honest, irreverent and funny, it lets you laugh in the face of your competition with confidence.
LBB- And you've kept the idea super simple here – just pictures of clowns posing with terrified kids and a short line of copy – what guided that decision?
Tomás- If you see the work we do at LOLA, simplicity is a very important factor in each of our ideas. We include almost 20 different nationalities, and we work for global brands so we value ideas that can be understood and engaging anywhere. I wouldn't say it's our style but it's something we have built into our creative process when creating the communication for the brands we work for.
LBB- Here's the one I'm most curious about – how did you find the pictures!? And how extensive was your search? Or were they staged?
Tomás- If you spend any amount of time on the internet you'll find hundreds of examples of kids crying around clowns. And if you think about it, you probably have a bad childhood memory of clowns because coulrophobia, the irrational fear of clowns, affects kids and adults alike. These photos were taken at real birthday parties and they are as real as the fear of clowns. You can't fake the tears of a child.
LBB- What was the look you were going for? I live for old family photos and these have the perfect tone.
Tomás- The aesthetics of the campaign is reality with a nostalgic twist. Just take a look online and you'll see a ton of images like our campaign. These clowns have been terrorizing us for decades.
LBB- And how about media? Where did these posters end up? Anywhere near a certain clown-fronted BK competitor's outlet? 
Tomás- The posters were published on OOH circuits near our competitors restaurants and within ours, as well as in magazines. It's interesting to see how, at a time where we often hear that print is dead, making a good print campaign can still be very effective for a brand and have the same impact that can be obtained with an activation or a film, or digital idea.
LBB- Finally, what's your most terrifying clown story?
Tomás- I don't real have one particular story but I can tell you that I've never trusted clowns.
It's just like any other situation designed to generate 'happiness' in an over-planned and imposing way. The unequivocal joy of weddings, the supposed magic that floats in the air at Christmas, even the idea that you have to be happy on your birthday… I've never liked any of those assumptions. More than the fear of clowns, I just do not believe their joy (buaaaahhahaha).
This article was originally published on LBBO
( Press Release Image: https://photos.webwire.com/prmedia/7/240922/240922-1.jpg )
Related Links
WebWireID240922

This news content was configured by WebWire editorial staff. Linking is permitted.
News Release Distribution and Press Release Distribution Services Provided by WebWire.