The Game is Afoot: Osmo Launches Detective Agency for Hands-On Mystery Solving
The company pioneering physical-to-digital adventures where kids play beyond the screen is also introducing a first-of-its-kind Parent Platform to take the mystery out of healthy screen time
PALO ALTO, Calif. –
WEBWIRE
–
Thursday, October 25, 2018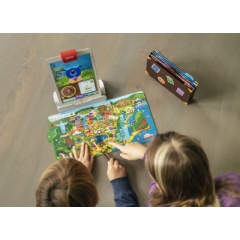 Today the game is afoot as, Osmo, the award-winning learn and play system creating healthy screen time experiences, unveils Detective Agency: a first-of-its-kind, hands-on experience that takes budding sleuths on globe-trotting adventures to solve mysteries. The company also introduces a platform that allows parents to monitor time played and view the skills learned on the Osmo system.
"As parents, we understand the power of a thoughtfully-constructed digital experience to teach and entertain, but too often content is optimized to keep kids passively staring at screens for as long as possible," observes Pramod Sharma, Osmo's CEO and co-founder. "Detective Agency, like all Osmo experiences, was created to provide a healthy, digital experience centered on physical play. Our parent platform builds on that sensible screen time approach by helping parents better understand and even participate in their children's experiences."
Globe-Trotting, Hands-On Adventure
Detective Agency is Osmo's 12th experience and was developed by a diverse team of designers, engineers and developers assembled from around the globe who helped capture the spirit of exploration. As kids investigate the world's most famous cities, searching for clues to help them solve mysteries, the escapade is brought to life with a real magnifying glass and physical maps.
See Detective Agency in action here: https://www.youtube.com/watch?v=4OL6Vq1CfLg
As the first-ever physical-digital, search-and-find experience, Detective Agency uses Osmo's proprietary Reflective AI technology to let iPads, and Kindle Fires "see" objects in front of it so kids can use anything - hands, blocks, maps, a magnifying glass, to control the on-screen action and story.
Here's how kids ages 5-9 sleuth out adventure in Detective Agency: 
 
The adventure begins at the Detective Agency office in Osmo Town where one of the townspeople asks for help to find a lost - or stolen - item and gives a hint about where to start searching
Sleuths use deductive reasoning, along with visual processing, emotional intelligence, geography, culture, and sheer wit to track the missing item across Paris, New York, Beijing, Rio de Janeiro, Cairo, Sydney, Osmo Town, and the World
Clues are hidden in the fold-out maps of each city, and growing gumshoes use a real-life magnifying glass to unlock the next chapter in the story and more clues that help them foil the villain behind the dastardly crime
Designed with stunning attention to detail and cultural accuracy gleaned from employees  who actually hail from some of the world's most iconic cities, Detective Agency features thousands of clues and landmarks, 20 original Osmo characters with unique personalities and eight maps to invoke wonder and inquisitive thinking 
Osmo Parent Platform 
Parents see first hand how intentionally addictive apps draw kids with a moth-like compulsion that results in children 8 and under spending an average of 2.25 hours per day staring passively at a flickering blue light. 
While companies are building in ways to reduce distraction and the intrusion of technology into new products for adults, passive screen time is wreaking havoc on kids' dexterity, social skills, and motor functions while parents struggle to manage their children's tech consumption with only 19 percent setting and enforcing screen time limits for their kids. 
Osmo designed a healthy alternative to passive screen time with Detective Agency's hands-on play with real-world physical objects and natural stopping points that encourage kids to take a break from the screen. The company's parent platform extends the company's commitment to healthy screen time by providing an informative, useful and fun connection to the entire Osmo universe of experiences. 
Using the platform, which is accessible for all 12 of Osmo's experiences, parents can: 
Guide Play Time - keep tabs on activity and learning progress across all Osmo titles
Preserve Precious Memories - view and save the drawings created in Monster and Masterpiece - Osmo's creativity experiences
Connect and Collaborate - get exclusive tips and tricks to share with their child and stay connected to their play and learning experiences
Download the free parent platform here: https://itunes.apple.com/app/osmo-parent/id1348402278
These experiences join the Osmo universe of hands-on learning and fun following the release of Super Studio in partnership with Disney and Hot Wheels TM MindRacers in partnership with Mattel. Recently named one of the most innovative companies in 2017 by Fast Company and Osmo is now going beyond the iPad with the Osmo iPhone Base and Osmo for Amazon Fire. 
Detective Agency is available now for $39.99 at playosmo.com, amazon.com, target.com.
About Osmo
Osmo is building a universe of hands-on play experiences that nourish the minds of children by unleashing the power of imagination. The company brings physical toys into the digital world through augmented reality and its proprietary reflective artificial intelligence.
Founded in 2013 by ex-Google engineers Pramod Sharma and Jerome Scholler, the Osmo Play System fuses digital gameplay and physical interaction to create fun and nutritious play experiences designed for all kids. Its universe spans twelve titles, including Super Studio, Coding Awbie, and Masterpiece, which respectively teach creativity, computer science and drawing. 
Osmo is headquartered in Palo Alto, California. Join in on the fun at PlayOsmo.com. 
( Press Release Image: https://photos.webwire.com/prmedia/42381/230552/230552-1.jpg )
WebWireID230552
Contact Information

Maggie Philbin
Media Contact
VSC for Osmo

This news content may be integrated into any legitimate news gathering and publishing effort. Linking is permitted.
News Release Distribution and Press Release Distribution Services Provided by WebWire.