Tech, Media and Venture Capital Veterans Join Forces to Launch RivetAI, Bringing Hollywood-Grade Artificial Intelligence to Content and Video Producers Worldwide
From budgeting and scheduling to AI-assisted narrative generation, RivetAI empowers every business to unleash their creativity
LOS ANGELES, Calif. –
WEBWIRE
–
Thursday, June 28, 2018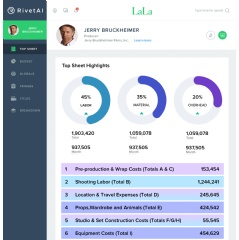 Today, a rare mix of veteran AI technologists, Hollywood executives and venture capitalists come together to launch RivetAI, the first suite of AI tools for storytellers. Created through pioneering work in film and artificial intelligence, it collapses the time it takes to plan and produce content and uses Artificial Intelligence to sharpen the narrative structure for everyone from producers making movies to Fortune 500 corporations creating in-house blogs and videos.
To see how it works visit: www.Rivetai.com
RivetAI was born on Hollywood sets, solving real budgeting, scheduling and production problems the hybrid film development and production company End Cue was seeing in its producing work with filmmakers. Specifically, the technology was spearheaded by the then CTO of End Cue, Debajyoti Ray, who is now RivetAI's founder and CEO. Ray holds a Ph.D. from Caltech in Artificial Intelligence, has previously founded two adtech startups and is a noted authority on the use of data science in film. Also on the team is a former SpaceX data scientist and Caltech alum, Sadaf Amouzegar, and Nathan Crockett, a Ph.D. astrophysicist from the University of Michigan and postdoctoral scholar from Caltech.
"It's hard to overstate the amount of exhausting legwork production teams are responsible for at every stage of the filmmaking process," stated Emily Wiedemann, RivetAI customer and founder of Greencard Pictures, a commercial production company specializing in film, commercial and advertising with clients like Google, Virgin America and Universal. "What's so powerful about RivetAI is how the suite speeds up production for every single client we have -- film studio, advertiser or corporate brand -- so we can delight with our creativity."
Seeing the potential beyond film sets, End Cue's founders, and noted film producers, - Andrew and Walter Kortschak - spun out RivetAI as a separate entity with no affiliation with End Cue's data or content. Initially, the AI was trained and tested on End Cue's productions - ranging from feature films to animations to commercial productions. However, every company that uses RivetAI is guaranteed private uploads where no one else will see their data or IP.
"Our thesis with RivetAI is that technology will empower humans to be more creative and automate much of the time-consuming tedium and unpredictable variables in the creative process," remarked Debajyoti Ray, founder and CEO of RivetAI. "We're launching with robust functionality for many key areas of the creative process, and there are many innovations that we will be introducing along the way - stay tuned."
Here's how RivetAI's debut product, Agile Producer, transforms workflows in the industries of digital video production, content marketing, and film - some $473 billion in total revenues.
Hands-free script dissection. Scripts and screenplays are analyzed in minutes, providing producers with a complete breakdown by identifying every prop, character, and scene that will be required on set, replacing weeks of manual highlighting and red-lining.

Instant budget prediction and actualization. Budgets are created in minutes thanks to its Artificial Intelligence platform that makes RFPs a breeze, creating a unique budget tailored specifically for the production at hand and visualized in a collaborative and interactive top sheet; it also identifies scenes that may be needlessly bloating the budget without contributing to the story.

Optimized scheduling. To sort tricky scheduling concerns, the underlying AI runs through all variable combinations and budget constraints to come up with an optimized schedule, in most cases providing 10-20 percent greater cost savings and time efficiencies than manual scheduling.

Unlocked creativity. Its generative artificial intelligence suggests dialog, improves plots by analyzing the script and comparing the narrative structure to key archetypes; it also makes anyone in an organization a great creator by suggesting loglines and narrative feedback. The platform can also create shareable bite-sized videos for social media by combing through large amounts of raw footage.
Behind RivetAI are the seasoned investors and media executives Walter and Andrew Kortschak. Walter is a veteran venture capitalist, formerly at Summit Partners for over 20 years and since 2010 has backed more than 50 transformative companies like Lyft, Palantir, Trade Desk and Twitter as an early stage investor. Andrew was a producer of "Cop Car" and is a former Pixar Animation Studios producer who has worked on films such as "Monsters University" and has nearly ten years experience at the intersection of film, animation, technology, and documentaries.
"What's so powerful about RivetAI's approach is that it's simultaneously applicable to a wide variety of creators and business environments," explained Andrew Kortschak. "As someone who has seen every side of the film development process, I've experienced first-hand the importance of having AI take the heavy lifting out of time-consuming bottleneck tasks like script-breakdowns. By reducing this task from weeks to minutes, we producers are freed up to do more and help creators realize their dreams faster."
To try the platform free today for a limited time only, visit RivetAI.com
About RivetAI
RivetAI is a first-of-its-kind Artificial Intelligence-powered suite of content-creation tools. It handles budgeting, script analysis and production tasks for anyone making video or text-based content using machine learning techniques.
Founded in 2018, RivetAI is led by Debajyoti "Deb" Ray, and a team of veterans from technology and film production, hailing from companies like Pixar, Microsoft, Paramount, SpaceX and Warner Bros. Learn more at RivetAI.com
###
( Press Release Image: https://photos.webwire.com/prmedia/42381/225878/225878-1.png )
Related Links
WebWireID225878
Contact Information

Creighton Vance
Senior Media Executive
VSC for RivetAI

This news content may be integrated into any legitimate news gathering and publishing effort. Linking is permitted.
News Release Distribution and Press Release Distribution Services Provided by WebWire.