Ryokan in the City - Ryokan Experiences in Tokyo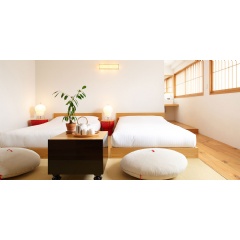 Check out our pick of Tokyo hotels where you can enjoy a luxury ryokan (traditional Japanese inn) experience - all without leaving the capital!
With steadily growing demand from travellers and overseas tourists,  luxury ryokans (traditional Japanese inns) and hotels across Japan are now a highly sought-after commodity by guests and investors alike.
As well as historic ryokan and holiday villas formerly owned by the nobility in Hakone's Gora district near Mt. Fuji, central Tokyo is also seeing the continued development of luxury hotels. The redevelopment of the former Grand Prince Hotel Akasaka and the Hoshino Tokyo in Tokyo's Otemachi business district owned by Hoshino Resort are two key examples.
Further afield, Hoshino's KAI brand, including KAI Nikko, a luxury hot spring ryokan in Nikko's Kinugawa Onsen area opened in 2015, and Hoshinoya Fuji, their 'glampsite' near Lake Kawaguchi in Yamanashi Prefecture, are two more cases.
Japan's high-end hotel industry, and particularly the ryokan industry, has been benefitting immensely from the increase in overseas tourists in recent years. Nearly 29 million tourists visited in 2017, up 19% percent from the previous year and the sixth consecutive year with an increase.
Japan's domestic retiree generation is another important source of demand. In 2014, nearly 26% of the population was aged over 65; however in 2030, that number is expected to exceed 30%. According to data from Japan's Ministry of Internal Affairs and Communications, tourists who are in their 60s and over spend the most on travel packages.
Since 2009, the number of recorded sales of hotels within Japan has seen an increasing trend, and investment in Japan's luxury hotel market is expected to continue in the foreseeable future, with the Rugby World Cup 2019 and the 2020 Tokyo Olympic and Paralympic Games just around the corner.
Looking to get that authentic ryokan experience while in Japan, but don't have time to leave Tokyo? If you want a holiday that's big on experience but you're short on time, then a stay in one of these hotels with traditional Japanese-style rooms, cuisine and services could be just what you're looking for.
Hoshinoya Tokyo
Hoshinoya Tokyo (website) offers what is possibly the ultimate "ryokan in the city" experience. Don't be fooled by its grand facade - step inside the calming, neutral interior and immerse yourself in the relaxing ambiance of a home away from home amidst the big city noise and lights of the Japanese capital.
Each floor of the 17-storey hotel is an exclusive domain, accessible only by the guests staying on that floor. Experience the intimacy and pleasant surprise of traditional Japanese hospitality wherever you go, with dedicated staff on hand to meet your every need and carry out the various elegant, time-honoured customs of Japan's ryokan.
Hoshinoya offers three rooms of varying size and location. Simple but elegant, all the rooms are cleanly designed and furnished minimally with pristine futons made of soft-to-the-touch cotton and other essentials. A seamless mosaic of tatami mats covers the floor, while bamboo closets and shoji paper sliding doors give the rooms a traditional aesthetic.
Sakura (cherry blossom) rooms are twins or doubles located near the communal lounge, so are ideal for more sociable guests, while Yuri (lily) rooms are double corner rooms which afford more privacy and quiet. Twice the size of Yuri and Sakura, Kiku (chrysanthemum) rooms have their own dining table and lounge area and can accommodate up to three people in single-size futons.
Entice nature into your room by enjoying the plentiful sunlight filtering through the shoji-covered windows of the south-facing rooms, and open the window of the bathing area to bring the outdoors inside, creating the feeling of a rotenburo (outdoor bath). The deep bathtub invites you to take a long, rejuvenating soak - the only danger is that once you immerse yourself in Hoshinoya's top grade hospitality, you won't want to get out!
Aman Tokyo
Aman Tokyo's (website) luxury rooms and suites seamlessly blend traditional materials such as pale wood, washi (Japanese paper), and granite with luxurious fabrics and modern technology. All rooms and suites are kitted out with traditional Japanese furnishings such as shoji sliding doors and furo deep-soak bathtubs. There are also separate communal Japanese spa baths alongside eight spa treatment rooms, a 30-metre swimming pool, and a fitness centre.
Spread over 6 floors at the top of the Otemachi tower, both rooms and suites boast stunning city views of Tokyo Skytree, the Imperial Palace, and even Mt. Fuji. At 71 sq m, the rooms are the largest entry-level rooms in the city, while the suites, ranging from 121 to 157 sq m, double as expansive and lofty sanctuaries for when you just need to get away from it all, rising far above the hustle and bustle of Tokyo's busy urban streets.
Aman's location couldn't be better - Otemachi is within easy reach of night-life and dining district Nihonbashi as well as Tokyo station, which has more subway and train lines passing through it than any other. The Imperial Palace that you can see from your bedroom window is a short stroll away in one direction and high-end Ginza in the other, while the local area boasts more Michelin-starred restaurants than anywhere else on the planet!
 ANA Intercontinental Tokyo
ANA (All Nippon Airways) offers guests a truly authentic Japanese experience in their unique Tatami Suite at the ANA Intercontinental Tokyo (website). It features a central living area furnished with Japanese-style low-level furniture of short-legged table and legless chairs, plus the traditional and authentic tatami mat flooring that you are surely dying to try out!
With its two European-style beds plus two Japanese-style futon beds, the big advantage of this suite is that it can comfortably accommodate between 2 and 4 guests, so it can flexibly adapt to accommodate a range of different guest groupings, such as couples, families or groups.
The Capitol Hotel TokyuThe Capitol
Hotel Tokyo (website) offers a range of rooms and suites, including the Garden Suite and the Sanno Suite. These two roomy suites in the heart of the city embody the calming ambiance of traditional Japanese housing, creating a serene and uplifting atmosphere with their elegant and refined modern Japanese interiors. The Garden Suite is so named for its pleasant views overlooking the leafy gardens and Sanno Groves of neighbouring Hie Shrine. Open the balcony doors of this unique 5th floor suite and the greenery seems to flow inside, allowing guests to immerse themselves in a sense of nature while being in the middle of the city.
The hotel's other Japanese-style suite, the Sanno Suite, is one of their signature rooms, and incorporates an expansive living and dining room equipped with shoji paper screens and sliding doors. Here, you can experience true relaxation and enjoy your escape from daily life, helped along by many little extras such as the Nespresso coffee machine, BOSE wireless speakers, rain shower and bathroom audio system, and that ultimate luxury, a Japanese bidet toilet.
Claska
Based in a renovated old hotel in Meguro, arty design hotel Claska's (website) 20 rooms were designed according to four themes by Japanese architects and designers. Their three Tatami Rooms offer a modern and up-to-date take on the classic Japanese room, seamlessly fusing east and west with a combination of low-lying beds and simple tatami mats.
The contemporary yet traditional rooms are intended to give guests an insight into Japanese philosophy and values of interior design at the same time as offering comfort and rest after long journeys. With their pristine white walls and bedding and unvarnished wooden floors and window sills offset by a few interesting touches such as the plump round zabuton floor cushions, tea set, and paper lantern lamps, we'd say they will surely do just that.
Grand Prince Hotel Takanawa
The 16 Japanese-style rooms on the Takanawa Hanakohro floor of Grand Prince Hotel Takanawa's (website) annex building have been completely refurbished with a design that expresses tranquility and the concept of Wa, Japanese harmony, using the uplifting hues of bright natural wood, while still retaining the original architectural elements of the rooms. 
Suite sizes range from 50 sq m to a generous 100 sq m, with a mix of tatami- and wooden-floored rooms in each suite as well as floor-to-ceiling sliding shoji screens and Japanese-style wet-room en suite bathrooms in all suites. Authentic touches such as alcove shelving, dainty ikebana flower arrangements, paper lampshades and bonsai trees complete the look.
The annex also houses unique facilities just for guests staying in these rooms, including a lounge and spa designed with Japanese aesthetics in mind. Here, guests can make full use of the Oh-sai Lounge for breakfast, tea-time, cocktail time and nightcaps as well as the various spa facilities such as the sauna and whirlpool baths and the Diamond and Sky pools in summer.
Hotel Chinzanso
Hotel Chinzanso (website) has one Japanese Suite with 83 sq m of floor space to relax and unwind in the warmth and light of traditional Japanese surroundings while enjoying charming garden views. Overlooking the hotel's famous Japanese garden, you will feel the same peaceful atmosphere of staying at a Japanese inn in the countryside, all without leaving the beating heart of Tokyo for even a minute. 
Hotel Chinzanso's extensive Japanese garden, a true urban oasis hidden deep in the heart of the metropolis, makes it utterly different to any other hotel in Tokyo, and is a destination in and of itself. The full-scale garden houses a thatched tea room, a three-storey pagoda, stone lanterns and monuments, a waterfall and even a 55 year-old sacred tree, as well as a well-known spot for summer firefly-viewing.
You'll also get your own in-house onsen experience while staying, with a luxurious in-room hinoki cypress bathtub complete with decadent L'Occitane bath amenities and a TV in the bathroom. If that's not enough for you then the hotel also has Yu The Spa as well as nine restaurants, including several serving Japanese cuisine.
Hotel Grand Arc Hanzomon
The restrained, classic ambiance of the Sakura Floor on the 7th floor of Hotel Grand Arc Hanzonomon (website), in Tokyo's central Hanzomon district, is perfect for those who are looking for more traditional Japanese surroundings for their stay in the capital. It offers standard and deluxe Japanese-style rooms available for single, double or triple occupancy. 
The minimalist yet distinctive rooms are peppered with authentic Japanese touches such as tatami mats, proper floor-level futons, and shoji screens. And all rooms also boast splendid views of candy cane-striped Tokyo Tower and the glittering lights of Ginza beyond the spacious grounds of the Imperial Palace.
Meguro Gajoen
Meguro Gajoen's (website) guest rooms provide graceful luxury spaces that they boast will "certainly set you at ease or motivate you to work" - we rather think the former! They offer two types of suites, both of which accommodate up to four people, so are ideal for family stays. Choose from either a fully Japanese-style room or a "mixed" room incorporating western-style furnishings and an area with tatami mats.
The full Japanese suites feature two tatami rooms, one of which is set up as a living room with floor-level table and chairs and the traditional tokonoma alcove with a calligraphy scroll and flower arrangement. You also get a spacious bathroom equipped with a double sink, private steam sauna and family-size bathtub made of Japanese hinoki cypress wood.
The mixed suites offer the perfect blend between Japanese and western styles and are perfect for those looking to try out traditional Japanese floor-level living without committing to a entirely Japanese-style room. They have western-style furniture such as beds, sofas and armchairs but also an elevated living room space with Ryukyu tatami flooring, a low table, and zabuton floor cushions. The bathrooms are fully western-style, with jacuzzi bath, shower and private sauna, all with luxurious white marble and gold fittings.
Ritz Carlton Tokyo
The Ritz Carlton Tokyo (website) offers a modern twist on traditional Japanese-style accommodation with their impeccably turned out Modern Japanese Suites. On the 47th and 48th floors, they all have spectacular views of Tokyo, with breathtaking panoramic views of the Tokyo skyline and iconic landmarks such as Tokyo Tower and Tokyo Bay.
The 100 sq m suites have tatami flooring and shoji sliding doors in the bedroom and living room and luxurious Japanese-style futon beds on an elevated platform in the bedroom. The tokonoma alcove, flower motifs and Oriental design lampshades complete the living room, while accents of black lacquer and a traditionally patterned folding screen behind the bed add the finishing touches to the bedroom.
The over-sized marble bathroom is equipped with everything you could possibly need for some super-relaxation, from a deep relaxing bathtub, individual rain-shower booth and double sinks to a Toto bidet toilet, 17-inch TV and DVD player. The suites can also be adapted to accommodate families or larger groups, with roll-away beds, baby cribs and connecting rooms all available on request. 
To stay up to date with all the latest happenings in Japan follow us on Facebook or Twitter.
( Press Release Image: https://photos.webwire.com/prmedia/7/225819/225819-1.jpg )
Related Links
WebWireID225819

This news content was configured by WebWire editorial staff. Linking is permitted.
News Release Distribution and Press Release Distribution Services Provided by WebWire.