Lacoste to celebrate iconic Olympic heritage with new apparel line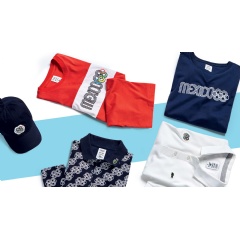 First exclusive Olympic Heritage lifestyle apparel collection designed by Lacoste as part of a three-year licensing agreement.
The Olympic Heritage collection is an essential element of the new IOC Global Licensing Strategy, developed in line with Olympic Agenda 2020.
The launch of the Olympic Heritage collection designed by Lacoste coincides with the celebration of the 50th anniversary of the Olympic Games Grenoble 1968 and Mexico City 1968.
The International Olympic Committee (IOC) and Lacoste have announced the launch of the first exclusive Olympic Heritage lifestyle apparel collection, developed by Lacoste as part of a new licensing agreement and in line with the IOC Global Licensing Strategy.

This new men's clothing and accessories line will feature limited edition collections that will reflect the graphic legacy of legendary Olympic Games. For the first edition, Lacoste has chosen to celebrate the 50th anniversaries of the Olympic Winter Games Grenoble 1968 and the Olympic Games Mexico City 1968.

The IOC and Lacoste collaboration will continue until 2020, with a collection developed each season. and which will initially be sold, starting this summer, in 10 countries: Canada, China, France, Germany, Italy, Japan, Mexico, South Korea, Spain and the UK.

In a speech today at The Olympic Museum in Lausanne, Timo Lumme, Managing Director of IOC Television and Marketing Services, said: "We are delighted to announce the launch of this new collection, which marks the beginning of an exciting licensing agreement with Lacoste to further connect people with Olympic history and legacy. The collection celebrates the iconic designs of Olympic Games Grenoble 1968 and Mexico City 1968 on their 50th anniversary. These Games not only represented a turning point for the art and design of the Olympic Games, they also left a strong sporting and cultural heritage that is still acknowledged today."

LACOSTE CEO Thierry Guibert added: "We are happy to start this Licensing Agreement with the International Olympic Committee. Founded by tennis player and entrepreneur René Lacoste, Olympic medalist in 1924, the Lacoste brand carries the values of fair play, elegance and tenacity that are dear to the Olympic Movement. Those common values have inspired us this collection that radiate with a touch of French elegance the iconographic heritage of past Olympic Games."

The Olympic Heritage Collection

The Olympic Heritage Collection is being developed by the IOC as one of its three Global Licensing core programmes, and it centres on past Olympic Games, lifestyle and high-end products with limited editions aiming to connect the audience with Olympic history through the art and design of previous editions. The target is thus not the typical Olympic spectator and fan, but rather Olympic enthusiasts and anyone who would like to own a piece of Olympic history. Additional collections are being developed and will be launched soon.

The IOC Global Licensing Strategy

Building on Olympic Agenda 2020 and launched in 2014, the IOC Global Licensing Strategy aims to create a tangible connection to the Olympic Games and Olympism through merchandising programmes that are aligned with the Olympic image and enhance brand value and goodwill. The objective is to strengthen and promote the Olympic brand, not only during the Olympic Games, but between Games as well. The IOC Global Licensing Strategy is divided into three core licensing programmes aimed at specific target groups: The Olympic Heritage Collection, The Olympic Collection and The Olympic Games Programme.

The IOC future e-commerce platform

As part of its Global Licensing Strategy, the IOC is working with Worldwide TOP Partner Alibaba to develop a global e-commerce platform for Olympic stakeholders to engage and connect with fans seeking official Olympic licensed products manufactured by the Olympic parties' official licensees, and selected sports products, on a worldwide basis. When launched, the platform will offer the various products developed as part of three licensing programmes, including the Olympic Heritage Collection by Lacoste, available in the defined territories.

The International Olympic Committee is a not-for-profit independent international organisation made up of volunteers, which is committed to building a better world through sport. It redistributes more than 90 per cent of its income to the wider sporting movement, which means that every day the equivalent of 3.4 million US dollars goes to help athletes and sports organisations at all levels around the world.

Broadcast quality footage
The IOC Newsroom: http://iocnewsroom.com/

Videos
YouTube: www.youtube.com/iocmedia

Photos
For an extensive selection of photos available shortly after each event, please follow us on Flickr.
To request archive photos and footage, please contact our Images team at: images@olympic.org.

Social media
For up-to-the-minute information on the IOC and regular updates, please follow us on Twitter, Facebook and YouTube.
( Press Release Image: https://photos.webwire.com/prmedia/7/225420/225420-1.jpg )
Related Links
WebWireID225420

This news content was configured by WebWire editorial staff. Linking is permitted.
News Release Distribution and Press Release Distribution Services Provided by WebWire.