Interoute wins environmental award for data centre energy saving innovation
Newly developed enhancements to Interoute's Geneva data centre reduce its energy consumption by 1.7GW hours per year
London, UK –
WEBWIRE
–
Wednesday, May 16, 2018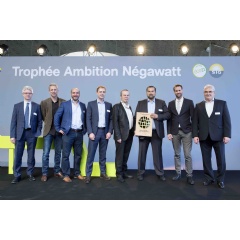 Interoute, the global cloud and network company, has received the SIG GIGA Trophy in recognition of its successful efforts to increase energy efficiency and reduce the CO2 consumption of its data centre in Geneva, Switzerland. The trophy is awarded to companies in Switzerland that demonstrate a long-term commitment to improving energy efficiency, and those who have reduced electricity consumption by more than one gigawatt hour per year.
Phil Martin, VP for Network Services Engineering at Interoute, commented, "We are delighted to receive The Giga Trophy which rewards companies' work to reduce energy consumption within their local communities. The amount of energy we now save annually is enough to power a small Swiss village for a year. Becoming more energy efficient not only benefits the environment, it also helps us manage costs and make our services more competitive saving hundreds of thousands of Euros each year."
Interoute has achieved the energy savings by implementing a variety of cooling and power improvements. These include:
A custom-made cold aisle containment system.Approximately 1,000 racks in the data centre were each fitted with custom-made cold aisle containment doors and panels. The new system means that only the racks are cooled rather than the whole room, which in turn reduces overall energy expenditure. It ensures consistent and predictable airflow to eliminate server hotspots. It also enables the introduction of specific set temperatures to create the most efficient operating environment for the IT equipment in each aisle.
Unique under-floor cooling pathways.  The team further augmented the cold aisle containment system by building sealed pathways under the raised floor to ensure cold air was sent directly to the containment systems. Likened to a complex geometry challenge, the result has approximately halved the amount of underfloor space needing to be cooled, providing a considerably energy saving given the 2,200m2data centre footprint. The pathways also accommodate technical requirements such as cable trays for fibre and copper wiring and space for fire detection systems.
A new and enhanced cooling system. The existing 58 cooling units that used a fixed fan speed have now been adapted to accommodate variable fan speeds. This enables fan speeds to be accurately matched to demand, in order to avoid excess power usage. In addition to this, the data centre has been fitted with new 1.2MW free cooling infrastructure. On cold days this brings in air from the outside to help cool down the IT equipment, reducing the need for powered cooling units even further. 
Introduction of static Uninterruptible Power Supply (UPS) systems.  Half of the existing rotary UPS systems have been replaced with new, static UPS systems, which are more energy efficient. 
Re-balancing of IT loads. Where possible, servers have been consolidated and loads concentrated into fewer racks, enabling cooling and equipment to be shut down in emptied areas.
Interoute's 15 data centres connect to over 126 cities, including 29 city networks. They are designed for the delivery of IaaS and virtualised services, as well as colocation and managed hosting services. The data centre services are backed by robust SLAs and provide a range of flexible alternatives to on-premise IT infrastructure and hosting, for enterprise customers.
Forward-Looking Statements
This communication contains certain forward-looking statements. A forward-looking statement is any statement that does not relate to historical facts and events, and can be identified by the use of such words and phrases as "according to estimates", "aims", "anticipates", "assumes", "believes", "could", "estimates", "expects", "forecasts", "intends", "is of the opinion", "may", "plans", "potential", "predicts", "projects", "should", "to the knowledge of", "will", "would" or, in each case their negatives or other similar expressions, which are intended to identify a statement as forward-looking. This applies, in particular, to statements containing information on future financial results, plans, or expectations regarding business and management, future growth or profitability and general economic and regulatory conditions and other matters affecting Interoute.
Forward-looking statements reflect the current views of Interoute's management ("Management") on future events, which are based on the assumptions of the Management and involve known and unknown risks, uncertainties and other factors that may cause Interoute's actual results, performance or achievements to be materially different from any future results, performance or achievements expressed or implied by these forward-looking statements. The occurrence or non-occurrence of an assumption could cause Interoute's actual financial condition and results of operations to differ materially from, or fail to meet expectations expressed or implied by, such forward-looking statements.
Interoute's business is subject to a number of risks and uncertainties that could also cause a forward-looking statement, estimate or prediction to differ materially from those expressed or implied by the forward-looking statements contained in this communication. The information, opinions and forward-looking statements contained in this communication speak only as at its date and are subject to change without notice. Interoute does not undertake any obligation to review, update, confirm or to release publicly any revisions to any forward-looking statements to reflect events that occur or circumstances that arise in relation to the content of this communication.
( Press Release Image: https://photos.webwire.com/prmedia/7/224156/224156-1.jpg )
Related Links
WebWireID224156

This news content was configured by WebWire editorial staff. Linking is permitted.
News Release Distribution and Press Release Distribution Services Provided by WebWire.