The Full-Length Skate Film Is Not Dead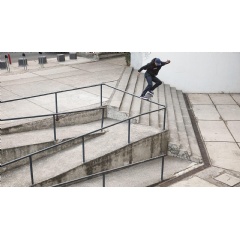 "I'm so thankful for all the energy put in this project, I feel very proud for having been able to help make this dream come true."
"The full-length project has found its way to the endangered-species list," begins the presentation copy for the Converse Cons film "Purple" on the Thrasher Magazine website.

It's hard to argue otherwise when you remember that classics in the skate film canon, including 1991's "Video Days" and Alien Workshop's "Mind Field" in 2009 used to be commonplace, routinely running from 20 minutes to a full hour. But a combination of factors in the digital landscape – reduced attention spans, decreased budgets, the frenetic output of social media clips, to name a few – have made the full-length project rare today.

The new film from Converse Cons skate team, "Purple," is a reminder that the full-length skate film can still provide meaningful depth that bite-sized internet content can't match.

The idea for the film began in 2015, the same year when Converse launched a world tour for the One Star Pro shoe, a redesign of a popular skate silhouette from the '90s. The skate team created an accompanying film, roughly 30 minutes in length, and the crew (which included Russ Pope, the skate executive producer for "Purple") was thrilled with the final product. Why not attempt another proper full-length movie?

Roughly a year later, skate filmmaker Ben Chadourne, Converse team manager Lee Berman, and a team of creatives thought through their plan: structure a full-feature skate film, determine how many shorter sections to feature (six parts plus a montage was the final call) and recruit the appropriate number of featured skaters for the mission (twelve in total).

By the numbers: What it took to produce "Purple"

•    18 months of filming
•    240 days in a van over 57,120 miles
•    1,400 hotel rooms
•    2,250 pairs of Converse shoes
•    1,700 hours of footage edited down to a 45-minute opus featuring some of skating's true icons, including Louie Lopez, Sean Pablo, Jason Jessee, and more.

Energized by its belief in the full-length movie, the crew traveled across the world — from New York City to Mexico and London to Israel — to collect the footage. Front and center are performances from institutional names such as Sage Elsesser, as well as technical wizardry from younger talents like Toronto's Bobby De Keyzer, one of contemporary skateboarding's most gifted stars. Chadourne guided the aesthetic vision using a combination of dreamy 18-mm film and high-definition footage to tell the story of the team's expedition.

Pope says that the movie's collection of international skaters was especially close with one another, turning the grueling travel schedule into a series of bonding trans-continental van rides. Understandably, among the strongest responses to the film so far have been from the skaters themselves. Never had they been a part of a team that liked each other this much. Nor had they invested this much effort.

"I'm glad I took the time and spent the energy, because the film was amazing," said skater Brian Delatorre after the movie's global premiere in New York  (no rider had seen the full film until then). "I'm honored and happy as hell to be a part of this masterpiece in time, a true historical report of modern skateboarding."

"I think most people don't have the balls to do what our team did," says Pope. "We did it like we were a scrappy start-up. We stayed in youth hostels, we bought bags of groceries for brown-bag lunches because we couldn't spend the money on eating out, and we knew we could stay three days longer on the trip if we did that. I don't know how often you'll see these kinds of projects anymore."

"I'm so thankful for all the energy put in this project, I feel very proud for having been able to help make this dream come true." - Ben Chadourne, Filmmaker

The emotional return on such a gargantuan time investment is unique to the full-length film; a 30-second Instagram edit is a weak comparison to the investment from a team that, in the pressure cooker of 18 months, becomes a brotherhood.

Back to the intro from Thrasher: "The full-length project has found its way to the endangered-species list. But this video demonstrates why they are of the utmost importance."

Stream "Purple" now on the Converse Cons YouTube channel. Click here to watch.

Converse Cons "Purple": https://www.youtube.com/watch?v=bSRxDkVrlVc
( Press Release Image: https://photos.webwire.com/prmedia/7/224048/224048-1.jpg )
Related Links
WebWireID224048

This news content was configured by WebWire editorial staff. Linking is permitted.
News Release Distribution and Press Release Distribution Services Provided by WebWire.