London named world's best student city
London has been named the world's best student city for the first time by the QS Best Student Cities Ranking. The fifth edition of the report found that London has more globally-ranked universities than any other city. The UK capital also scored highly for quality of living, employability prospects and its diverse student community with a strong proportion of international students.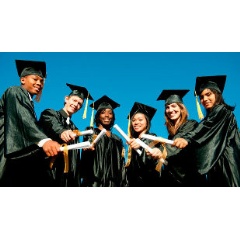 According to a separate study released today by London & Partners, London continues to welcome international students from all over the world, with the report finding that the number of overseas students in London has increased over the past 5 years. International students now make-up 41% of the city's entire student population, up from 34% in 2012-131.  
Measuring the economic value of London's international students, the study also revealed that the city's overseas students are an important source of growth for London and the UK's economy. Last year (2016-17) London attracted over 112,000 international students, with the study showing that they contributed £3.45 billion in economic value to the capital – an 11 per cent increase in real terms since 2013-14.
International students are also an important source of employment, with the report finding that the spending of overseas students and their visitors secures 39,800 jobs across the city. This is equivalent to one job for every three students.
The Mayor of London Sadiq Khan said: "Today's fantastic news that London has been named the world's top student city for the first time is yet more proof of London's status as the higher education capital of the world. We have more leading universities and international students than any other city and I want to make sure it stays that way.
"London is open as the best place to study, do business and innovate and a city where all Londoners can take advantage of these opportunities."
Ben Sowter, Research Director at QS, added: "The 2018 rankings cycle highlights the enduring quality of student experience available in London. The city benefits from outstanding employment prospects, more world-class universities than any other city, and enviable lifestyle opportunities. These factors mean that London remains a great place to study despite eye-watering costs – as more than 50,000 student respondents to QS's survey have made clear."
Further analysis of the London & Partners economic impact report reveals that China, the United States, Italy and India were the most common countries of origin, with considerable growth in both Chinese and Italian student numbers in the past four years.
EU students continue to make-up a considerable portion of London's student body, accounting for a third of all international students. The report shows a small increase of EU students into London from 2015-16 to 2016-17 up from 9.4 percent to 10.0 percent of all students.
The largest contributions to London and the UK's economy were from China contributing £598m, and the United States contributing £240m. Italy and India both contributed £137m. The top ten student markets contribute over 650percent of all the spending from international students in London.
Spending per student was highest among US students who spent £36,705 per year. On average, EU students spent £25,200 per year. Chinese students supported over 7,000 jobs, whilst the top four European markets supported 4,600 jobs and the US supported 2,800 jobs.
Lalage Clay, Director of Education and Talent at London & Partners, the Mayor of London's official promotional agency and home of Study London said: "London is a truly global city, attracting international students from all over the world. With world class universities, cultural attractions and a range of post-study opportunities, it is no surprise to see that London has been recognised as The World's best student city." 
"Every year tens of thousands of students have life-changing experiences here: they enhance their knowledge, improve their skills and make friends from across the globe. They also give back to the city through working, volunteering, or simply taking part in all that London has to offer. London warmly welcomes international students – we are open to talent and provide a creative, dynamic and friendly home for your studies."
The full London & Partners, Economic Impact of London's International Student's report can be downloaded here
------
Summary of Key findings – London & Partners: Economic Impact of London's International Students report
Overall spending in the 2016-17 academic year totaled £3.45 billion, up 11 percent in real terms from 2013-14

The last academic year 2016-2017 saw London welcome 384,955 students studying at HE institutions. Of these, 29 percent (112,200) were international students, a 1.5 percent increase on the previous academic year

41 percent of students attending London's higher education institutions are from outside the UK

Main countries of origin were China, US and Italy

Net Economic Benefit of £2.68bn, with total spend of £3.45bn and total

costs £0.77bn

International students contributed a net benefit of £24,000 per student in 2016-17

Overall GVA in the 2016-17 academic year totaled £1.80 billion, supporting 39,800 jobs in the UK
London & Partners – Methodology
This London & Partners report presents the findings of an assessment of the impact of London's international students on the UK economy in the academic year of 2016-17.

After calculating the major costs of international students in London in 2016/17, we estimated a net benefit of £2.7 billion. This is the equivalent of a benefit of £310 per Londoner per year.

Approach: Identifying spending categories in London's economy, quantifying impact by expenditure 'channel' and estimating direct economic benefit.

Main data sources:


Tuition fees paid to London universities from the Higher Education Statistics Agency (HESA)

Subsistence spending in the local economy adjusted from the Student Income and Expenditure Survey

Expenditure by visiting friends and relatives (VFR) of London's international students according to the International Passenger Survey

Students incur expenditure directly related to university attendance such as tuition fees, books and transport to and from university. Secondly, students spend on accommodation and food. Expenditure varies across the UK, so the figures must be adjusted to reflect the characteristics of the London market. Finally, other spending items must be considered, such as leisure, entertainment and holidays from friends and family.

As in our previous report, we are classifying spending items in three categories, through which international students support the local economy:


Fee income paid to higher education institutions

Subsistence spending (e.g. rent, food, transport and leisure)

Expenditure of friends and relatives who come to London to visit international students. This is known as Visiting Friends and Relatives (VFR) spending

The sum of economic benefit across all three spending channels represents the overall direct economic impact of international students in London on the UK economy.

Costs include public funding grants, unpaid loans and other public services such as social security, culture etc.
QS Rankings - London in metrics
London has a higher number of globally-ranked universities than any other city. It receives the highest score of any city for QS's Rankings indicator;

London ranks 7th for Student Mix – a rank improvement of one place. This measures factors such as tolerance and diversity in a city, the proportion of students in a city population, and the proportion of that student population constituted by international students;

London improves its Desirability rank by seven places, and now ranks 18th for this metric. It measures a range of quality-of-living factors such as pollution, safety, and corruption levels, while also accounting for responses to QS's student survey regarding the most desirable cities in which to study;

London ranks 2nd in the world for Employer Activity, and is outranked only by Tokyo. This composite indicator aims to provide students with comparable data about employability prospects offered by both a city and its universities;

London falls five places to 113th (of 139 cities evaluated) for Affordability – indicative of both the recovery of the pound and the continuance of London's high cost of living;

London's largest rank improvement is for Student View. It now places 13th for Student View – an improvement of ten places. This metric is based on QS's student survey, and accounts for over 50,000 student responses;

Students are asked – if current or former – to report their quality of experience in the city in which they studied. They are also asked about their willingness to remain after graduation.
About London & Partners
London & Partners is the Mayor of London's official promotional agency. Its purpose is to support the Mayor's priorities by promoting London internationally, as the best city in the world in which to invest, work, study and visit. We do this by devising creative ways to promote London and to amplify the Mayor's messages, priorities and campaigns to international audiences. Its mission is to tell London's story brilliantly to an international audience.
London & Partners is a not-for-profit public private partnership, funded by the Mayor of London and our network of commercial partners. For more information, visit: www.londonandpartners.com  
About Study London
Study London is the Mayor of London's Official London University Guide, set up to attract students from around the world to London's world-leading universities. Through its websites, www.studylondon.ac.uk and www.london.cn, Study London provides the information, advice and guidance international students need to choose a university and course. Working with London's universities, Study London helps young people from around the world find the springboard for their academic and career ambitions.
London is host to more international students, and has more universities in the world top 40, than any other city in the world.
( Press Release Image: https://photos.webwire.com/prmedia/6/224004/224004-1.jpg )
Related Links
WebWireID224004

This news content was configured by WebWire editorial staff. Linking is permitted.
News Release Distribution and Press Release Distribution Services Provided by WebWire.