Tate to Seek Trustee for a New Generation and to Launch £5 Exhibition Tickets For 16-25 Year Olds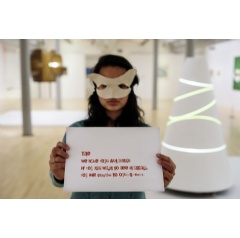 Tate Collective x Assemble We Have Your Art Gallery Tate Liverpool, 2015 © Tate photography (Roger Sinek)
Tate, with agreement from government, will seek to appoint its first Trustee dedicated to bringing the views of the next generation to the highest level of Tate's decision-making process.
Tate is also launching £5 exhibition tickets for 16 to 25 year olds as part of a new scheme called Tate Collective. It is the first free-to-join membership scheme for 16 to 25 year olds at a national UK museum and is open to people anywhere in the world to join online. Those who do can see any of Tate exhibitions for a fiver and also get discounts in Tate's cafes and shops. They can also bring up to three friends to shows, each for £5.
These initiatives respond directly to Tate's recent programmes and consultation with this age group who said the cost of living and higher education mean funds are squeezed and they want access to more affordable activities which they can enjoy with their friends. Museums and galleries also need to build stronger relationships with youth organisations, grow a more diverse workforce and provide a platform for relevant debates, such as identity and social issues.
Maria Balshaw, Director of Tate said:
'We are acting on what 16 to 25 year olds say they want so that we can make the changes needed for future generations. Our sector should be shaped by their creative energy and their message to us is clear: arts institutions should plan 'with' not 'for' them. To do this it is important their voices are heard across the organisation, not just in niche programming. Recruiting a new Trustee – a cultural entrepreneur and digital native – will support this across Tate. And with Tate Collective, our exhibitions are made accessible to this younger generation.'
The research into what these audiences want from the sector is part of the legacy of Circuit, a four-year, Tate-led project supported by Paul Hamlyn Foundation, engaging 175,000 people under 25 in England and Wales who devised and produced festivals and events across a number of UK art galleries. Participants were asked how they wanted the sector to change to make it relevant for future generations.
Tate is also announcing today an online project Why Study Art? devised by collaborative practice They Are Here, which will ask the public for their views and culminate in posters for every secondary school in the UK. An annual careers fair for the arts will be held, and ongoing opportunities for access to information about careers in the arts provided, following the successful pilot event Routes In earlier this year at Tate Modern.
For schools, Tate will establish an annual ASSEMBLY day in April to welcome over 50 schools from across London's boroughs in a takeover of the Blavatnik Building and Turbine Hall at Tate Modern. It is anticipated that over 1,500 pupils will take part in this year's event.
Gaby Sahhar, from Tate Collective and Circuit said:
'I'm pleased Tate is responding to our request for more affordable ticket prices and greater integration in decision making. This will make a big difference and is a positive shift. At Tate, I have had access to artists and people who work in galleries and have been involved in curating and devising events. I wouldn't have been able to think about art the way I do without these opportunities.'
Matt Hancock, Secretary of State for Digital, Culture, Media and Sport said:
'We care deeply that Britain's incredible cultural experiences are available to the next generation. It's fantastic that Tate is to make their world-class exhibitions more accessible to young people and give them a voice at the highest level by recruiting a Trustee to represent them. Young people are the cultural leaders of the future and it is important we do all we can to support their creativity and ideas.'
Régis Cochefert Director, Grants and Programmes at Paul Hamlyn Foundation said:
'We are delighted to have supported Circuit for the past four years and look forward to seeing how the legacy of the project will spark deep and meaningful change. By working with young people at multiple levels, from curation through to governance, museums and galleries have a chance to engage new audiences that will help them thrive into the future. As a foundation, we care deeply about the ability of people to access and participate in arts and culture, regardless of their background. We hope the new Tate Collective initiative will be successful in removing some of the barriers that young people can face when accessing what museums and galleries have to offer.'
Tate Exchange, Tate's ambitious experimental project involving over 70 Associates annually across Tate Modern and Tate Liverpool, sets out to explore some of the most challenging and topical issues of the day including homelessness, mental health and identity. This year a number of Associates focus on the right of everyone to a critically engaged education. From 24 to 29 April Creative Learning through the Arts will produce a week of encounters and workshops at Tate Modern as part of Tate Exchange to explore the transformative and life-long experience of creativity in learning.
To join Tate Collective, go to tate.org.uk/tate-collective.
The full report from Circuit, Test, Risk, Change – Young People, Youth Organisations and Galleries: Working As Allies to Spark Change can be found at tate.org.uk/about/projects/circuit. Further Circuit research will be published in autumn 2018.
Notes to Editors
TATE COLLECTIVE
Tate Collective is free to join online. Joiners will have access to all temporary ticketed exhibitions for £5 and be able to bring up to three friends, also for £5. They will be entitled to 20% discount in Tate's cafés and 10% discount in its shops. Tate Collective will devise and organise bespoke events and news bulletins as part of the scheme. Those aged 12 to 18 can access Tate's exhibitions for £5 and for those under 12 all exhibitions are free.
CIRCUIT
Supported by Paul Hamlyn Foundation
Over the past four years, hundreds of Circuit events have been organised by young people across the four Tate galleries and at six partner galleries from the Plus Tate network in England and Wales: Firstsite, Colchester; MOSTYN, Llandudno; Nottingham Contemporary; The Whitworth, Manchester; and Wysing Arts Centre in collaboration with Kettle's Yard, Cambridgeshire, attracting diverse participants and audiences.
The average age of those taking part in Circuit was 22 and around a quarter were of Black, Asian and Minority Ethnic (BAME) origin, a demographic broadly underrepresented in museums and galleries. UK census data in 2011 recorded 18% of the total population of 16 to 24 year olds in England and Wales as BAME and, across all strands of the programme, Circuit exceeded this. Young People were central to planning events and festivals and were involved in evaluation, marketing, making art and public speaking. Those taking part cited the greatest benefits as increasing their understanding and enjoyment of art, expanding their own networks, improving work experience skills, exploring new ways of thinking and raising self-confidence.
CIRCUIT HIGHLIGHTS
Firstsite, Colchester's peer-led group YAK (Young Art Kommunity), who built a programme around gaming, street dance, circus, sound and digital. They also produced Flipside festival which took over the gallery for two weeks in autumn 2016.
Kettle's Yard and Wysing's Circuit Cambridge, whose Unlock Cambridge festival involved events across the city and beyond.
MOSTYN in Llandudno's first young people's group, GLITCH, which specialised in curating shows – one involving a skate park constructed inside the gallery.
Nottingham Contemporary's Collabor-8 Collective, who produced the Affinity festival in November 2015.
The Whitworth Young Contemporaries (WYC), who were supported by emerging artistic talent and worked alongside a core group of young people from diverse backgrounds. The reopening of the gallery following refurbishment saw WYC co-produce WARP Festival across the park and galleries in 2016.
As part of Circuit, large-scale events were also staged in response to Tate Modern and Tate Britain's collection and exhibitions, including Hyperlink at Tate Modern in 2013 and Late at Tate Britain events. At Tate Liverpool large-scale projects have included the Blueprint Festival in 2014 and Art Gym in 2016. A highlight of the Tate St Ives programme was the SWITCH festival in 2016, which involved the local community in art parties, free-running workshops, exhibitions and dance.
PAUL HAMLYN FOUNDATION
Paul Hamlyn Foundation was established by Paul Hamlyn in 1987. Upon his death in 2001, he left most of his estate to the Foundation, creating one of the largest independent grant-making foundations in the UK. Their mission is to help people overcome disadvantage and lack of opportunity, so that they can realise their potential and enjoy fulfilling and creative lives. They have a particular interest in supporting young people and a strong belief in the importance of the arts.
UNIQLO TATE LATES AT TATE MODERN, LATE AT TATE BRITAIN AND LATE EVENTS AT
TATE LIVERPOOL AND TATE ST IVES
Late at Tate Britain events for younger audiences, devised by Tate Collective producers, regularly attract around 3,500 people per event. In 2016/17 Uniqlo Tate Lates at Tate Modern were attended by 123,000 over the year. At Tate Liverpool, evening events for this age group, such as the Roy Lichtenstein pop art party, attract around 1,200 people and similar events at Tate St Ives, including the Circuit festival, have proved popular.
ASSEMBLY
ASSEMBLY will be presented annually at Tate. The programme for 2018 will be devised by the artist Shepherd Manyika. Schoolchildren will take part in activities involving Instagram, loud hailers and music and will be invited to make a large-scale sculptural installation weaving giant foam noodles. They will have exclusive access to Tate Modern's Blavatnik Building and the Turbine Hall until 13.00 on 24 April 2018. Tate anticipates 1,500 schoolchildren from around 50 schools from London boroughs will take part.
WHY STUDY ART? PROJECT
The Why Study Art? project has been devised by collaborative practice They Are Here. The ambition is to solicit 2,000 responses in a week to the question: Why Study Art? All schools in the UK will be invited to decide on their top responses and create a poster. The project will also be accompanied by a social media campaign.
TATE EXCHANGE
Tate Exchange: Production is supported by Maryam and Edward Eisler, Red Hat Inc., Paul Hamlyn Foundation and Art Fund. With founding support from Freelands Foundation.
TATE LIVERPOOL – MY PRIMARY SCHOOL IS AT A MUSEUM
As part of My Primary School is at a Museum with Kings College London, Tate Liverpool saw primary schools take up residency in the gallery, using it as their classroom over an extended period. Based on this research the gallery has progressed this model further, allowing Tate Liverpool to provide an alternative context for teaching and learning, enabling teachers to deliver an enriched curriculum. Based on this, in the autumn a new collection display will be presented aimed at under-12s.
MAKE YOUR PLACE
Producer: Jamie Clark (for My Accomplice), Director: Colin O'Toole
Make Your Place is an observational documentary about four creatives (Fatimah, Charlotte, Will and Gaby) who are carving out a future for themselves. The film captures their lives and experiences in four cities across England and Wales. The narrative cross-cuts between them, showing their shared sense of determination to achieve their ambitions, despite the challenges posed by the current socio-political climate. Through a glimpse into their worlds, we see that opportunity is out there, but the road to further that opportunity is a tough one, full of challenges unique to our time. All four creatives were participants in Circuit: Fatimah Fagi-Hassan at the Whitworth, Charlotte Winters at Firstsite, Will Dean at Mostyn and Gaby Sahhar at Tate Britain. To view Make Your Place visit circuit.tate.org.uk
( Press Release Image: https://photos.webwire.com/prmedia/7/222832/222832-1.jpg )
Related Links
WebWireID222832

This news content was configured by WebWire editorial staff. Linking is permitted.
News Release Distribution and Press Release Distribution Services Provided by WebWire.