From Local to Global, Anheuser-Busch's Water Stewardship Programs Are Core to Building a Better World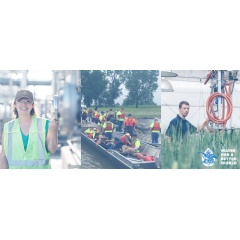 Water is one of our most precious resources — in our communities, in those of our consumers, and around the world. It is also one of the key ingredients in the beers we proudly brew across the country every day. For that reason, this World Water Day we are proud to continue our Water for Better World Campaign to build on our commitment to water stewardship, along with AB InBev's new 2025 Global Sustainability Goals launched.
From Stella Artois' powerful partnership with Water.org to watershed clean-ups across the country and water savings programs throughout our supply chain, these ongoing water stewardship efforts sit at the very heart of our Better World strategy — inside our brewery walls and beyond.
Over the past 10 years, we have reduced water usage across our U.S. operations by nearly 38 percent —equal to 40 billion cans of beer — thanks to the contributions of our colleagues, business partners and consumers. By working together, we can make a difference and build a cleaner future.
"As we call attention to the importance of clean water on World Water Day, we are excited to continue building on our water sustainability programs. Water is not only vital to the wellbeing of our communities, it is also essential to all our great-tasting beers," said Ingrid De Ryck, Vice President of Procurement and Sustainability at Anheuser-Busch. "As a result, water sustainability, from seed to sip, is a key part of our industry-leading efforts to build a Better World."
So what are our big plans for 2018?
· Stella Artois is partnering with Water.org for the fourth year for the Buy a Lady a Drink campaign. For every purchase of a limited-edition chalice, Stella Artois will help Water.org provide five years of clean water for one person in the developing world. This effort will be celebrated on World Water Day in New York with a special event with Water.org cofounders Matt Damon and Gary White. Since 2015, the Buy a Lady a Drink campaign has changed the lives of more than 1.5 million people, with the goal of providing access to clean water for over 3.5 million in the developing world by 2020.
· Over the next few months, we will bring our water programs to life in our local communities by partnering with numerous local groups including Nature Conservancies and Keep America Beautiful, and the River Network to host river and watershed protection projects. Since 2010, over 10,000 of our colleagues have volunteered to participate in 150 projects to help improve the quality of rivers and watersheds. We have 20 additional cleanups across the country planned this year.
· Today also marks the beginning of our second annual "How Much Water Can You Save" competition. Colleagues at our facilities across the country will go head-to-head to develop, and implement, new water saving initiatives to further reduce water consumption at their facility, with a chance to win two tickets to Super Bowl LIII.
· In addition, we are participating in a global "Shark Tank" style competition with fellow AB InBev facilities around the world to design new water sustainability initiatives. The winning facility will receive a special capital expenditure award of up to $100,000 to invest in bringing the winning project to life.
This renewed commitment to water stewardship comes as our parent company AB InBev launched its new 2025 Global Sustainability Goals, which include new targets around ensuring water access and quality in high-stress communities. The new goals will also have wide-reaching impact beyond water sustainability, ranging from supporting the brewer's direct farmers improve their productivity, profitability and efficient use of natural resources, delivering cutting-edge recycling capabilities, and adding renewable electricity capacity to regional grids.
To learn more about our commitment to sustainability and environmental protection, visit http://www.anheuser-busch.com/betterworld/sustainability/water.html.
ABOUT ANHEUSER-BUSCH
Anheuser-Busch and its employees build on a legacy of corporate social responsibility by focusing on three key areas: promoting alcohol responsibility, preserving and protecting the environment and supporting local communities. In the past three decades, Anheuser-Busch and its wholesalers have invested more than $1 billion in preventing drunk driving and underage drinking and promoting responsible retailing and advertising. Anheuser-Busch reduced total water use at its U.S. facilities by nearly 40 percent over the last 10 years. To date, Anheuser-Busch and its Foundation have contributed approximately $20 million each year in support of charitable organizations that help in local communities. The company also has provided over 79 million cans of emergency drinking water to people impacted by natural and other disasters since 1988. Based in St. Louis, Anheuser-Busch, the leading American brewer, is a wholly-owned subsidiary of Anheuser-Busch InBev, the leading global brewer. For more information, visit www.anheuserbusch.com.
( Press Release Image: https://photos.webwire.com/prmedia/7/221812/221812-1.jpg )
Related Links
WebWireID221812

This news content was configured by WebWire editorial staff. Linking is permitted.
News Release Distribution and Press Release Distribution Services Provided by WebWire.