Guggenheim Presents First Comprehensive Overview of Work by Artist Danh Vo, Opening February 9
Midcareer Survey Assembles Vo's Installations, Sculptures, and Photographs Since 2003

Exhibition Explores How Global Forces Including War, Religion, Colonialism, and Capitalism Shape Individual and Collective Identity
NEW YORK, NY –
WEBWIRE
–
Thursday, February 8, 2018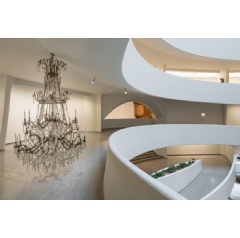 From February 9 through May 9, 2018, the Solomon R. Guggenheim Museum presents the first comprehensive survey in the United States of work by Danish artist Danh Vo (b. 1975, Ba Ria, Vietnam). Danh Vo: Take My Breath Away offers an illuminating overview of Vo's production from the past 15 years, including several new projects created on the occasion of the Guggenheim presentation. Filling the ramps of the Frank Lloyd Wright–designed rotunda and comprising more than one hundred objects, the exhibition interweaves installations, sculptures, photographs, and works on paper from various points in the artist's career, amplifying thematic resonances among diverse cultural and political subjects.
Danh Vo: Take My Breath Away is organized by Katherine Brinson, Daskalopoulos Curator, Contemporary Art, with Susan Thompson, Associate Curator, and with additional support from Ylinka Barotto, Assistant Curator.
Vo's installations dissect the power structures, cultural forces, and private desires that shape our experience of the world. His work addresses themes of religion, colonialism, capitalism, and artistic authorship, but refracts these sweeping subjects through intimate personal narratives—what the artist calls "the tiny diasporas of a person's life." Each project grows out of a period of intense research in which historical study, fortuitous encounters, and personal relationships are woven into psychologically potent tableaux. Subjected to Vo's vivid processes of deconstruction and recombination, found objects, documents, and images become registers of latent histories and sociopolitical fissures.
Ranging the full spectrum of Vo's oeuvre—from early conceptual works such as Vo Rosasco Rasmussen (2003), in which he married and divorced acquaintances in order to add their surnames to his own, to his recent sculptural hybrids of antique statuary—the exhibition will forgo a chronological presentation, instead assembling works from the past fifteen years by their formal and thematic resonances. Significant subjects include the legacy of colonialism and the fraught status of the refugee. In particular, Vo has focused on European and U.S. influences in Southeast Asia and Latin America, examining the relationship between military interventions and more diffuse cultural incursions from forces such as evangelical Catholicism and consumer brands. Objects absorbed into the work are frequently charged by knowledge of their former ownership or their status as historical bystanders. Whether presenting the intimate possessions of his family members, a series of thank-you notes from Henry Kissinger, or the chandeliers that glittered above the signing of the 1973 Paris Peace Accords, which ended American involvement in the Vietnam War, Vo subtly excavates the internal tensions embedded in his material. Repeatedly, he has probed the myths and symbols that frame entrenched cultural ideals and aspirations, from the Grimms' Cinderella to the Statue of Liberty and the Kennedys' "Camelot." A sustained focus of the work has been the image of the United States in its own collective imagination and in that of the world—a topic that is central to this exhibition.
For his Guggenheim presentation, Vo has made several subtle architectural interventions that aim to amplify the spirit of Frank Lloyd Wright's iconic building. The oculus covering has been removed to allow natural shifts in sunlight and shadow to filter though the ramps below. Specially selected flora revitalizes the museum's outdoor gardens and also features in plantings distributed within the interior of the building in Talavera pottery commissioned by the artist.
Fabulous Muscles Take My Breath Away (2018) is a new, site-specific work for which Danh Vo's father and frequent collaborator, Phung Vo, hand-etched windows on the rotunda floor with calligraphy of his own design that transcribes lyrics written by the band Xiu Xiu and the exhibition's title.
A blog post describing the installation of the window calligraphy and details about the exhibition is available at guggenheim.org/blogs. Additional features, including video content on the exhibition and audio clips of the artist speaking about his work, are posted at guggenheim.org/danhvo.
EDUCATION AND PUBLIC PROGRAMS
The exhibition is accompanied by an extensive set of public programs, listed below and subject to change.
Eye to Eye: Artist-Led Tours
February 20, 27, and April 10, 6:30 pm
Part of the Guggenheim's ongoing Eye to Eye series, these intimate evening programs invite contemporary artists to reflect on themes and artworks in current exhibitions, and draw connections to their own practices. For a special iteration of the program on the occasion of Danh Vo: Take My Breath Away, artists identified by Vo as friends, mentors, and collaborators lead a small group of visitors through the exhibition. Each tour is followed by a reception in the Guggenheim's rotunda. $20, $15 members, $10 students. For more information, visit guggenheim.org/calendar.
Tuesday, February 20: Moyra Davey and Jason Simon
Tuesday, February 27: Julie Ault
Tuesday, April 10: Rirkrit Tiravanija
Film Series: "Danh Vo Selects"
Saturdays, March 3–31
A series of films selected by the artist to accompany his exhibition, "Danh Vo Selects" takes place on Saturdays throughout the month of March. Each week, two of the following films will be screened. Screenings take place in the New Media Theater, Level B, and are free with admission. For more information, visit guggenheim.org/films.
Rosetta (1999), dir. Jean-Pierre and Luc Dardenne, 93 min.
March 10 and 31, 2:30 pm; March 17, 5 pm
This intense vérité drama by Belgian filmmakers and brothers Jean-Pierre and Luc Dardenne closely follows a poor young woman struggling to hold on to a job that would support her and her alcoholic mother. It is a swift and simple tale made revelatory by the raw, empathic way in which the directors render Rosetta's desperation, keeping the camera nearly perched on her shoulder throughout.
The Ballad of Narayama (1983), dir. Shohei Imamura, 130 min.
March 3 and 24, 5 pm; March 17, 2:30 pm
Still strong at the age of 69, Orin prepares herself for an inevitable yet horrifying ritual. In her village, where food is scarce, life is harsh and people are desperate and cruel. Anyone who lives for 70 years is hauled to the mountaintop by their children and left to die in the dead of winter. Orin is prepared to accept her fate, but she also has one last, all-important task—she must find a suitable wife for her son, Tatsuhei.
The Exorcist (1973), dir. William Friedkin, 122 min.
March 3 and 24, 2:30 pm; March 10 and 31, 5 pm
One of the most profitable horror movies ever made and the first example of the genre to be nominated for an Academy Award for Best Picture, this tale of an exorcism is based loosely on reported actual events. It centers on a young girl's bizarre and distressing behavior, which is identified by a local priest as a demonic possession. The priest makes a request to perform an exorcism, and the church sends in an expert to help with the difficult job.
Mind's Eye Tour
Monthly Mind's Eye tours and workshops for visitors who are blind or have low vision are conducted by arts and education professionals through verbal description, conversation, sensory experiences, and creative practice. For visitors who wish to visit the museum on their own, the free Guggenheim app includes verbal imaging tours and VoiceOver. Free with RSVP required one week before the program date. For more information, visit guggenheim.org/mindseye.
March 14, 2–4 pm: Danh Vo: Take My Breath Away
Curator's Eye Tours
Wednesdays, 12 pm
Curator's Eye tours provide an opportunity for visitors to explore the museum's exhibitions with the exhibition curators sharing expert knowledge of the work on view. Tours interpreted in American Sign Language (ASL) upon request. Free with museum admission. Limited capacity, advance on-site registration is required. Registration opens one hour before the tour at the Information desk. Check-in begins 15 minutes prior to the start of the tour. For more information, visit guggenheim.org/calendar.
March 21: Susan Thompson, Associate Curator
April 18: Katherine Brinson, Daskalopoulos Curator, Contemporary Art
Danh Vo artist talk
Friday, April 27
A rare opportunity to hear the artist speak about his work. Details and times will be posted to guggenheim.org/calendar
Xiu Xiu: Deforms the Unborn
Tuesday, May 8, 7 pm and 9:30 pm
Experimental band Xiu Xiu premieres a new, extended-length track about the tormenting experience of demonic possession, based on firsthand accounts of exorcisms in modern history. The subject of this new composition was inspired by Danh Vo's engagement with William Friedkin's The Exorcist (1973) in his artworks titled after obscenities uttered by the demon Pazuzu in the film. In addition to the concert and a cash bar, visitors will enjoy an opportunity to view the exhibition after hours in its final days.
$25, $20 members, $15 students per show. Includes access to the exhibition and bar. For more information, visit guggenheim.org/calendar.
CATALOGUE AND TOUR
A richly illustrated scholarly catalogue conceived in close collaboration with the artist, with an essay by Katherine Brinson and exhibition descriptions by Susan Thompson, Associate Curator, is published to accompany the exhibition as a hardcover edition for $65. A presentation of Danh Vo: Take My Breath Away will be on view at the SMK/National Gallery of Denmak, Copenhagen, from August 30 through December 2, 2018.
EXHIBITION SUPPORT
Funding for Danh Vo: Take My Breath Away is provided by Art Mentor Foundation Lucerne.
Additional support is provided by the Juliet Lea Hillman Simonds Foundation, the National Endowment for the Arts, the Obel Family Foundation, the Jacques and Natasha Gelman Foundation, Beckett-Fonden, and the Danish Arts Foundation. The Leadership Committee for this exhibition is gratefully acknowledged for its support, with special thanks to Mara and Marcio Fainziliber, Cochairs; Stefan Edlis and Gael Neeson; Marian Goodman Gallery, New York, London, Paris; kurimanzutto, Mexico City; Robert Soros; Faurschou Foundation; Inigo Philbrick and Francisca Mancini; The Pritzker Traubert Foundation; Murray Alexander Abramson; Peter Bentley Brandt; Galerie Buchholz, Berlin/Cologne/New York; Galerie Chantal Crousel, Paris; Xavier Hufkens; The Jamil Collection; Naomi Milgrom and John Kaldor; Charlotte Feng Ford; and Thea Westreich Wagner and Ethan Wagner. The catalogue for this exhibition is supported by the New Carlsberg Foundation.
ABOUT THE ARTIST
Danh Vo lives and works in Mexico City and Berlin. He represented Denmark at the 2015 Venice Biennale and received the 2012 Hugo Boss Prize, for which he developed the project The Hugo Boss Prize 2012: Danh Vo, I M U U R 2 at the Solomon R. Guggenheim Museum (2013). Vo's major solo exhibitions include presentations at Museo Nacional Centro de Arte Reina Sofía, Madrid (2015–16); Museum Ludwig, Cologne (2015); Museo Jumex, Mexico City (2014–15); Musée d'art moderne de la Ville de Paris (2013); Villa Medici, Rome (2013); The Renaissance Society, Chicago (2012); Kunsthaus Bregenz, Austria (2012); Kunsthalle Fridericianum, Kassel, Germany (2011); Statens Museum for Kunst, Copenhagen (2010–11); Artists Space, New York (2010); Kunsthalle Basel (2009); and Stedelijk Museum, Amsterdam (2008). He has participated in numerous international group exhibitions, including the Milan Triennial (2014); Berlin Biennial (2010, 2014); Venice Biennale (2013); New Museum Triennial, New York (2012); and Singapore Biennial (2011); as well as those at the Centre Georges Pompidou, Paris (2014–16); Fundació Joan Miró, Barcelona (2011); Kunsthalle Basel (2010); and Istituto Svizzero, Rome (­2010).
ABOUT THE SOLOMON R. GUGGENHEIM FOUNDATION
Founded in 1937, the Solomon R. Guggenheim Foundation is dedicated to promoting the understanding and appreciation of art, primarily of the modern and contemporary periods, through exhibitions, education programs, research initiatives, and publications. The Guggenheim network that began in the 1970s when the Solomon R. Guggenheim Museum, New York, was joined by the Peggy Guggenheim Collection, Venice, has since expanded to include the Guggenheim Museum Bilbao (opened 1997), and the Guggenheim Abu Dhabi (currently in development). The Guggenheim Foundation continues to forge international collaborations that celebrate contemporary art, architecture, and design within and beyond the walls of the museum, including the Guggenheim UBS MAP Global Art Initiative and The Robert H. N. Ho Family Foundation Chinese Art Initiative. More information about the Solomon R. Guggenheim Foundation can be found at guggenheim.org.
( Press Release Image: https://photos.webwire.com/prmedia/6/220035/220035-1.jpg )
Related Links
WebWireID220035

This news content was configured by WebWire editorial staff. Linking is permitted.
News Release Distribution and Press Release Distribution Services Provided by WebWire.