Future 100 Trends and Change to Watch in MENA
New Mena Trends 'Rebranding Sexual Wellness', 'Mingling With The Machine' And 'Halal Space Food' Spur Similarities With The West

2018 Report From J. Walter Thompson's Innovation Group Mena Forecasts 100 Trends, Depicting Region's Fast-Paced Evolution
BEIRUT, Lebanon –
WEBWIRE
–
Friday, January 19, 2018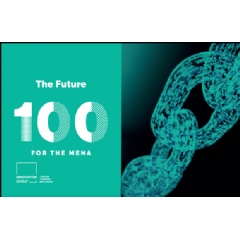 J. Walter Thompson Middle East and Africa's Innovation Group released its sixth annual consumer trends report, covering the MENA region for 2018. The "Future 100 Trends and Change to Watch in MENA" captures key themes accelerating the pace of change for consumers in the fast and dynamic economies of Egypt, North Africa, Lebanon, Jordan, the Gulf and Saudi Arabia, spurring similarities with the West.
Authored by Mennah Ibrahim, MEA Director of the Innovation Group, the report is sliced into 10 main categories - Culture, Tech & Innovation, Travel & Hospitality, Brands & Marketing, Food & Drink, Beauty, Retail, Health, Lifestyle, and Luxury. Each trend in the Future 100 MENA Report is part of a growing phenomenon; that Middle Eastern consumers are increasingly identifying themselves as 'global citizens'. With the universal nature of digital networks, the region is experiencing a significant move towards a post-hipster world, bringing a new spin on parenthood, money and lifestyle matters overall.
Rebranding sexual wellness: Trend #86
Sexual health is breaking out of its taboo status to become more aligned with health and wellbeing. "The Muslimah Sex Manual: A Halal Guide to Mind Blowing Sex", is the first such guide written by a Muslim woman for women, addressing many of the misconceptions passed down by cultural standing. The tide on sexuality is fundamentally turning with wellness brands moving into the sexual health area.
Mingling with the machine: Trend #07
According to Accenture, 82% of UAE respondents cited the availability of AI anytime, as a key reason they prefer it to human interaction. At the Future Investment Initiative in Saudi Arabia, a humanoid robot demonstrated her capacity for human expression and interaction. At GITEX Dubai, Robo-cops keeping the peace and Robo-surgeons performing surgery over 5G, were a major highlight.
Halal space food: Trend #44
Saudi Arabia has invested $1 billion in Virgin Galactic, and Egyptian Mohammed Sallam is set to fly to the Red Planet as part of mission Mars One. With more Muslim astronauts travelling to space, Texas A&M University System plans to conduct research on halal food as part of its NASA program. "If there is a demand for Halal Food we will have research on it, to NASA requirements" said Mian Nadeem Riaz, NASA R&D director.
By women for women: Trend #10
Women are using social media, girl-focused platforms and messages of empowerment to create content and solutions for women, by women. In Saudi Arabia, Google expects this content to rise by 75% over 2016's figures. Vlogger Njoud al Shammari said: "YouTube gives me the power to have a voice not only to express myself but to express what other women need, and what they feel needs to change in our society".
Rebranding KSA: Trend #04
With a target of attracting 1.5 million foreign visitors by 2020, Saudi Arabia's cultural reforms and relaxed tourist visa laws are already attracting foreign investors, who find that the country's unexplored territories add to its mystique. Virgin Group founder Sir Richard Branson said: "This is an incredibly exciting time in the country's history, and I've always felt that there's nothing like getting a first-hand impression."
Commenting on the report, Mennah Ibrahim said: "Borders are collapsing at the touch of technology, causing much faster trend evolution and similarities with the West, as the Middle Eastern consumer increasingly identifies as a 'global citizen'. Last year, I wrote about the growing demand for brands and lifestyle products to offer Muslim-centric options of diverse identity, social justice and social impact. Interestingly, these recurring themes, along with other emerging trends, are now flowing faster in the opposite direction. This East to West exchange is making those trends' influences felt across consumer categories around the globe – even in space."
To download the full report: jwtmea.com/F100mena2018
ABOUT J. WALTER THOMPSON COMPANY
J. Walter Thompson Company was founded in 1864 and has been making pioneering solutions that build enduring brands and business for more than 150 years. Today the company has evolved to include several global networks including J. Walter Thompson Worldwide, Mirum and Colloquial. In the Middle East and Africa, J. Walter Thompson is one of the leading communication agencies in the region with 27 offices in 24 markets. The MEA region is structured to deliver communication based business solutions across all channels needed to successfully deliver the marketing plan. For more information, please visit us www.jwt.com/mea and follow us @jwtmea
ABOUT THE INNOVATION GROUP
The Innovation Group is J. Walter Thompson's futurism, research and innovation unit. It charts emerging and future global trends, consumer change, and innovation patterns—translating these into insight for brands. It offers a suite of consultancy services, including bespoke research, presentations, co-branded reports and workshops. It is also active in innovation, partnering with brands to activate future trends within their framework and execute new products and concepts. It is led by Lucie Greene, Worldwide Director of the Innovation Group. Mennah Ibrahim is Middle East Africa Director of the Innovation Group.
ABOUT J. WALTER THOMPSON INTELLIGENCE
The Innovation Group is part of J. Walter Thompson Intelligence, a platform for global research, innovation and data analytics at J. Walter Thompson Company, housing three key in-house practices: SONARTM, Analytics and the Innovation Group. SONARTM is J. Walter Thompson's research unit that develops and exploits new quantitative and qualitative research techniques to understand cultures, brands and consumer motivation around the world. Analytics focuses on the innovative application of data and technology to inform and inspire new marketing solutions. It offers a suite of bespoke analytics tools. Mennah Ibrahim is Middle East Africa Director of Brand Intelligence and Data & Analytics.
( Press Release Image: https://photos.webwire.com/prmedia/7/219170/219170-1.png )
Related Links
WebWireID219170

This news content was configured by WebWire editorial staff. Linking is permitted.
News Release Distribution and Press Release Distribution Services Provided by WebWire.