'Minpaku' Law To Come into Effect in January
Coming into force in January 2018, Japan's new vacation rental ('minpaku') law is expected to have an impact on accommodation trends in Japan.
WEBWIRE
–
Tuesday, December 26, 2017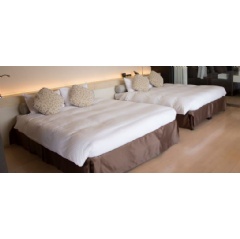 The impact of 'minpaku' - airbnb-style private accommodation - on the Japanese accommodation market is starting to be felt, following the passage of the new vacation rental ('minpaku') law by the Japanese Diet on 9 June this year (to be enforced in January 2018).

The new law will regulate private accommodation properties operating for 180 or fewer business days per year, with the cut-off point for the number of business days adjustable by prefectures according to its circumstances.

Together with an increase in the number of new hotel rooms forecast to open in the coming years and the increasing number of international visitors choosing to visit Japan by cruise ship, the rise in the usage of 'minpaku' accommodation has already helped to alleviate a shortage of hotel rooms in the run-up to the Tokyo Olympic and Paralympic Games in 2020.

Statistics Reveal Number of International Visitors Staying in 'Minpaku'

Following the passage of the new law earlier this year, Japan Tourism Agency (JTA) began collecting data on international visitors staying in 'minpaku' private accommodation. The first batch of figures reveals that, by prefecture, Osaka had the highest number of 'minpaku' users (63.7%), followed by Kyoto (48.9%) and Tokyo (40.2%). 

The figures also reveal that, in July to September 2017, 12.4% of all international visitors stayed in 'minpaku', with 14.9% of visitors arriving in Japan for leisure travel staying in 'minpaku'. However, the survey found that 'minpaku' usage varied considerably according to both the country/region of origin and age of visitors.

By country/region, it found that French travellers were the most frequent 'minpaku' users regardless of purpose (28.6%), followed by Singaporean travellers (23.5%) and Australian, Spanish and Canadian travellers. When looking only at leisure travel, the number of 'minpaku' users was particularly high for Singapore (39.5%), France (35.9%) and Indonesia (29.7%).

British travellers were also among the top nationalities checking into 'minpaku', according to the results of the survey. Overall, just under 10% of British visitors stayed in 'minpaku' (9.6%); however, the percentage rises significantly to 16.4% when singling out leisure visitors.

By age, the survey confirmed the general trend that 'minpaku' tend to be preferred by younger generations: a whopping 61.3% of travellers in their 20s or younger were 'minpaku' users, while the number dropped to half that for travellers in their 30s and 40s (32.8%), and just 6% for travellers in their 50s or older.

Cost Key Reason for Consumers Choosing 'Minpaku'

The survey highlighted a strong correlation between usage of 'minpaku' and lower daily travel expenditure on items such as food and drink and holiday shopping. In other words, visitors who stay in 'minpaku' tend to spend less per day on holiday expenses - however, the survey also found that 'minpaku' users tend to stay for longer.

 

The average accommodation spend per night for 'minpaku' users was 4,909 yen (£32), about 2,500 yen (£16.50) less than the 7,584 yen (£50) spent by non-'minpaku' users. Overall, total holiday expenses spend for 'minpaku' users stood at 19,125 yen (£126) per night, 7,000 yen (£46) less than the 26,315 yen (£173)  spent by non-'minpaku' users.

Meanwhile, 'minpaku' users spent on average 4,161 yen (£27) per day on food and drink, compared to 4,490 yen (£30) by non-'minpaku' users. On shopping, 'minpaku' users spent 6,960 yen (£46), compared to 9,385 yen (£62) by non-'minpaku' users. 

However, interestingly the average number of nights stayed by 'minpaku' users (7.6 nights) was higher than the 5.9 nights stayed by non-'minpaku' users, suggesting that while 'minpaku' users' daily expenditure is lower, they are likely to stay in Japan for longer.

JTA added the category 'private accommodation' to its quarterly survey in Q3 this year based on input from international visitors. This was to enable more accurate data collection, after the percentage of responses in the 'other accommodation' category leapt from just 1.9% in Q1 of 2015 to 15.4% in Q2 of 2017.

Vacation rental property businesses in Japan are enthusiastic about the possibilities offered by the new 'minpaku' law. Yasuyuki Tanabe, head of Airbnb Japan, said, "Extension of vacation rental business based on the new law will be an opportunity to generate long-term and various benefits nationwide in Japan." 

Yasuhiro Ueyama, CEO of the managing company of STAY JAPAN, a prominent domestic vacation rental property business, similarly expressed his delight at the passage of the new law. STAY JAPAN aims to develop a long-stay travel market in local regions that benefits local neighbourhoods as well as staying guests.

To stay up to date with all the latest happenings in Japan follow us on Facebook or Twitter.
( Press Release Image: https://photos.webwire.com/prmedia/7/218316/218316-1.jpg )
Related Links
WebWireID218316

This news content was configured by WebWire editorial staff. Linking is permitted.
News Release Distribution and Press Release Distribution Services Provided by WebWire.