Louvre Abu Dhabi, a new cultural landmark for the 21st century, opens to the public on 11 November
WEBWIRE
–
Tuesday, December 26, 2017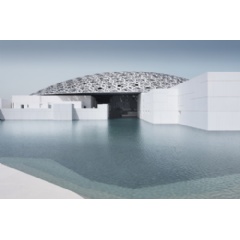 Louvre Abu Dhabi Photography Mohamed Somji
The much-anticipated Louvre Abu Dhabi will open to the public, with a spectacular week-long series of celebrations. It is the first museum of its kind in the Arab region and offers a new perspective on the history of art in a globalised world.
An iconic architectural masterpiece designed by Jean Nouvel, it is located on the waterfront in Abu Dhabi's cultural district on Saadiyat Island. The inaugural installation in its spacious collection galleries will present 600 works of art, half from its own rich holdings, and half consisting of stellar works visiting from its 13 partner museums in France. The museum will also begin an ongoing programme of special exhibitions in December.
Louvre Abu Dhabi is the result of a unique collaboration between Abu Dhabi, the capital of the United Arab Emirates (UAE), and France. The museum's collection spans the history of humanity and will explore a universal narrative through artworks and artefacts from all over the world. The inaugural installation will take visitors on a chronological journey from prehistory to the present day, encompassing 12 chapters including the birth of the first villages; universal religions; cosmography; the magnificence of the royal court; and the modern world.
His Excellency Mohamed Al Mubarak, Chairman of the Department of Culture & Tourism and the Tourism Development and Investment Company (TDIC), said: "The UAE is proud of our rich heritage, while also embracing progress and change. We are a dynamic, vibrant and multicultural society, where people live in harmony and tolerance. This diversity is reflected in Louvre Abu Dhabi's collection, which celebrates the innate human fascination with discovery. Each visitor will encounter extraordinary artworks and artefacts from global cultures that are both familiar and surprising. Louvre Abu Dhabi is the UAE's gift to the world, and we look forward to welcoming our first visitors."
Manuel Rabaté, Director of Louvre Abu Dhabi, said: "Louvre Abu Dhabi sets a benchmark for the region, attracting the next generation of talented museum professionals. It has reinvented the 18th-century premise of the universal museum for a demanding contemporary audience. In a complex multi-narrative world, these ideas are more important than ever. By exhibiting works from diverse cultures in the same space, our curation shows the interconnectedness of different ideologies, aesthetics and artistic techniques. The museum story transports visitors through a history of humanity illuminated by our collection of exceptional treasures."
Commenting on behalf of musée du Louvre, Jean-Luc Martinez, President-Director of musée du Louvre and Chairman of the Scientific Board of Agence France-Muséums, said: "Today is the inauguration of Louvre Abu Dhabi; a museum like no other, which could be considered as the most ambitious cultural project of the early 21st century. It carries a message of openness, which is critical for our era. This incredible project was conceived in the Emirates and carried out as an inspiring partnership. Today, we are proud that expertise given by French museums, and the extraordinary artworks that have been gathered together, contribute to the achievement of this museum, which will amaze the world and make its mark in the history of museums."
Architect Jean Nouvel has designed Louvre Abu Dhabi as a museum city (medina) which combines traditional Arabic inspiration with contemporary design and cutting-edge energy-efficient engineering. Visitors can walk along promenades overlooking the sea underneath the iconic dome, comprised of 7,850 unique metal stars set in a complex geometric pattern. When sunlight filters through, it creates a moving 'rain of light', reminiscent of the overlapping palm trees in the UAE's oases.
Jean Nouvel, the architect of Louvre Abu Dhabi, said: "Louvre Abu Dhabi embodies an exceptional programme in the literal sense of the word. Its vocation is now to express what is universal throughout the ages. Its architecture makes it a place of convergence and correlation between the immense sky, the sea-horizon and the territory of the desert. Its dome and cupola imprint the space with the consciousness of time and of the moment through an evocative light of a spirituality that is its own."
The collection
Presented across 6,400 square metres of galleries, the museum's growing collection includes more than 600 important artworks and artefacts, approximately half of which will be presented for the opening year. It includes ancient archaeological finds, decorative arts, neoclassical sculptures, paintings by modern masters and contemporary installations.
Jean-François Charnier, Scientific Director of Agence France-Muséums, said: "At Louvre Abu Dhabi, works of art provide the most eloquent testimony of the course of time, enabling its visitors to look back over the ages that have fashioned the world in which they live. Encounters with artefacts of different cultures give rise to emotions and questions, making this universal museum the ideal place to embark on a global history of humanity."
Ancient masterpieces from the collection include a Bactrian Princess created in Central Asia at the end of the 3rd millennium BCE, a Grecian sphinx from the 6th century BCE and an Iranian gold bracelet in the shape of a lion. Visitors encounter works from universal religions, including sacred texts such as a Leaf from the "Blue Quran" and a Gothic Bible, as well as a Standing Bodhisattva from the 2nd or 3rd century and a white marble Head of Buddha from China.
Highlights from later periods include an ancient astrolabe, part of a display showing the science of cosmography; a red Chinese lacquer chest of drawers produced in France by Bernard II van Risenburgh, which shows the cross-cultural inspirations born from global trade routes; and Giovanni Bellini's Madonna and Child, representing the emergence of religious art and iconography.
Works such as a Bronze Oba head from the Benin Kingdom and Jacob Jordaens' The Good Samaritan demonstrate the magnificence of royal courts around the world.
A series of iconic paintings captures the emergence of the modern world, including Gustave Caillebotte's Game of Bezique, Edouard Manet's The Gypsy, Paul Gauguin's Children Wrestling, Osman Hamdi Bey's A Young Emir Studying, Piet Mondrian's Composition with Blue, Red, Yellow and Black, René Magritte's The Subjugated Reader and Pablo Picasso's Portrait of a Lady.
The museum's contemporary art collection has nine canvases by Cy Twombly and a monumental sculpture by renowned international artist Ai Weiwei. As part of an ongoing programme of commissions, Jenny Holzer and Giuseppe Penone have created monumental site-specific installations, exhibited under the dome in open air and embedded in Louvre Abu Dhabi's architecture.
Sharing art and expertise
As part of the intergovernmental agreement between the UAE and France, Louvre Abu Dhabi has access to expertise and training from 17 French partner institutions. It will also benefit from the ability to borrow works of art from 13 leading French museums for 10 years, and from special exhibitions organised by these institutions for 15 years.
Marc Ladreit de Lacharrière, Chairman of Agence France-Muséums, said: "What more stimulating challenge could there be for the French museums and cultural institutions than to invent, in partnership with Louvre Abu Dhabi, a museum entirely unlike any other in existence? Committed all together, they remind us with Louvre Abu Dhabi that culture and education remain invaluable foundations that this museum, now open to one and all, embodies in so many ways."
At opening, 300 works from French partner museums are on display. Some highlights include Leonardo da Vinci's La Belle Ferronnière (musée du Louvre); Vincent van Gogh's Self-Portrait (musée d'Orsay et de l'Orangerie); a rare ivory saltcellar from the Benin Empire (musée du quai Branly – Jacques Chirac); a Globe by Vincenzo Coronelli (Bibliothèque nationale de France); a pair of gui vessels (musée national des arts asiatiques Guimet); Jacques-Louis David's Napoleon Crossing the Alps (Château de Versailles); Auguste Rodin's Jean d'Aire from the group The Burghers of Calais (musée Rodin); a 13th-century reliquary chest (musée de Cluny – musée national du Moyen Âge); a Chinese ewer of Persian shape (musée des Arts Décoratifs); a breastplate from Marmesse (musée d'archéologie nationale – Saint Germain en Laye); the sculpture Apollo Belvedere by Primatice (Château de Fontainebleau); and Standing Woman II by Alberto Giacometti (Centre Pompidou).
Additional works from regional and UAE institutions will be on view at Louvre Abu Dhabi at the time of the opening. The National Museum of Ras Al Khaimah provides key objects including a pendant dating back to 2000-1800 BCE and a painted Neolithic vase, discovered on the 8000-year-old settlement on Marawah Island off the coast of Abu Dhabi. Al Ain National Museum lends an important fragment of stucco from an ancient church in Abu Dhabi's Sir Bani Yas Island.
Highlights of objects borrowed from within the region include a prehistoric stone tool dating back to 350,000 BCE, a milestone indicating the distance from Mecca in Kufic inscriptions and a funerary stele dating back to 700–900 CE from the Saudi Commission for Tourism & National Heritage; a collection of over 400 silver Dirham coins from the National Museum – Sultanate of Oman; and an 8000-year-old, two-headed figure from Jordan's Department of Antiquities called the Ain Ghazal Statue.
( Press Release Image: https://photos.webwire.com/prmedia/7/218315/218315-1.jpg )
Related Links
WebWireID218315

This news content was configured by WebWire editorial staff. Linking is permitted.
News Release Distribution and Press Release Distribution Services Provided by WebWire.