PBS and BBC Announce "Beyond 100 Days" Coming to PBS in New Late-Night Timeslot
Premiering Tuesday, January 2, 2018

11:30 p.m. – 12:00 a.m. ET on PBS

– Katty Kay and Christian Fraser to Host New Series From Washington, DC and London –
WEBWIRE
–
Wednesday, December 20, 2017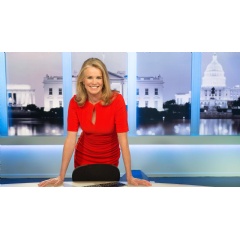 Katty Kay, Host of BEYOND 100 DAYS
PBS and BBC announced that BEYOND 100 DAYS, the acclaimed BBC World News nightly public affairs show recorded in Washington, DC and London, will air at 11:30 p.m.-12:00 a.m. ET on PBS stations, following AMANPOUR ON PBS. Premiering on Tuesday, January 2, 2018, BEYOND 100 DAYS will air weeknights Monday-Thursday, with BBC WORLD NEWS, a half hour of the top global news stories of the day, filling the time slot on Fridays.
BEYOND 100 DAYS is hosted by Katty Kay in the United States and Christian Fraser in the UK. With President Trump making headlines each day in the White House, the UK rapidly moving towards its exit from the EU and nearly daily tensions as North Korea tests its long-range missiles, BEYOND 100 DAYS cuts to the heart of the seismic stories changing the global political landscape.
Following the day's big stories with expert insight from the U.S. and around the world, BEYOND 100 DAYS will help audiences understand the events that are shaping our world. The half-hour show (full hour on BBC World News) showcases key news and policy makers in the U.S., alongside high-profile guests and expert BBC News reporters around the world. It closely examines the Trump Administration and its global impact, as well as other major international stories, including the Brexit talks, German elections, and relations across Russia, China and the Middle East.
Originally called "100 Days," the series was intended to cover the first 100 days of President Donald Trump's term. Following that period, the show was re-named BEYOND 100 DAYS, after it became clear that the story had longer to run, and has since aired from Monday-Thursday on BBC World News.
Katty Kay, presenter of BEYOND 100 DAYS, said: "The past year has been a time of upheaval in the western world, unparalleled in my career. I've been extremely proud to cover it all on BEYOND 100 DAYS, and now I'm excited to bring the program to American viewers on PBS. This program provides a unique global take on President Trump, Brexit and U.S. leadership around the world. I anchor from Washington, and my colleague Christian Fraser has the view from London. There is just too much happening — on both sides of the Atlantic — not to dedicate a whole program to this extraordinary time we are living in."
"We are proud to bring BEYOND 100 DAYS with its unique focus on the larger, global impact of what is happening in the U.S. and around the world to new audiences," said Beth Hoppe, Chief Programming Executive and General Manager, General Audience Programming, PBS. "Pairing BEYOND 100 DAYS with AMANPOUR ON PBS will give PBS stations a powerful hour of news and public affairs programming to offer their viewers."
About Katty Kay
Along with co-anchoring BEYOND 100 DAYS, Kay previously served as anchor of the flagship U.S. newscast BBC World News America and the BBC's Washington correspondent.
As a correspondent and anchor, Kay's work has taken her around the globe for the BBC, from the Americas to the Middle East, Africa, Asia and Europe. Drawing on this global expertise, Kay is based in Washington, where she covers the major U.S and global stories, connecting the dots between the national and international.
Kay was appointed lead anchor of BBC World News America in 2011. She has interviewed a range of international figures and newsmakers, as well as anchoring the BBC's coverage of 2012 presidential elections and State of the Union addresses. In 2014, Kay was in Rio to cover the build up to the FIFA World Cup and also travelled to Italy in 2014 to cover President Obama's meeting with Pope Francis.
Kay is a frequent guest commentator on NBC's "Meet the Press" and MSNBC's "Morning Joe," where she also frequently serves as guest co-host.
Kay is the co-author of two New York Times best-selling books: Womenomics and The Confidence Code: The Science and Art of Self-Assurance—What Women Should Know (2014).
Audiences can follow Kay on twitter @kattykaybbc
About Christian Fraser
Fraser began his career as a trainee reporter with the Mirror Group, later becoming a staff reporter with the Daily Mirror.
He joined the BBC in 2000; his first day as an investigative reporter for Radio Five Live was 9/11.
From 2002-2004, he spent much of his time in Afghanistan and Iraq, several times embedding with British troops. In 2005, he collected Gold at the Sony Radio Awards for Five Live's rolling coverage of the tsunami, which Fraser presented through the night.
In 2005, he was posted to Nairobi, where he reported on the wars in the Democratic Republic of Congo and Southern Sudan and in 2006 was nominated in the News Journalist of the Year category at the Sony Radio Awards.
Fraser was the only British correspondent inside Gaza in 2007 during the Israeli invasion, known as Operation Cast Lead. He spent a week in the Palestinian city of Rafah as the Israelis dismantled the tunnels. At the Prix Bayeux in 2007, he was recognized in the international radio category for his reports on child casualties.
In 2010, he covered the revolution in Egypt for BBC TV and was appointed that year as the BBC's correspondent in Paris. In 2011, he reported on the war in Libya, first from the rebel held Benghazi and then from Tripoli as the war dragged on.
In 2014, he returned to London as the BBC News Channel's Senior News Correspondent. He now presents BEYOND 100 DAYS with Katty Kay for the BBC News Channel, BBC World News and BBC 4. He also presents on BBC Breakfast and Radio 4's PM program.
About PBS
PBS, with nearly 350 member stations, offers all Americans the opportunity to explore new ideas and new worlds through television and digital content. Each month, PBS reaches nearly 100 million people through television and nearly 28 million people online, inviting them to experience the worlds of science, history, nature and public affairs; to hear diverse viewpoints; and to take front row seats to world-class drama and performances. PBS' broad array of programs has been consistently honored by the industry's most coveted award competitions. Teachers of children from pre-K through 12th grade turn to PBS for digital content and services that help bring classroom lessons to life. Decades of research confirms that PBS' premier children's media service, PBS KIDS, helps children build critical literacy, math and social-emotional skills, enabling them to find success in school and life. Delivered through member stations, PBS KIDS offers high-quality educational content on TV – including a new 24/7 channel, online at pbskids.org, via an array of mobile apps and in communities across America. More information about PBS is available at www.pbs.org, one of the leading dot-org websites on the internet, or by following PBS on Twitter, Facebook or through our apps for mobile and connected devices. Specific program information and updates for press are available at pbs.org/pressroom or by following PBS Pressroom on Twitter.
About BBC World News and BBC.com
BBC World News and BBC.com, the BBC's commercially funded international 24-hour English news platforms, are owned and operated by BBC Global News Ltd. BBC World News television is available in more than 200 countries and territories worldwide, and over 450 million households and 3 million hotel rooms. The channel's content is also available on 178 cruise ships, 53 airlines, including 13 distributing the channel live inflight, and 23 mobile phone networks. BBC.com offers up-to-the-minute international news, in-depth analysis and features, including BBC Capital, BBC Culture, BBC Future and BBC Travel, for PCs, tablets and mobile devices to more than 95 million unique browsers each month.
For images and additional up-to-date information on this and other PBS programs, visit PBS PressRoom at pbs.org/pressroom.
( Press Release Image: https://photos.webwire.com/prmedia/7/218198/218198-1.jpg )
Related Links
WebWireID218198

This news content was configured by WebWire editorial staff. Linking is permitted.
News Release Distribution and Press Release Distribution Services Provided by WebWire.