The Nike pro Hijab Goes Global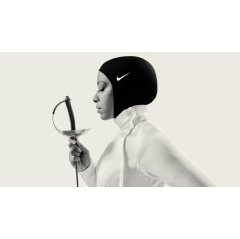 Nike athlete and champion fencer Ibtihaj Muhammad in the Nike Pro Hijab
"When I was in school, I always had to have a letter from a local imam that said that it was safe for me to wear my religious covering during sport."
New Jersey-native Ibtihaj Muhammad, a Nike athlete and champion fencer, has been carded for false starting many times. "First, I'd get a warning and then a point against me…I can't tell you how many times that happened," she says. "And I'd tell the referee, 'Oh, I'm sorry, I couldn't hear you.'"
That's because Muhammad, who earned a bronze medal in Rio in 2016 for Team USA, typically competed in a children's hijab that was made of a doubled georgette material. "When the material is wet, it gets really heavy and stiff," she says, describing what it felt like to sweat with her hijab on. "It would completely obstruct my hearing."
Beyond that, the garment didn't interact well with her uniform. Her hijab tied in the back, she pinned the front portion under her chin, then she'd tuck the extra fabric under her sports bra straps so it would stay in place under her mask. "I know that's hard to envision, but that's what I wore for literally my entire athletic career," she says.
Needless to say, wearing a traditional hijab for competition was less than ideal. But Muhammad and other athletes haven't had much of a choice. Finding a hijab that worked well for a particular sport was a major challenge. "I remember I only had a few that I used for training and hadn't been able to find that particular style anymore," says Muhammad. On top of that, hijabs weren't fully understood. "When I was in school, I always had to have a letter from a local imam that said that it was safe for me to wear my religious covering during sport," she says. "My coaches had to have that with them at all times."
"When I was in school, I always had to have a letter from a local imam that said that it was safe for me to wear my religious covering during sport." - Ibtihaj Muhammad
Muhammad wasn't the only one who experienced hijab struggles. In fact, Nike designers had been having meetings with top athletes who illuminated the many availability and performance problems associated with wearing a traditional hijab for sport over the past couple of years — conversations that put the designers to work to create a sport hijab prototype.
The designers gave that initial prototype to a variety of athletes, including weightlifter Amna Al Haddad and figure skater Zahra Lari, both from the United Arab Emirates, to put the garment to the test in their respective sports. Everyday athletes from around the Middle East, including runners like Manal Rostom, a Nike Run Club Coach in Dubai, and Zeina Nassar, a German boxer, also assessed the hijabs. Nike gathered both the athletes' performance feedback and their reactions to the garment's appearance.
The women came back with a range of input, most of which pointed to the desire for an even lighter, softer and more breathable garment. Nike Pro designers, who are responsible for creating base layers (the layer closest to the skin) for athletes, examined how to make a performance hijab inconspicuous, and crafted more prototypes with this goal in mind.
With that, Nike designers evolved the prototypes and received an enthusiastic response, and a final request to modify the fit to account for a range of head sizes and face shapes. The designers sized the head covering to XS/S and M/L (rather than adding an adjustment mechanism, which would add weight). After further dialing in the details and conducting additional rounds of wear testing the Nike Pro Hijab was complete.
Muhammad first experienced the Nike Pro Hijab shortly after that in August 2017. "It really sunk in how much my previous hijab was hindering my performance when I tried the Nike Pro Hijab," says Muhammad. "Suddenly, I could hear, I wasn't as hot and it felt like my body was able to cool itself down better and faster."
That's a long way from having trouble finding a suitable hijab and having to explain and defend herself to officials. "The Nike Pro Hijab will help advance the conversation around hijabs and Muslim women in sports and further make sports an inclusive space," says Muhammad.
She is not alone in this thought. For many hijabi athletes, the Nike Pro Hijab is so much more than a performance garment. "It inspires me to reach greater heights and to run farther distances," says Rostom, who recently completed the New York Marathon in the Nike Pro Hijab. "And I believe it's going to inspire girls worldwide to follow their passion for sport."  
For Lari, the Pro Hijab is a symbol of empowerment. "It's a reminder to us Muslim women that we can achieve anything in the world," she says. "What Nike has done for Muslim athletes is a dream that we never thought would happen."
The Nike Pro Hijab is available in black and obsidian on nike.com and at select retailers in Europe, North Africa, North America and across the Middle East. Other colorways, including white and vast gray, will launch in January on nike.com and at select retailers in more than 20 countries.
( Press Release Image: https://photos.webwire.com/prmedia/7/217337/217337-1.jpg )
Related Links
WebWireID217337

This news content was configured by WebWire editorial staff. Linking is permitted.
News Release Distribution and Press Release Distribution Services Provided by WebWire.