Virgin Media to stage epic Destiny 2 experience at EGX
Destiny 2 developers to meet Guardians at UK's biggest gaming event
WEBWIRE
–
Friday, September 15, 2017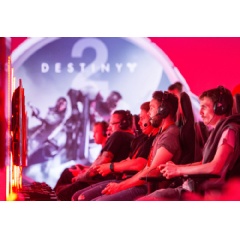 Virgin Media will be giving Guardians a Destiny 2 experience to remember at the UK's biggest gaming event, EGX, with 4K gaming, an immersive environment and a host of special guests.
Virgin Media, using its ultrafast broadband brand, Virgin Fibre, is the headline sponsor of EGX 2017 - held between 21-24 September at The NEC in Birmingham.  This continues Virgin Media's established partnership with EGX, now in its sixth year, which will run to 2019.
From Activision and Bungie; Destiny 2 is the year's mostly hotly anticipated game, having launched on 6 September for PS4 and Xbox One, with PC to follow on 24 October. Featuring a cinematic story campaign, the last safe city on Earth has fallen and lays in ruins, occupied by Dominus Ghaul and his elite army, the Red Legion. Every player creates their own character called a 'Guardian', humanity's chosen protectors. As a Guardian, players must master new abilities and weapons to reunite the city's forces, stand together and fight back to reclaim their home.
 
Epic experiences
Virgin Fibre will have a dedicated Destiny 2 area complete with props and costumes recreating those that appear in the game. Guardians can play either Crucible or Strike gameplay modes on almost 50 PlayStation 4 Pro stations. The top performing teams battling out each day will win incredible Destiny 2 prizes.
On Saturday 23 September, Virgin Fibre will be joined by special guests from Bungie, the development studio which created Destiny 2, along with YouTube sensation and Destiny 2 player, Ali A, who shared content from the Destiny 2 Beta across his YouTube and Instagram accounts.
Giving a keynote talk in the EGX Developer Sessions theatre on the theme of 'Building Better Worlds in Destiny', Community Manager David 'Deej' Dague will host a panel discussion featuring artists from Bungie, who'll outline how the worlds of Destiny are built from the ground up to reflect an artistic vision. In this behind the scenes look at the game, the audience will learn how Concept Artists and Environment Artists work hand in hand to create the places your heroes explore in search of action and glory, with the opportunity to see some of the earliest visions of the worlds you've come to know.
Ali A will meet with gamers on the Virgin Fibre stand and some can put their skills to the test by challenging him to a round on the game.
Kerris Bright, Chief Marketing Officer at Virgin media, said: "We're taking EGX to the next level with our amazing Destiny 2 experience. From incredible Destiny 2 gameplay on the Virgin Fibre stand, to the opportunity to hear the team from Bungie, plus the chance to meet the one and only Ali A, gamers will have an incredible time at the UK's biggest gaming event."
Ali A said: "I'm hyped to meet fellow Guardians at Virgin Fibre's Destiny 2 stand and look forward to jumping into some serious Strike and Crucible action. EGX is going to be epic!"
Virgin Media began its partnership with Activision and Bungie for Destiny 2 earlier this summer.
In August, it was announced Virgin Fibre customers can exclusively unlock a Sparrow vehicle, the Athena Victorious, from the game's launch. Athena Victorious is a single-passenger, all-terrain thrust bike with one purpose: moving from objective to objective with unmatched speed. Quick, quiet, and simple to transmat, Sparrows enjoy surpassing popularity among Guardians working in the field.
Customers have been able to get their hands on the Sparrow with a special code from Virgin Media's website, www.virginmedia.com/redeemsparrow since 6 September.
In June, Virgin Media hosted a special UK gameplay event to celebrate the arrival of the Destiny 2 Beta. Virgin Fibre x Destiny 2: The Beta Experience gave customers early hands-on-access to the Destiny 2 Beta on PlayStation 4.
Note to Editors
More information about EGX can be found here: https://www.egx.net/egx.
The Sparrow will only be available for Virgin Fibre customers from 6 September.  Customers should visit www.virginmedia.com/sparrow for further information and terms and conditions.
About Virgin Media
Virgin Media offers four multi award-winning services across the UK and Ireland: broadband, TV, mobile phone and landline.
The company's dedicated, ultrafast network delivers the fastest widely available broadband speeds to homes and businesses. We're expanding this through our £3bn Project Lightning programme, which will reach 17 million premises.
Virgin Media's interactive TV service brings live programmes, thousands of hours of on-demand programming and the best apps and games in a set-top box, as well as on-the-go for tablets and smartphones.
Virgin Media launched the world's first virtual mobile network, offering fantastic value and services.  The company is also one of the largest fixed-line home phone providers in the UK and Ireland.
Through Virgin Media Business, we support entrepreneurs, businesses and the public sector, delivering the fastest speeds and tailor-made services.
Virgin Media is part of Liberty Global, the world's largest international cable company, with operations in more than 30 countries.
About EGX
EGX is the UK's largest video games consumer, trade and careers event. Produced by Gamer Network, EGX (and its indie games-focussed sibling EGX Rezzed) features playable pre-release games on both PC and console, developer sessions by well-known games designers and the opportunity to chat with developers on the show floor.
Additional features include eSports tournaments, cosplay, indie games, tabletop games and more. For those interested in joining the video games industry, the GamesIndustry.biz Career Fair provides a major platform for educators, employers and recruiters to demonstrate the value of and path to a highly rewarding career. Those already in the games industry can meet away from the bustle of the show floor in the trade-only GamesIndustry.biz Trade Zone. For more information visit www.egx.net/egx.
About Destiny 2:
For more game information, visit www.DestinyTheGame.com and follow the official Destiny social channels on Facebook and @DestinyTheGame on Instagram and Twitter. The community can interact directly with the developers at www.Bungie.net, Facebook, @Bungie on Twitter, Instagram and Twitch.          
About Bungie
Bungie is an independent, employee-owned game development studio dedicated to creating hopeful worlds that inspire passionate player communities. For more than two-and-a-half decades that purpose has led to the creation of some of the industry's most celebrated gaming franchises, including Marathon, Myth, Halo, and Destiny. Today, Bungie is focused on developing the next highly-anticipated release in the Destiny universe, Destiny 2. Today, Bungie is focused on creating new experiences and adventures for the Destiny 2 community to share.
About Activision Publishing, Inc.
Headquartered in Santa Monica, California, Activision Publishing, Inc. is a leading global producer and publisher of interactive entertainment. Activision maintains operations throughout the world and is a division of Activision Blizzard (NASDAQ: ATVI), an S&P 500 company.  More information about Activision and its products can be found on the company's website, www.activision.com or by following @Activision.
( Press Release Image: https://photos.webwire.com/prmedia/7/213680/213680-1.jpg )
Related Links
WebWireID213680

This news content was configured by WebWire editorial staff. Linking is permitted.
News Release Distribution and Press Release Distribution Services Provided by WebWire.