Fujifilm's J Press 720S Accelerates Short-runs at Floor Productions
"An investment for our future"
Hanover Park –
WEBWIRE
–
Tuesday, August 22, 2017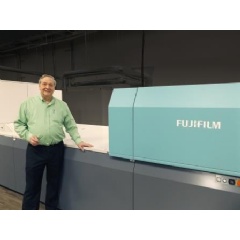 Raymond Ballew, VP of Administration, Floor Productions, proudly stands next to Fujifilm's J Press 720S, at their Dalton, Georgia facility.
With the digital inkjet technology, I believe there will come a day when litho will be more-or-less obsolete. Fujifilm's J Press 720S is a giant step in that direction
Hanover Park, IL, August 22, 2017 – FUJIFILM North America Corporation, Graphic Systems Division's J Press 720S enables Dalton, Georgia-based Floor Productions to increase profitability and competitive advantage with short to medium runs.  
 
"The J Press 720S is almost the culmination of what I've seen coming for years," said Raymond Ballew, Vice President of Administration, Floor Productions. "I knew digital printing would be taking over someday. With the digital inkjet technology, I believe there will come a day when litho will be more-or-less obsolete. Fujifilm's J Press 720S is a giant step in that direction."
 
When discussing other digital technology in their facility, they pale in comparison to the J Press 720S.  
 
"On the J Press, we get better quality, and better color," adds Russell Green, J Press 720S operator, Floor Productions. "The registration always holds tighter, and the color's going to be there, all the time. It's very consistent. On conventional offsets, there's ghosting, and the struggle of getting your ink keys set. You can have a big solid (here) and then you've got a 40 percent screen drag behind it; and you're not going to be able to hold it and still make that solid look as consistent throughout the run, because you don't have that balance. With the J Press 720S, we don't have any of those worries." Adds Ballew, "Even with a target Delta E of three or under, running offset, it's not uncommon to have color fluctuations off the Delta E target across the sheet. With the J Press 720S, you just don't have that problem."
 
With a 29.6-inch x 20.9 inch sheet and an output of 2,700 sheets per hour, Fujifilm's second generation sheetfed J Press 720S is an ideal solution for printers like Floor Productions who are looking for a product that features the quality and robustness of an offset press, and the versatility to handle even the shortest of press runs.
 
On their very first day of production with the J Press 720S, 12 jobs were processed in roughly two and a half hours. On an offset press, Green could have run approx. two to three of those jobs within the same time, thus experiencing upwards of a 75 percent improvement in productivity for short run jobs. Floor Productions is also minimizing labor per job and eliminating make-ready waste, allowing for significantly improved margins.
 
"Not only are my customers happier because we're getting their finished work to them more quickly, but the quality of the output on the J Press is often better than offset," says Ballew.
 
Ballew and his colleagues visited Fujifilm's Americas Technology Center in Chicago, prior to purchasing their J Press. They were prepared with a long list of questions, and sample files ready for production, along with the mindset of 'you either change with the times, or you fall behind.'
"After a very thorough hands-on demonstration with the J Press 720S, at the end of the day Reid Childress (Floor Productions' President) and I were blown-away, and frankly surprised at how impressed we were. After that initial visit we had zero doubt about buying it. We knew it would pay for itself very, very quickly. We didn't buy it for bragging rights, we bought it because it fits," said Ballew.
With a half-size format and a production speed of less than one second per sheet, the J Press 720S opens up new opportunities for any short-run, general commercial printer. For press runs of a couple of sheets or several thousand, the J Press 720S allows you to compete for more of your customers' branding business by dramatically lowering operational costs and reducing turnaround times – all while boasting offset-quality and superior color consistency throughout the run.
Dalton, Georgia, nestled in the foothills of the Blue Ridge Mountains, is home to many of the world's largest floor covering manufactures. Floor Productions is a premier supplier of product marketing tools within this industry, manufacturing a broad range of products from architect folders and merchandising boards to large format point-of-purchase graphics and fixtures. Within their nine facilities they also specialize in sampling hard surfaces, which makes them a complete turnkey supplier to their customers.
 
In the print industry since 1970, Ballew has experienced innovations in technology over the years, and is pleased their J Press is enhancing their business. Floor Productions also utilizes Fujifilm Superia LH-PJ plates, and for the past 10 years has 'never experienced a defective plate.'
 
"In my 47 years in printing, there've been a lot of changes, but the J Press by far has been the most exciting thing I've ever seen, and I've seen a lot," concludes Ballew.
 
To find out how Fujifilm Graphic Systems Division can help your business meet future challenges, improve quality and reduce costs, please visit: www.FujifilmInkjet.com.
 
To learn more about Floor Productions, please visit: www.floorproductionsllc.com.
 
 About Fujifilm
FUJIFILM North America Corporation, a marketing subsidiary of FUJIFILM Holdings America Corporation consists of five operating divisions and one subsidiary company. The Imaging Division provides consumer and commercial photographic products and services, including:  photographic paper; digital printing equipment, along with service and support; personalized photo products; film; and one-time-use cameras; and also markets motion picture archival film and on-set color management solutions to the motion picture, broadcast and production industries. The Electronic Imaging Division markets consumer digital cameras, and the Graphic Systems Division supplies products and services to the graphic printing industry. The Optical Devices Division provides optical lenses for the broadcast, cinematography, closed circuit television, videography and industrial markets, and also markets binoculars. The Industrial and Corporate New Business Development Division delivers new products derived from Fujifilm technologies. FUJIFILM Canada Inc. sells and markets a range of Fujifilm products and services in Canada. For more information, please visit www.fujifilmusa.com/northamerica, go to www.twitter.com/fujifilmus to follow Fujifilm on Twitter, or go to www.facebook.com/FujifilmNorthAmerica to Like Fujifilm on Facebook.  To receive news and information direct from Fujifilm via RSS, subscribe at www.fujifilmusa.com/rss.
 
FUJIFILM Holdings Corporation, Tokyo, Japan brings continuous innovation and leading-edge products to a broad spectrum of industries, including: healthcare, with medical systems, pharmaceuticals and cosmetics; graphic systems; highly functional materials, such as flat panel display materials; optical devices, such as broadcast and cinema lenses; digital imaging; and document products. These are based on a vast portfolio of chemical, mechanical, optical, electronic, software and production technologies.  In the year ended March 31, 2017, the company had global revenues of $21.5 billion, at an exchange rate of 108 yen to the dollar. Fujifilm is committed to environmental stewardship and good corporate citizenship. For more information, please visit: www.fujifilmholdings.com.
###
 
All product and company names herein may be trademarks of their registered owners.
 
For Immediate Release
CONTACT:
William Rongey
Fujifilm
630.259.7286
wrongey@fujifilm.com
 
( Press Release Image: https://photos.webwire.com/prmedia/26227/212591/212591-1.jpg )
WebWireID212591
Contact Information

william rongey
Manager, Corporate Communications
Fujifilm

This news content may be integrated into any legitimate news gathering and publishing effort. Linking is permitted.
News Release Distribution and Press Release Distribution Services Provided by WebWire.