FUJIFILM Dimatix Si-MEMS Technology Coming to Scanning Applications with Samba GMA
Lebanon, NH, USA –
WEBWIRE
–
Wednesday, June 7, 2017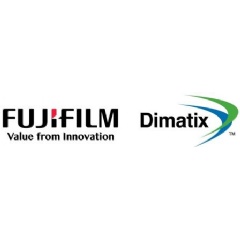 Showcasing the latest in technological advancements, FUJIFILM Dimatix, Inc. announces innovations within the Samba™ printhead family, introducing the Samba GMA line of products.
FUJIFILM Dimatix, Inc., the world's leading supplier of drop-on-demand inkjet printheads continues building upon its long and innovative history of providing industrial printheads that deliver excellent dot placement accuracy, channel-to-channel uniformity, low crosstalk and high frequency/high productivity with their Samba printheads.
FUJIFILM Dimatix will soon have available GMA products based on Si-MEMS technology along with the Samba G3L (single-pass focus). The Samba GMA is a compact, low voltage, full silicon MEMs printhead designed for scanning applications such as textile, indoor signage, soft (dye sub) signage and high quality UV printing. Based on state-of-the-art silicon micro-electro-mechanical systems manufacturing (Si-MEMS), Samba GMA printheads are the most advanced technology available today.
With 384 individually addressable nozzles, the Samba GMA 33 printhead has a native 300 dpi resolution and a native ink drop size of 5 picoliters (pl) delivering outstanding print quality that can jet a wide range of fluids including UV curable, solvent, and aqueous inks.
GMA 33 Printhead Technology Highlights:
Industrial Silicon MEMS
384 nozzles
300 native dpi
5 picoliter native drop size
RediJet™  continuous ink recirculation
VersaDrop™ multi-level grayscale plus multi-drop and fixed drop sizes in binary mode
Robust design and high speed operation
Multiple ink capabilities
 
Through continuous ink recirculation directly behind the nozzle and several innovations including nozzle plate design, specialized nozzle plate geometry, and waveforms tailored to specific fluids, known as RediJet, this process unlocks the full productive potential of the Samba GMA printhead. RediJet allows the printheads to be quickly and easily primed, resulting in faster time to print, minimal ink waste and greater reliability.
FUJIFILM Dimatix' breakthrough VersaDrop jetting technology allows multiple fixed drop sizes in binary mode and greyscale capability from one printhead, with no loss to productivity. In binary operating mode, the Samba GMA printhead is designed to eject adjustable drop sizes from 5 to 18 picoliters, and can support grayscale levels as defined by the users control electronics.
"The speed, precision and scalability of the Samba GMA platform sets a new standard for scanning printer designs, providing significantly expanded capabilities that system developers will need to meet the requirements of high-speed, high-image quality printing," said Terry O'Keeffe, strategic customer support manager, FUJIFILM Dimatix, Inc. 
FUJIFILM Dimatix developed Si-MEMS technology that is becoming an important design and development tool throughout the printing industry. An industry white paper was recently released, detailing Si-MEMS technology to address key print industry market needs.
FUJIFILM Dimatix has been in the forefront of print industry innovation for over 30 years. They conduct ongoing research with customers and other industry partners to keep abreast of their product and service needs. FUJIFILM Dimatix, the world's leading provider of inkjet printheads for commercial and industrial printing, is evolving inkjetting into a micro-production process that will revolutionize the manufacture of electronic and bioscience applications. The company's technology innovations and world-class fabrication processes enable high-performance, micro-precision printing and deposition of traditional inks and nano-particle fluids on all types of surfaces, including flexible substrates.
To learn more about FUJIFILM Dimatix, please visit: FujifilmUSA.com.
About FUJIFILM Dimatix
Founded as Spectra in 1984 with an exclusive license relationship with Xerox, FUJIFILM Dimatix has developed significant intellectual property and multiple generations of proprietary drop-on-demand inkjet printheads capable of producing high performance digital images in a wide variety of printing and fluid jetting applications. The company invests heavily in research and development, maintaining one of the most capable inkjet R&D groups in the world with over one third of its staff actively engaged in product engineering.

FUJIFILM North America Corporation, a marketing subsidiary of FUJIFILM Holdings America Corporation consists of five operating divisions and one subsidiary company. The Imaging Division provides consumer and commercial photographic products and services, including:  photographic paper; digital printing equipment, along with service and support; personalized photo products; film; and one-time-use cameras; and also markets motion picture archival film and on-set color management solutions to the motion picture, broadcast and production industries. The Electronic Imaging Division markets consumer digital cameras, and the Graphic Systems Division supplies products and services to the graphic printing industry. The Optical Devices Division provides optical lenses for the broadcast, cinematography, closed circuit television, videography and industrial markets, and also markets binoculars. The Industrial and Corporate New Business Development Division delivers new products derived from Fujifilm technologies. FUJIFILM Canada Inc. sells and markets a range of Fujifilm products and services in Canada. For more information, please visit www.fujifilmusa.com/northamerica, go to www.twitter.com/fujifilmus to follow Fujifilm on Twitter, or go to www.facebook.com/FujifilmNorthAmerica to Like Fujifilm on Facebook.  To receive news and information direct from Fujifilm via RSS, subscribe at www.fujifilmusa.com/rss.
 
FUJIFILM Holdings Corporation, Tokyo, Japan brings continuous innovation and leading-edge products to a broad spectrum of industries, including: healthcare, with medical systems, pharmaceuticals and cosmetics; graphic systems; highly functional materials, such as flat panel display materials; optical devices, such as broadcast and cinema lenses; digital imaging; and document products. These are based on a vast portfolio of chemical, mechanical, optical, electronic, software and production technologies.  In the year ended March 31, 2016, the company had global revenues of $22.1 billion, at an exchange rate of 112.54 yen to the dollar.
Fujifilm is committed to environmental stewardship and good corporate citizenship. For more information, please visit: www.fujifilmholdings.com.

###

All product and company names herein may be trademarks of their registered owners.
 
For Immediate Release

CONTACT:
William Rongey
Fujifilm
630.259.7286
wrongey@fujifilm.com
( Press Release Image: https://photos.webwire.com/prmedia/26227/209865/209865-1.jpg )
Related Links
WebWireID209865
Contact Information

william rongey
Manager, Corporate Communications
Fujifilm

This news content may be integrated into any legitimate news gathering and publishing effort. Linking is permitted.
News Release Distribution and Press Release Distribution Services Provided by WebWire.