Cypress's Programmable SuperSpeed USB Solution Brings Flexibility and Streaming HD Video to Innovative, Open-Architecture SUB2r Camera
EZ-USB® FX3™ Controller Enables Unique, Customizable Camera Platform for 4K and 1080p Streaming of Virtual Reality, Video Game Play and a Wide Range of Creative Applications
San Jose, CA –
WEBWIRE
–
Wednesday, October 5, 2016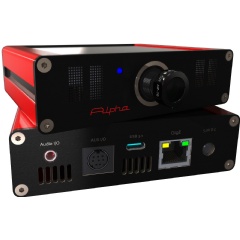 SUB2r Alpha open-architecture camera leverages the Cypress EZ-USB FX3 SuperSpeed USB controller to stream uncompressed, high-definition video.
Cypress Semiconductor Corp. (NASDAQ : CY) announced that the programmability and SuperSpeed USB performance of its EZ-USB® FX3™ controller helped startup SUB2r develop its unique, open-architecture camera platform. The SUB2r Alpha camera leverages the FX3 controller for USB 3.1 generation 1 bandwidth up to 5 Gbps, enabling it to stream uncompressed, high-definition (HD) video at both 4K at 30 frames per second (fps) and 1080p at 60 fps. FX3 allows audio captured by the camera's onboard dual microphones or external microphones to be interlaced audio with the video stream. The controller also provides access to the camera's output via USB or Gigabit Ethernet.
EZ-USB FX3 is the industry's only programmable SuperSpeed USB peripheral controller. It is equipped with a highly configurable General Programmable Interface (GPIF™ II), which can be programmed in 8-, 16-, and 32-bit configurations. GPIF II allows FX3 to communicate directly with application processors, FPGAs, and image sensors and provides a data transfer rate at up to 400 Megabytes per second. FX3 manages the Alpha camera's I2C configuration master for reconfiguration of the system's FPGA over USB with remote updates. The solution adds to the flexibility of SUB2r's camera platform, allowing users to optimize it for high quality streaming of virtual reality or video game play, motion pictures, 3D imaging, scientific research and many other applications. More information on Cypress's EZ-USB portfolio is available at www.cypress.com/usb.
"For startups, and hardware startups, every resource is precious, so it is essential to have a good working relationship with your key component suppliers—really they aren't suppliers, but your partners in your success," said Richard Neumann, CEO and co-founder of SUB2r. "Cypress has gone above and beyond in providing technical and engineering support—we even shipped a camera to their engineers so that they could help us resolve an issue. Their support enabled us to cut development time and cost, and FX3 allowed us to differentiate our camera platform with streaming 1080p and 4k over USB3 and with video interlaced with audio. We look forward to building our partnership with Cypress as the SUB2r camera launches into production."
"We have worked closely with the team at SUB2r to maximize the customization of their camera platform, which expertly showcases FX3's programmability," said Mark Fu, senior marketing director of Cypress's Wired Connectivity Business Unit. "FX3 provides Cypress's customers with the robust SuperSpeed performance they need and the ability to optimize their designs to create innovative, differentiated products."
The SUB2r Alpha camera supports an interchangeable camera board, making upgrading or changing the image sensor merely a matter of swapping boards—instead of having to buy a new camera. The wide sensor selection gives users the opportunity to choose 4K or 1080p resolution, High Dynamic Range (HDR), monochromatic, or fast frames per second. Interchangeable optics using affordable M12 (s-mount) lenses offer high-quality and non-distortion with thousands of options. Dynamically controlled onboard compression allows users to control resolution, frame rate and all aspects of compression—both intra and inter frame and upload bit rate. In addition to pristine video, the camera captures synchronized audio through external and onboard dual mics, interlacing audio with the video stream. By far, the most compelling feature of the camera is controllability. Users are given direct access to the CMOS sensors for strobe and synch functions, as well as on-chip registers. The FPGA on board is also accessible, giving developers the option of implementing their own code.
About EZ-USB FX3
EZ-USB FX3 provides SuperSpeed USB 3.0 connectivity in virtually any system. The on-chip ARM9 CPU core with 512 KB RAM delivers 200 MIPS of computational power and is available for applications that require local data processing. Additionally, FX3 provides SPI, UART, I2C and I2S interfaces to connect to serial peripherals. In short, FX3 provides highly flexible and integrated features that enable developers to add USB 3.0 connectivity to any system.
EZ-USB FX3 is in volume production now and is available in two packages: a 121-ball BGA (10 mm x 10 mm) and a space saving 131-ball Wafer-Level Chip Scale Package (WLCSP) with dimensions of 4.7 mm x 5.1 mm.
About SUB2r
SUB2r is a San Francisco-based startup self-funded by its founders. It is a spinoff from 2r1y, a company that developed a new methodology for high-density, high-speed 3D imaging. 2r1y couldn't find a camera that provided the access to the video stream they needed, so they built one from scratch. They built their second camera from whiteboard to finished product in 88 days.
SUB2r is now preparing to launch the third-generation of the camera. Follow SUB2r on YouTube at SUB2r, Twitter at @SUB2r and Twitch at SUB2r, and visit SUB2r online at www.sub2r.com.
Follow Cypress Online
Read our Core & Code technical magazine and blog, join the Cypress Developer Community, follow us on Twitter,  Facebook and LinkedIn, and watch Cypress videos on our Video Library or YouTube.
About Cypress
Founded in 1982, Cypress is the leader in advanced embedded system solutions for the world's most innovative automotive, industrial, home automation and appliances, consumer electronics and medical products. Cypress's programmable systems-on-chip, general-purpose microcontrollers, analog ICs, wireless and USB-based connectivity solutions and reliable, high-performance memories help engineers design differentiated products and get them to market first. Cypress is committed to providing customers with the best support and engineering resources on the planet enabling innovators and out-of-the-box thinkers to disrupt markets and create new product categories in record time. To learn more, go to www.cypress.com.
Cypress and the Cypress logo are registered trademarks and EZ-PD is a trademark of Cypress Semiconductor Corp. All other trademarks are property of their owners.
( Press Release Image: https://photos.webwire.com/prmedia/2/205603/205603-1.jpg )
Related Links
WebWireID205603

This news content was configured by WebWire editorial staff. Linking is permitted.
News Release Distribution and Press Release Distribution Services Provided by WebWire.