Recovering the Meaning of American History With King's Way Classical Academy Homeschool Curriculum
Portland, Oregon, USA –
WEBWIRE
–
Wednesday, October 21, 2015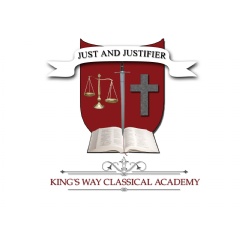 King's Way Classical Academy Homeschool Curriculum Is Unique Among Online Schools
Christians need to give more careful thought to the extent our Constitution follows the Bible.
King's Way today announced release of the latest addition to its homeschool curriculum:  "The Book of the Covenant – A Handbook of Biblical Law For Leaders of Church & State" by D.O. "Oliver" Woods.   King's Way is one of the few Christian online schools to critically examine the Biblical basis of the U.S. Constitution, and this book develops that theme.
"Christians need to give more careful thought to the extent our Constitution follows the Bible," Woods asserted, "Confusion on this issue could well be a primary reason for the judgment of God on America."  It is the definitive issue in American History, which deserves consideration in the online high school.
 
The new handbook lends clarity to the competing claims by contrasting the U.S. Constitution on a point-by-point basis with what Woods calls "the Mosaic Constitution" in Exodus 21-23.  It is available online.  This leads to a more balanced consideration of the anti-Federalist opposition to the Constitution along with the Federalist  view, in online classes.
 
In their homeschool curriculum the "Christian History Experts" are quick to charge their secular counterparts with historical revisionism.  But according to Woods, it may be a case of the pot calling the kettle black.  
 
The homeschool curriculum at King's Way Classical Academy is committed to balancing this historical myopia that is so prevalent in the Christian online schools. It stems from a failure to grasp the essence of civil government as defined by the Bible. 
 
This new addition to the King's Way homeschool curriculum argues that a Biblical government is one organized according to three fundamental principles. A Biblical government …
•    will commit itself by oath to the Bible as the highest law of the land,
•    will pass laws against murder, theft, adultery and other crimes based specifically on the Bible, and
•    will require government officers to swear on oath to enforce those Biblical laws.
Woods noted that King's Way is one of the few Christian online schools to draw these distinctions in its homeschool curriculum. "Many American Christians can't consider the Constitution's possible deficiencies because they let patriotism color their view of the Bible."
 
He noted especially the potential problem at point 3) which forbids any religious test (oath) to be required of an officeholder (Art VI).  Moreover, it draws authority exclusively from the majority of "we the people" (not God) and declares its own man-made Constitution and laws (not the Bible) to be the supreme law of the land (Art. VI). 
 
For these and other reasons Patrick Henry responded: "I smelt a rat" when asked why he refused to attend the Constitutional convention. Henry opposed the Constitution because it was, he said "a revolution more radical than that which separated us from Great Britain."  Many of his prophetic warnings have transpired: an imperial Supreme Court, two levels of oppressive taxation, a suicidal treaty clause, a bloody civil war, etc. 
 
Very few online schools will pose the question: What was the rat that Patrick Henry "smelt?" The homeschool curriculum at King's Way Classical Academy guides students to explore that question on their own. Both sides are debated in class. Students are allowed to draw their own conclusions, but the school believes some telltale marks of Christian revisionism are painfully obvious: 
Relying heavily on secondary evidence such as after-the-fact religious quotes and self-congratulatory statements by the founders and their Federalist cheerleaders,
Downplaying primary source documents, such as the "Federalist Papers" and "Notes From the Federal Convention," which almost never refer to the Bible. Then concluding that "the founders used the Bible as their great political textbook."
Ignoring the strong Evangelical and anti-Federalist resistance to the Constitution at the time of ratification. Then "baptizing" the Constitution as the undisputed epitome of Biblical government. 
King's Way is the world's first classical Christian online school for grades 7-12. Traditional homeschool curriculum such as math and science are bolstered by courses considered unique to classical education: logic, Latin, rhetoric, debate, and the classics. Many elective courses have been added to the homeschool curriculum recently. These allow high school students to graduate with a minor in subjects like marketing, languages, graphic arts, etc. 
 
Tuition at King's Way is about half that at other Christian online schools. King's Way online school serves homeschool families, but also students attending public schools. "About 80% of Christian students attend public school," Woods observed. "All students deserve a high quality, private alternative that doesn't require their parents to put a 2nd mortgage on their home to pay for." For more information a free e-course on "How To Give Your Child A Classical Christian Education At Home" is available at https://kingsway.leadpages.co/optinecoursekw/
( Press Release Image: https://photos.webwire.com/prmedia/53664/200567/200567-1.jpg )
Related Links
WebWireID200567
Contact Information

D.O. "Oliver" Woods
Headmaster
Kings Way Classical Academy
(1) 5036580385

This news content may be integrated into any legitimate news gathering and publishing effort. Linking is permitted.
News Release Distribution and Press Release Distribution Services Provided by WebWire.